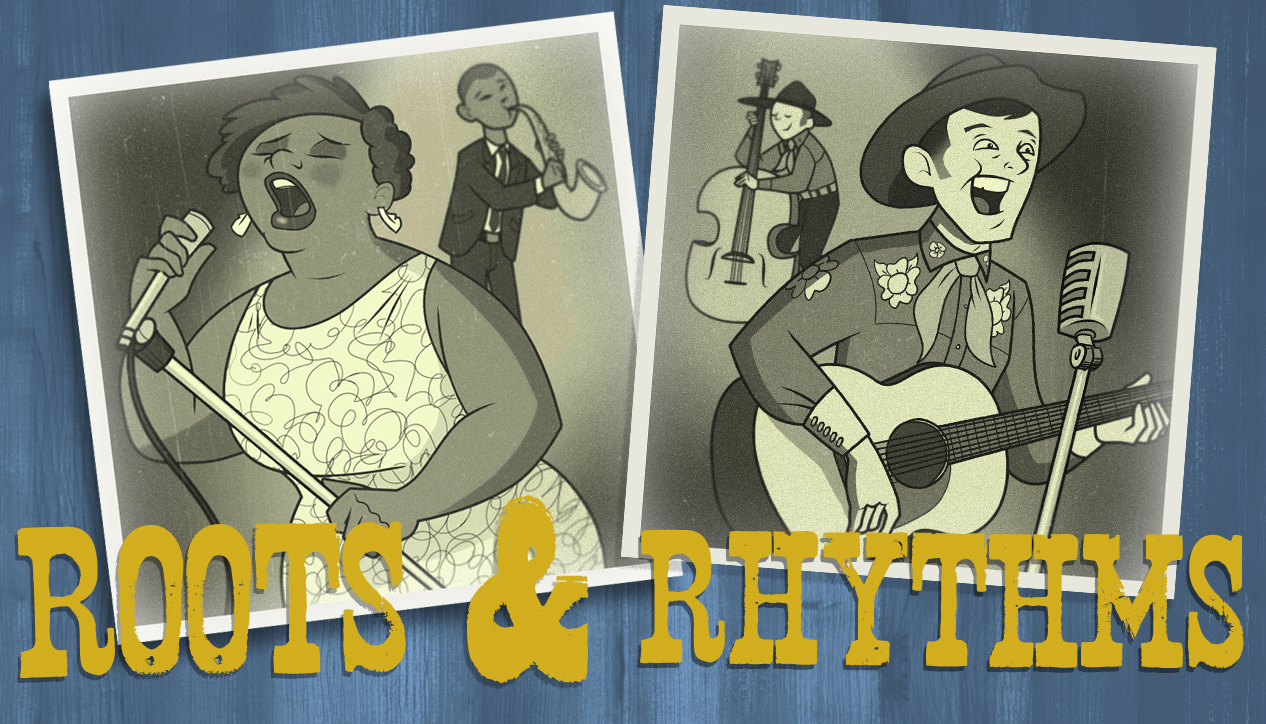 Roots and Rhythms
Wednesday November 15th, 2017 with Retro Renny
STOMP TO IT! A chronological look at the stomp in all it's musical diversity: jazz, blues, western swing, boogie woogie, R&B, Cajun and zydeco from 1929 to 1955.
A mixed bag of roots, a blast from the past and the art of the stomp.
Mahogany Hall Stomp
LOUIS ARMSTRONG & HIS SAVOY BALLROOM FIVE - King Louis - '29 Parlophone Records/'05 Proper Records
Stomp Down Rider
GEORGIA BILL a.k.a. BLIND WILLIE McTELL - The Classic Years: 1927 - 40 - '31 OKeh Records/'03 JSP Records
Ted's Stomp
LOUIE BLUIE & TED BOGAN - Violin Sing The Blues For Me: African-American Fiddlers 1926 – 1949 - '34 Bluebird Records/'99 Old Hat Enterprises
Brownie's Stomp
MILTON BROWN & HIS MUSICAL BROWNIES - Daddy Of Western Swing - '34 Bluebird Records/'03 Proper Records
King Porter's Stomp
BENNY GOODMAN & HIS ORCHESTRA - Kings Of Swing - '35 Victor Records/'04 Quality Audio
Boogie Woogie Stomp
ALBERT AMMONS & HIS RHYTHM KINGS - Roll 'Em: Boot That Thing - '36 Decca Records/'13 Proper Records
Fort Worth Stomp
CRYSTAL SPRINGS RAMBLERS - The Western Swing: Doughboys, Playboys & Cowboys - '37 Vocalion Records/'99 Proper Records
Stomp
DJANGO REINHARDT & THE HOT CLUB OF FRANCE QUINTETTE - Nuages - '40 unknown record label/'05 Membran Music
Mule Walk Stomp
JAMES P. JOHNSON - Roll 'Em: Blue Note Boogie - '44 Blue Note Records/'13 Proper Records
Stompin' At The Savoy
THE RAMBLER TRIO with ARTHUR SMITH - Here Comes The Boogie Man - '45 Super Disc Records/'00 Jasmine Records
Jeff-Hi Stomp
JOHNNY OTIS, HIS DRUMS & ORCHESTRA - That's Your Last Boogie!: Barrel House Stomp (1945-50) - '46 Exelsior Records/'12 Fantastic Voyage/Future Noise Music
Cowboy Stomp
BOB WILLS & HIS TEXAS PLAYBOYS - Take Me Back To Tulsa: The End Of The Line - '47 MGM Records/'05 Proper Records
8:45 Stomp
EARL BOSTIC - The Big Horn: Screamin' & Honkin' Saxophone – Blow Your Brains Out - '48 Gotham Records/'03 Proper Records
Longhair Stomp
ROY BYRD & HIS BLUES JUMPERS - Blues, Boogie And Bop: The Best Of The 1940s Mercury Sessions - '49 Mercury Records/'95 PolyGram Records
Silver Star Stomp
HACKBERRY RAMBLERS - Early Recordings: 1935 – 1950 - De Luxe Records/'03 Arhoolie Records
Beale Street Stomp a.k.a. Chop Chop Boogie
AL SMITH'S PROGRESSIVE JAZZ (with the BROOMDUSTERS) - \ The Complete Meteor Blues, R&B & Gospel Recordings - '53 Meteor Records/'06 Ace Records
Okie Dokie Stomp
CLARENCE "GATEMOUTH" BROWN - The Original Peacock Recordings - '54 Peacock Records/'90 Rounder Records