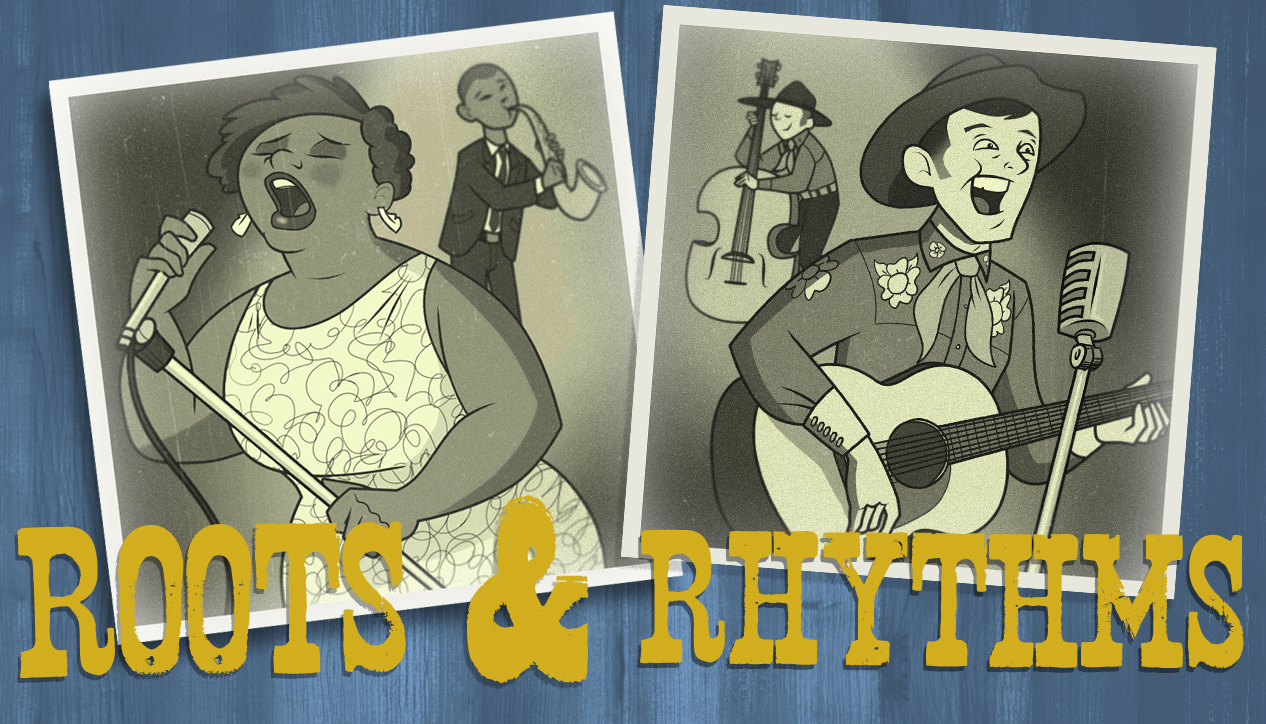 Roots and Rhythms
Wednesday September 13th, 2017 with Retro Renny
TRAIN TUNES. All aboard an excursion through old timey country, hillbilly boogie, rockabilly with stops in the blues and R&B.
The railroad has had more impact on our language and music than any other technology. Tonight's show features songs about trains in a variety of genres.
C & A Blues
BIG BILL BROONZY - Roots N' Blues: The Retrospective 1925-1950 - '35 ARC Records/'92 Columbia Legacy/Sony Music Entertainment Inc.
Train That Carried The Girl From Town
FRANK HUTCHISON - White Country Blues 1926 -1938 A Lighter Shade Of Blue - '26 OKeh Records/'93 Columbia Legacy/Sony Music Entertainment Inc.
When The Train Comes Along
UNCLE DAVE MACON with THE FRUIT JAR DRINKERS - Bluegrass Bonaza: String Band Roots 1927-38 - When The Train Comes Along '34 Victor Records/'01 Proper Records
Train 45
GRAYSON & WHITTER - Music From The Lost Provinces: Old-Time Stringbands from Ashe County & Vicinity, 1927-1931 - '27 Victor Records/'97 Old Hat Enterprises
Freight Train Blues
ROY ACUFF & HIS SMOKY MOUNTAIN BOYS - The Essential Roy Acuff (1936-1949) - '47 Columbia Records/'92 Sony Music Entertainment Inc.
Freight Train Boogie
JOHNNY TYLER & THE RIDERS OF THE RIO GRANDE - Hillbilly Boogie Box - '47 RCA Records/'02 Proper Records
Fast Train Through Arkansas
WAYNE RANEY - That Real Hot Boogie Boy (The King Anthology) - '48 King Records/'02 Ace Records
I'm A Little Red Caboose (On The Choo Choo Train Of Love)
MADDOX BROTHERS & ROSE - Gonna Shake This Shack Tonight : Ugly And Slouchy - '53 Columbia Records/'06 Bear Family Records
Here Comes That Train
EDDIE BOND - Rockabilly Shakeout - '65 Erwin Records/'92 Ace Records
Train Of Love
JOHNNY CASH & THE TENNESSEE TWO - Johnny Cash: The Sun Years - '56 Sun Records/'90 Rhino Records
Freight Train
LARRY HART - Boppin' Tonight: The Best Of Goldband Rockabilly - '58 Goldband Records, unissued/'93 Ace Records
Train Kept A-Rollin'
JOHNNY BURNETTE TRIO - Rockabilly Boogie - '56 Coral Records/'89 Bear Family Records
Train Kept A' Rollin'
TINY BRADSHAW & HIS ORCHESTRA - The King R&B Box Set - '51 King Records/'10 Gusto Records
Train Blues
JIMMY LIGGINS & HIS DROPS OF JOY - Jimmy Liggins And His Drops Of Joy - '51 Specialty Records/'90 Ace Records
Train Time Blues
ROY BROWN - Good Rockin' Man The Definitive Collection - '51 DeLuxe Records/'11 Fantastic Voyage/Future Noise Music Ltd.
Number 9 Train
TARHEEL SLIM - More Jump Blues - '59 Fury Records/'93 Rhino Records
Streamline Train
JESSIE MAE HEMPHILL a.k.a. THE SHE WOLF - Feelin' Good - '97 HMG/HighTone Records/High Water Recording Company
Sunnyland
ELMORE JAMES - Story Of The Blues - '63 unknown label/'69 CBS Records