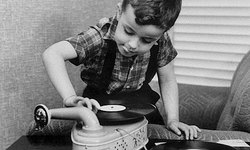 Midweek
Wednesday July 23rd, 2014 with PeterB
No particular theme. Just lots of great tunes!
PeterB fills in as host on Midweek again today, and lots of great tunes ensue! Really no particular theme. Just lots of tunes that need to be played. Acoustic / vocal, happy / mellow, twisted, loud … whatever. Enjoy!
First, a mostly acoustic driven set, with ample female vocals and keys. Some of my many weakness …
Deor
Meg Lunney - The Margaret Anns

Viborita (Little Snake)
Lila Downs - Una Sangre (One Blood)
By Foot From ...
Jorane - Live

Human of the Year
Regina Spektor - Far
Fall Creek Boys Choir
James Blake / Bon Iver - Modern Thunder
The Mississippian
Meg Lunney - The Margaret Anns

Degenerating from mostly happy to just plain weird …
Rememberance: Page 10
Kid Koala - Space Cadet - Original Still Picture Score

The Haunted Man
Bat For Lashes - The Haunted Man
Who Is It (Carry My Joy on the Left, Carry My Pain on the Right)
Bjork / Tanya Tagaq - Medulla

I Am An Ape
David Byrne & St Vincent - Love This Giant
Somebody's Sins
Tricky (feat Francesca Belmonte) - False Idols
Cold Wind Blowin'
David Lynch - The Big Dream
Disco and funk-metal! What could go wrong!!
Newjack
Justice - Justice
Coil
Opeth - Watershed
Giorgio by Moroder
Daft Punk - Random Access Memories
Horrible Sound
Five Alarm Funk - ABANDONEARTH


Higgs Boson
Five Alarm Funk - ABANDONEARTH


Music:Response (Gentleman Thief remix)
Chemical Brothers - Music:Response (EP, US Edition)