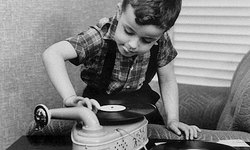 Midweek
Wednesday July 16th, 2014 with PeterB
Musical monkey-business.
PeterB fills in on today's Midweek episode, and the usual theme wandering silliness occurs. Today, a dose of vocal-based tunage, ample rhythmic randomness, and the usual get loud big beats. Less yackin', more trackin'. Enjoy!
First, some female vocals-based tunage to get things going. Well, OK, except that last one …
Mr. President
Janelle Monae - Metropolis - The Chase Suite (Special Edition EP)
Come Alive (War of the Roses)
Janelle Monae - The ArchAndroid, Suites II & III
If I Was Your Woman
Kellylee Evans - I Remember When

Hey Eugene
Pink Martini - Hey Eugene!
My Life
Eryka Badu - Mama's Gun
Paper Airplane
Buck 65 w. Jenn Grant - 20 Odd Years

Next, a nice long set with some reggae, funk, and general rhythmic randomness.
Pressure
The Heptones - Pressure!
Midnight Rider
UB40 - Getting Over the Storm
Ganza
Mighty Popo (Popo Murigande) - Ngargara

Tar Hani
Bombino - Agadez
Insurrection
Souljazz Orchestra - Freedom No Go Die

Sea to Sea
Matisyahu - Live at Stubb's
And now, the usual BIG BEATS PLAY LOUD set to round out the show. And annoy your neighbours…
Paper Planes
M.I.A. - Kala
Body Movin' (Fatboy Slim Remix)
Beastie Boys / Fatboy Slim - The Sounds of Science
Until the Morning
Thievery Corporation - The Richest Man in Babylon
Erupt
Five Alarm Funk - ABANDONEARTH


- newscast -
Five Alarm Funk - ABANDONEARTH


ATTAAAACK!!
Five Alarm Funk - ABANDONEARTH


Exit, stage left...
Go Fer Yer Funk
George Clinton / Parliament - Go Fer Yer Funk