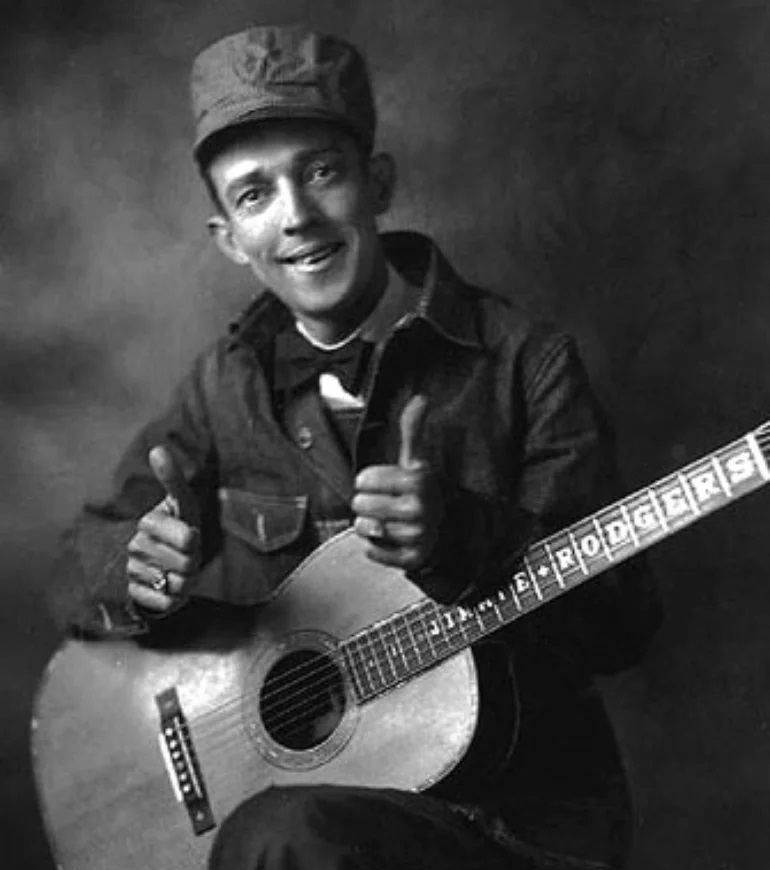 Stranger Songs
Tuesday October 18th, 2022 with Mike Regenstreif
Songs of Jimmie Rodgers (1897-1933)
The theme on this edition of Stranger Songs is "Songs of Jimmie Rodgers." Rodgers, who died of tuberculosis in 1933 at age 35, was known as The Singing Brakeman and The Blue Yodeler. Click on LISTEN NOW to hear this show. Click on LISTEN to hear the current CKCU broadcast.
fragment of The Stranger Song
Leonard Cohen - Songs of Leonard Cohen - Columbia/Legacy

Ben Dewberry's Final Run
Jimmie Rodgers - First Sessions, 1927-1928 - Rounder
Train Whistle Blues
Merle Haggard - Same Train, A Different Time: Merle Haggard Sings the Great Songs of Jimmie Rodgers - Capitol
Hobo's Meditation
Swing & Tears - Swing & Tears - Swing & Tears
Waiting for a Train
John Sebastian - Cheapo-Cheapo Productions Presents Real Live John Sebastian - Reprise
Hobo Bill's Last Ride
Iris DeMent - The Songs of Jimmie Rodgers: A Tribute - Egyptian/Columbia
My Rough and Rowdy Ways
Jimmie Rodgers - On the Way Up, 1929 - Rounder
Travelin' Blues (listed as Jimmie's Texas Blues)
Ian & Sylvia - The Lost Tapes - Stony Plain

Drunken Bar Room Blues (Gambling Bar Room Blues)
Jane Voss & Hoyle Osborne - Never No More Blues - Ripple
fragment of The Stranger Song
Leonard Cohen - Songs of Leonard Cohen - Columbia/Legacy

T.B. Blues
Jimmie Rodgers - America's Blue Yodeler, 1930-1931 - Rounder
Whippin' That Old T.B.
Ramblin' Jack Elliott - Ramblin' Jack Elliott Sings Woody Guthrie and Jimmie Rodgers & Cowboy Songs - Monitor
Any Old Time
Maria Muldaur - Maria Muldaur - Reprise
Nobody Knows but Me
Peter Keane - Rural Electrification - Little Hat
He's in the Jailhouse Now
Diana Braithwaite & Chris Whiteley - Gold Cadillac - G-Three

Blue Yodel No. 9
Jimmie Rodgers with Louis Armstrong - America's Blue Yodeler, 1930-1931 - Rounder
Muleskinner Blues
Odetta - Odetta Sings Ballads and Blues - Tradition
Why Should I Be Lonely?
Finest Kind - For Honour & For Again - Fallen Angle

My Carolina Sunshine Girl
J.W. McClure - Interpretations of Jimmie Rodgers - J.W. McClure
My Blue Eyed Jane
Doc Watson - Portrait - Sugar Hill
Gambling Polka Dot Blues
Jimmie Rodgers - Down the Old Road, 1931-1932 - Rounder
Roll Along Kentucky Moon
Leon Redbone - Sugar - Rounder
Miss the Mississippi and You
Dakota Dave Hull & Sean Blackburn - North By Southwest - Arabica
Mississippi Delta Blues
Robin & Linda Williams - Visions of Love - Sugar Hill
When the Cactus is in Bloom
Arlo Guthrie - Son of the Wind - Rising Son
Somewhere Down Below the Mason Dixon Line
Mary Chapin Carpenter - The Songs of Jimmie Rodgers: A Tribute - Egyptian/Columbia
Yodeling My Way Back Home
Jimmie Rodgers - Last Sessions, 1933 - Rounder