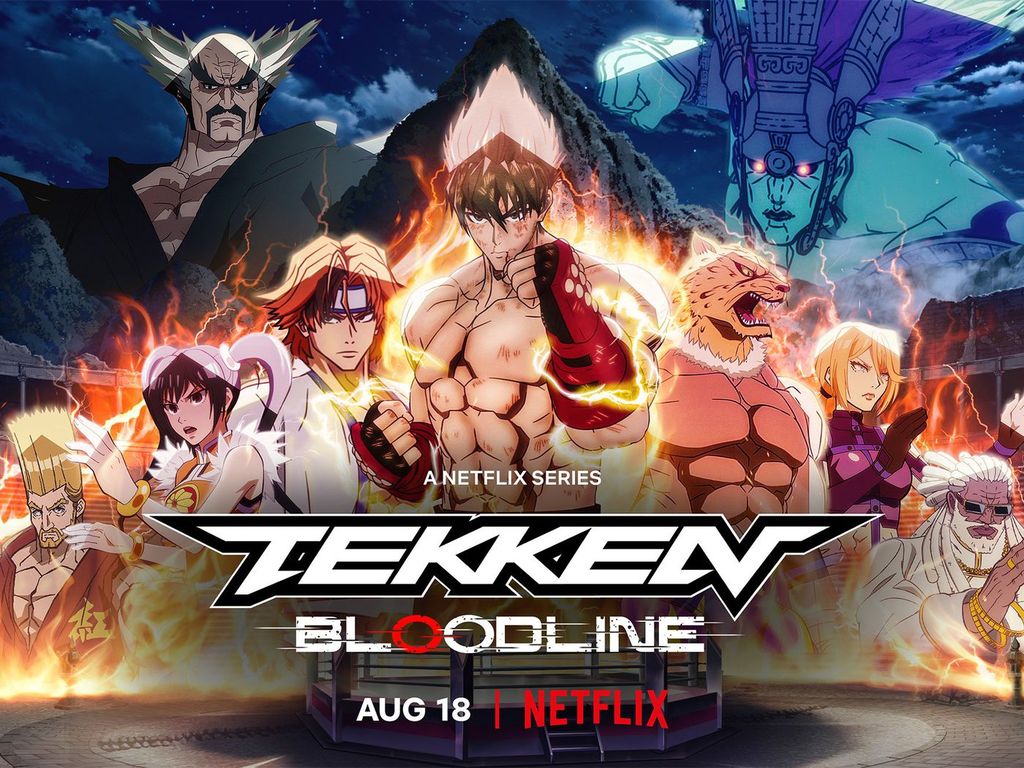 Grab The Guide
Thursday September 8th, 2022 with TwoKat
【Lvl+】Music from Tekken: Bloodline
❕ 𝗔𝗖𝗛𝗜𝗘𝗩𝗘𝗠𝗘𝗡𝗧 𝗨𝗡𝗟𝗢𝗖𝗞𝗘𝗗: Kazama Style❕ 𝙒𝙚𝙡𝙘𝙤𝙢𝙚 𝙗𝙖𝙘𝙠 𝙩𝙤 𝙖𝙣𝙤𝙩𝙝𝙚𝙧 𝙚𝙥𝙞𝙨𝙤𝙙𝙚 𝙤𝙛 𝙂𝙧𝙖𝙗 𝙩𝙝𝙚 𝙂𝙪𝙞𝙙𝙚! This week was not the original plan, but everything was derailed when I found Tekken: Bloodline while scrolling through Netflix one night. I cannot even describe the excitement I felt finding this show; me and my sibling binged it in 2 days and it was absolutely fantastic. If you're a Tekken fan, you're going to love this show and hopefully this episode of GTG as well! I'm playing music from the show and talking about everything I thought about the first season! Let me know if you've seen Bloodline and what you thought of it, and give us a follow @grabtheguide on Instagram! Thank you all so much for hanging out with Grab The Guide, and I hope you enjoy the playlist! ▶️ 𝙋𝙍𝙀𝙎𝙎 𝙎𝙏𝘼𝙍𝙏!
Tekken: Bloodline (Soundtrack from the Netflix Series)
Bloodline
Rei Kondoh - Tekken: Bloodline (Soundtrack from the Netflix Series) - FUGA (on behalf of Netflix Music, LLC)

First Acceleration
Rei Kondoh - Tekken: Bloodline (Soundtrack from the Netflix Series) - FUGA (on behalf of Netflix Music, LLC)

A Moment of Peace
Rei Kondoh - Tekken: Bloodline (Soundtrack from the Netflix Series) - FUGA (on behalf of Netflix Music, LLC)

Kazama Style
Rei Kondoh - Tekken: Bloodline (Soundtrack from the Netflix Series) - FUGA (on behalf of Netflix Music, LLC)

Jin's Theme
Rei Kondoh - Tekken: Bloodline (Soundtrack from the Netflix Series) - FUGA (on behalf of Netflix Music, LLC)

Heihatchi's Theme
Rei Kondoh - Tekken: Bloodline (Soundtrack from the Netflix Series) - FUGA (on behalf of Netflix Music, LLC)

Training
Rei Kondoh - Tekken: Bloodline (Soundtrack from the Netflix Series) - FUGA (on behalf of Netflix Music, LLC)

The Tremor of Impact
Rei Kondoh - Tekken: Bloodline (Soundtrack from the Netflix Series) - FUGA (on behalf of Netflix Music, LLC)

Lost Light
Rei Kondoh - Tekken: Bloodline (Soundtrack from the Netflix Series) - FUGA (on behalf of Netflix Music, LLC)

Devastation
Rei Kondoh - Tekken: Bloodline (Soundtrack from the Netflix Series) - FUGA (on behalf of Netflix Music, LLC)

Skirmish
Rei Kondoh - Tekken: Bloodline (Soundtrack from the Netflix Series) - FUGA (on behalf of Netflix Music, LLC)

Power is Everything
Rei Kondoh - Tekken: Bloodline (Soundtrack from the Netflix Series) - FUGA (on behalf of Netflix Music, LLC)

Darkness Stares
Rei Kondoh - Tekken: Bloodline (Soundtrack from the Netflix Series) - FUGA (on behalf of Netflix Music, LLC)

Taking a Break
Rei Kondoh - Tekken: Bloodline (Soundtrack from the Netflix Series) - FUGA (on behalf of Netflix Music, LLC)

Across the Horizon
Rei Kondoh - Tekken: Bloodline (Soundtrack from the Netflix Series) - FUGA (on behalf of Netflix Music, LLC)

Fighting Spirit
Rei Kondoh - Tekken: Bloodline (Soundtrack from the Netflix Series) - FUGA (on behalf of Netflix Music, LLC)

Tournament Begins
Rei Kondoh - Tekken: Bloodline (Soundtrack from the Netflix Series) - FUGA (on behalf of Netflix Music, LLC)

Hence, The Awakening
Rei Kondoh - Tekken: Bloodline (Soundtrack from the Netflix Series) - FUGA (on behalf of Netflix Music, LLC)

Iron Fist
Rei Kondoh - Tekken: Bloodline (Soundtrack from the Netflix Series) - FUGA (on behalf of Netflix Music, LLC)

Decisive Battle of Blood Fates
Rei Kondoh - Tekken: Bloodline (Soundtrack from the Netflix Series) - FUGA (on behalf of Netflix Music, LLC)

Ogre
Rei Kondoh - Tekken: Bloodline (Soundtrack from the Netflix Series) - FUGA (on behalf of Netflix Music, LLC)

Game Changer
Rei Kondoh - Tekken: Bloodline (Soundtrack from the Netflix Series) - FUGA (on behalf of Netflix Music, LLC)

Lamentation
Rei Kondoh - Tekken: Bloodline (Soundtrack from the Netflix Series) - FUGA (on behalf of Netflix Music, LLC)

Power is Everything (Ending Theme)
Rei Kondoh - Tekken: Bloodline (Soundtrack from the Netflix Series) - FUGA (on behalf of Netflix Music, LLC)

Tekken - Bloodline Main Theme
Rei Kondoh - Tekken: Bloodline (Soundtrack from the Netflix Series) - FUGA (on behalf of Netflix Music, LLC)

Reminiscence
Rei Kondoh - Tekken: Bloodline (Soundtrack from the Netflix Series) - FUGA (on behalf of Netflix Music, LLC)

Bloodline (Alternate)
Rei Kondoh - Tekken: Bloodline (Soundtrack from the Netflix Series) - FUGA (on behalf of Netflix Music, LLC)