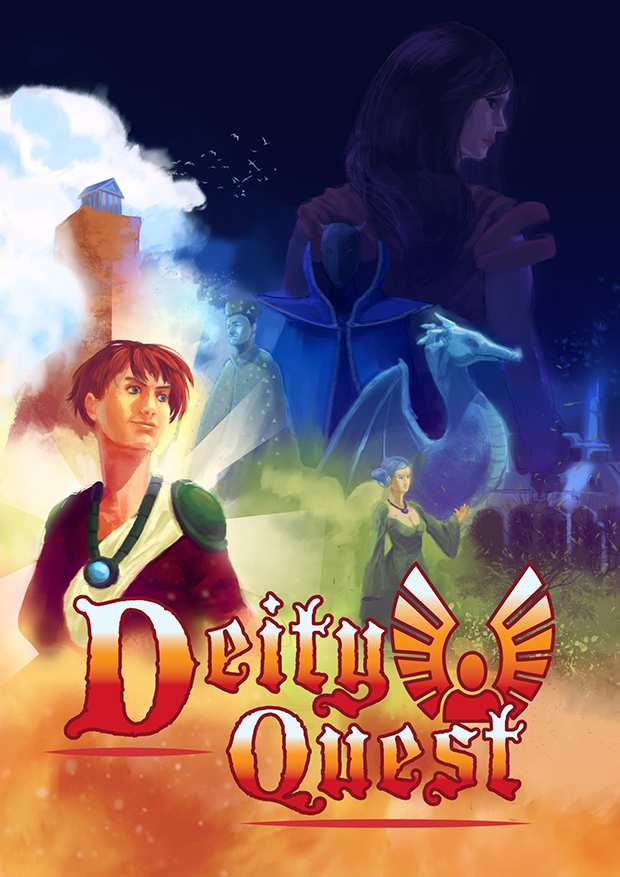 Grab The Guide
Thursday February 18th, 2021 with TwoKat
【MP+】Deity Quest + Chase Bethea (Special Black History Month Episode)
~ Achievement Unlocked: Follow Up! ~ Welcome back to another episode of "Grab the Guide!" This week I celebrate Black History Month by playing music from an artist I absolutely adore; Chase Bethea. I play his music from "Deity Quest," a Pokemon-esque RPG packed full of exciting music! Let's get started!
CHASE BETHEA

"Chase Bethea is a freelance Composer/Technical Audio Designer for Video Games and a variety of other Media. In his beginning career, Chase worked as an intern at Mobotory Games in 2011 while simultaneously going to school for his AA in Music Theory and Composition. He graduated with his AA from Audio Engineering from Los Angeles Recording School , his AA in Music Theory and Composition from Moorpark College and his BM in Media Composition from California State Northridge all with Honors.

Chase has received many accolades throughout his career. In 2010, he won Best Music in Motion Graphic and Poetry Award. In 2013, Chase's score from the successful flash Horror game, "I Can't Escape" (developed by Fancy Fish Games) received an honorable mention in the Indie Game Magazine. His second soundtrack for the game "Cubic Climber" earned a Noteworthy on Destructoid.com. In 2016, Chase was nominated for Artists of the Year – Independent Composer by VGMO in the entire industry. Chase also signed publishing deals with Sumthing Else Music Works and Materia Collective. His music has been featured on multiple podcasts such as Pixelated Audio, Video Game Island, 8bitx Radio and streamed on Spotify, Pandora, Deezer and many more." (Chase Bethea Website)

DEITY QUEST

"Deity Quest is a light-hearted, pokemon-inspired RPG where you play as an ambitious young god, recently assigned to a world - Aberos - to convert followers and gain power. Your goal is to become the Overgod, the highest position among the many gods of Aberos. Develop your divine magic, support your followers in fast-paced 6 vs. 6 battles, adventure through locations, and compete with other deities in your quest to reach the top!" (Fancy Fish Games)
Divinity
Chase Bethea - Deity Quest Original Soundtrack
Onslaught!
Chase Bethea - Deity Quest Original Soundtrack
Taiga - Forest Theme
Chase Bethea - Deity Quest Original Soundtrack
The Hollow Cavern
Chase Bethea - Deity Quest Original Soundtrack
Cryptic Dungeon
Chase Bethea - Deity Quest Original Soundtrack
Sandy Coasts
Chase Bethea - Deity Quest Original Soundtrack
The Permafrost Alps
Chase Bethea - Deity Quest Original Soundtrack
Hills of Grandeur
Chase Bethea - Deity Quest Original Soundtrack
Win Them Over - World Map Theme
Chase Bethea - Deity Quest Original Soundtrack
Bog of Aberos
Chase Bethea - Deity Quest Original Soundtrack
Ethereal Graduation
Chase Bethea - Deity Quest Original Soundtrack
Follow Up! - Victory Theme
Chase Bethea - Deity Quest Original Soundtrack
Follow Up! - Part II
Chase Bethea - Deity Quest Original Soundtrack
City in the Sky
Chase Bethea - Deity Quest Original Soundtrack
Lava Mass
Chase Bethea - Deity Quest Original Soundtrack
Tumbos of the Grimm
Chase Bethea - Deity Quest Original Soundtrack
Tak's Proposal
Chase Bethea - Deity Quest Original Soundtrack
Lindi's Deal
Chase Bethea - Deity Quest Original Soundtrack
Partially Defeated
Chase Bethea - Deity Quest Original Soundtrack
The Trials of Ell
Chase Bethea - Deity Quest Original Soundtrack
Vysara's Proving Grounds
Chase Bethea - Deity Quest Original Soundtrack
The Death of a Deity - Part II
Chase Bethea - Deity Quest Original Soundtrack
The Eccentric Ruses of Boudri
Chase Bethea - Deity Quest Original Soundtrack
Deranged - Aia's Theme - Extended Version
Chase Bethea - Deity Quest Original Soundtrack
Nimiah's Alibi
Chase Bethea - Deity Quest Original Soundtrack
The Duel of Omegas
Chase Bethea - Deity Quest Original Soundtrack
Game Over
Chase Bethea - Deity Quest Original Soundtrack
Celestial Tournament
Chase Bethea - Deity Quest Original Soundtrack
Triumphant
Chase Bethea - Deity Quest Original Soundtrack
LINKS

Chase Bethea Website
https://chasebethea.com/

Chase Bethea Twitter
https://twitter.com/chasebethea

Chase Bethea Instagram:
https://www.instagram.com/gamercomposer/

Deity Quest on FancyFish Games
http://fancyfishgames.com/DeityQuest/

TO BUY

Deity Quest Album (Bandcamp)
https://chasebethea.bandcamp.com/album/deity-quest-original-soundtrack

Deity Quest on Steam
https://store.steampowered.com/app/340330/Deity_Quest/
~ If you have more BIPOC and POC artists who I can feature on the show, please link them to me so I can share them! I am always willing to learn and share, so please feel free to send me anything from music to resources. Grab The Guide stands for equality and inclusivity and is a safe space for every video game fan. Much love to you all <3 ~