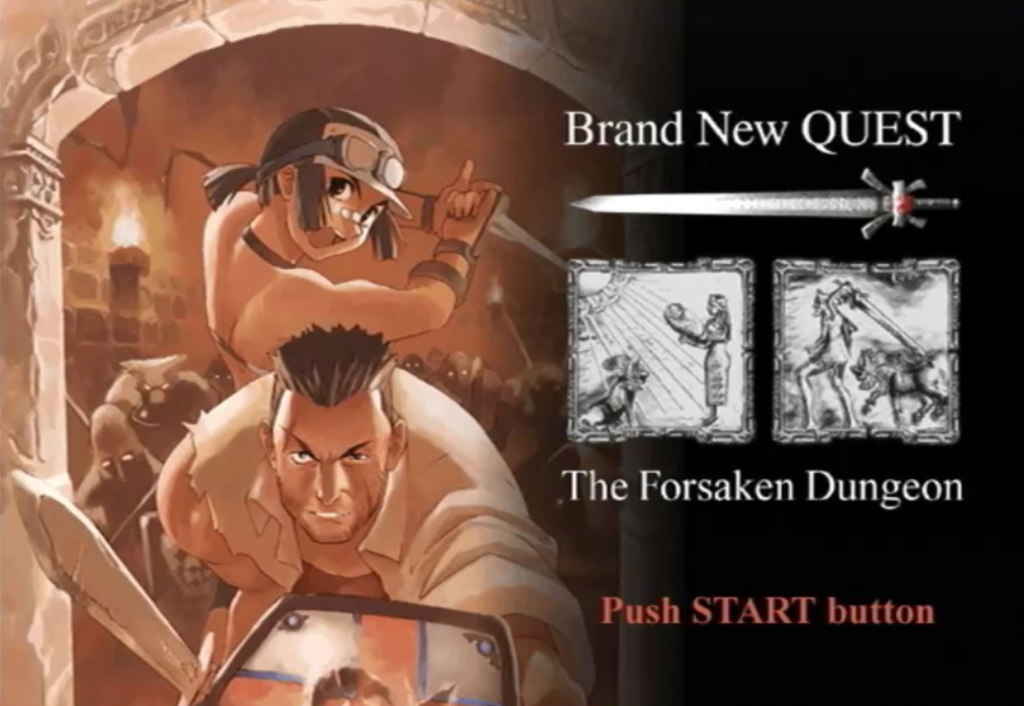 Grab The Guide
Thursday February 4th, 2021 with TwoKat
【HP+】Brand New Quest (Quest Mode in PlayStation version of Ehrgeiz)
Welcome back to another episode of "Grab the Guide!" Today I'm talking about one of my favourite niche 90s games; Brand New Quest. This dungeon crawler was a quest mode in Dream Factory's PlayStation version of fighting game Ehrgeiz. Get ready for some awesome 90s video game music, fun summer memories and a game that gives me a great amount of nostalgia! Get ready to press start!
"Ehrgeiz: God Bless the Ring (エアガイツ Eagaitsu, German: lit. "Ambition") is a fighting game developed by Dream Factory. The game was published by Namco for arcade on February 1998 and by Square for PlayStation on December 1998. The PlayStation version was released in North America in 1999 and in Europe in 2000. Brand New QUEST is a quest mode present in the PlayStation version of Ehrgeiz. It has the subtitle The Forsaken Dungeon in the English version and Godless The Dungeon in the Japanese version.

While the Ehrgeiz Championship Tournament is being held, an archeologist by the name of Koji Masuda and his student Clair Andrews are making their way towards the ancient ruins which have been said to hold the secret to immortality. There, Koji finds a sealed staircase. Curiosity gets the best of him as he deciphers and unlocks the seal. Destiny awaits him. This new world is best described as a foreign dimension with remnants of ancient memories. In search of the spring of eternal life, Koji is drawn through the dungeon. " Ehrgeiz and Brand New Quest Wiki
Brand New Quest
Takayuki Nakamura - EHRGEIZ Original Soundtrack - DigiCube
Ruined Town
Takayuki Nakamura - EHRGEIZ Original Soundtrack - DigiCube
Dungeon 1
Takayuki Nakamura - EHRGEIZ Original Soundtrack - DigiCube
Dungeon 2
Takayuki Nakamura - EHRGEIZ Original Soundtrack - DigiCube
Dungeon 3
Takayuki Nakamura - EHRGEIZ Original Soundtrack - DigiCube
Dungeon 4
Takayuki Nakamura - EHRGEIZ Original Soundtrack - DigiCube
Dungeon 5
Takayuki Nakamura - EHRGEIZ Original Soundtrack - DigiCube
Dungeon 6
Takayuki Nakamura - EHRGEIZ Original Soundtrack - DigiCube
Dungeon 7
Takayuki Nakamura - EHRGEIZ Original Soundtrack - DigiCube
Battle in a Trap
Takayuki Nakamura - EHRGEIZ Original Soundtrack - DigiCube
Boss
Takayuki Nakamura - EHRGEIZ Original Soundtrack - DigiCube
Master Boss
Takayuki Nakamura - EHRGEIZ Original Soundtrack - DigiCube
Phoenix
Takayuki Nakamura - EHRGEIZ Original Soundtrack - DigiCube
Store 1
Takayuki Nakamura - EHRGEIZ Original Soundtrack - DigiCube
Store 2
Takayuki Nakamura - EHRGEIZ Original Soundtrack - DigiCube
Hotel
Takayuki Nakamura - EHRGEIZ Original Soundtrack - DigiCube
Magic Store
Takayuki Nakamura - EHRGEIZ Original Soundtrack - DigiCube
*NOTE: Buying Ehrgeiz is difficult now because it is so old and most places either don't carry it or price it up way too much in my opinion, but there are some copies I will link below if you're interested!*

Amazon (Standard Version): https://www.amazon.ca/Electronic-Arts-SLUS-00809-Ehrgeiz-PlayStation/dp/B000038AB3
Ebay (Standard Version): https://www.ebay.ca/p/2207

CHEAPEST
Ebay (Version with Final Fantasy characters on cover): https://www.ebay.com/p/2207
LINKS:

Ehrgeiz Trailer: https://www.youtube.com/watch?v=pyUk1h-OJlA
Ehrgeiz Wikipedia: https://en.wikipedia.org/wiki/Ehrgeiz
Ehrgeiz on Final Fantasy Fandom: https://finalfantasy.fandom.com/wiki/Ehrgeiz:_God_Bless_the_Ring

Brand New Quest Intro (0:00-2:40) + No Commentary Gameplay: https://www.youtube.com/watch?v=nYcI5KDXGK4
Brand New Quest on Ehrgeiz Wiki: https://ehrgeiz.fandom.com/wiki/Brand_New_Quest