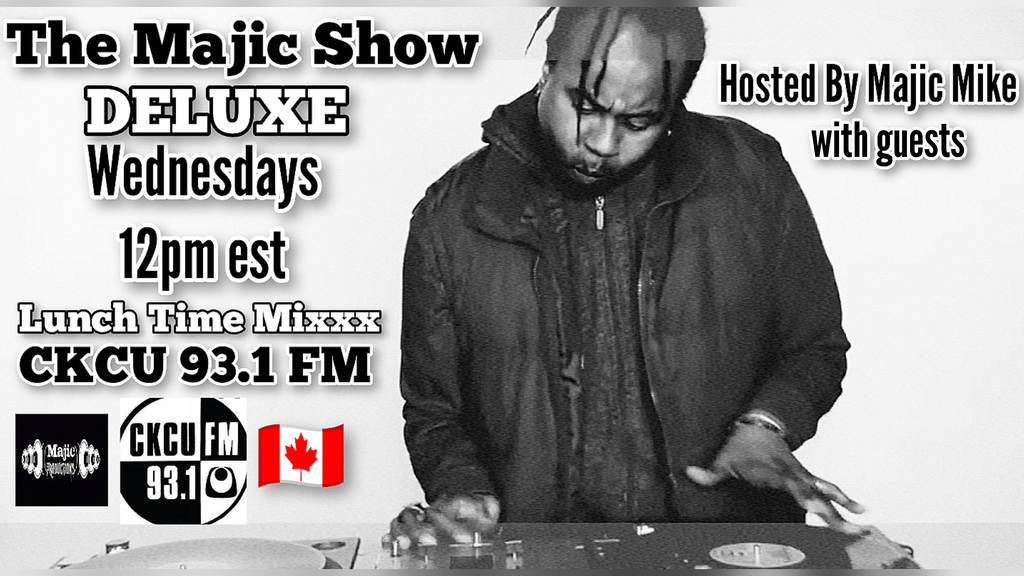 The Majic Show Deluxe
Wednesday May 12th, 2021 with Majic Mike
The Majic Show DELUXE Wed 12pm est hosted by Majic Mike spinning the hottest tracks canadian and worldwide urban music with guests interviews weekly majors or indi retro dj mixes news reports and more tune in.
The Majic Show DELUXE May 12 2021 Wed 12pm est hosted by Majic Mike spins the hottest in urban music local and worldwide guests this week DMX Dj Mix spinning his greatest hits. Also we have Toronto Dancehall Reggae artist Chifferson exclusive interview breaking a few new local tracks TAP IN..
Whoa!
Black Rob - Life Story - Bad Boy
I dare You
Black Rob - Life Story - Bad Boy
Membership
Kalix Breezy ft kurupt - Kalixity - Indi


Don't Want To Let Go
Miss Ivee - single - Indi


Jah Will Not Forget
Mr. Vegas - single - Greensleeves, VP,

Fairplay
Moyann - single - indi

Wine All Day
Popcaan - single - OVO

No Cap
Likkle Vybz ft Likkle Addi & Vybz Kartel - single - Adidjahiem Records

Beautiful Human
Vybz Kartel - single - Adidjahiem Records

Top Shotter
DMX feat Sean Paul & Mr Vegas - single - Def Jam
Die 4 Me
Drag On ft DMX - Opposite of H2O - Interscope/Hood Environment
Stop Being Greedy
DMX - It's Dark and Hell Is Hot - Def Jam
The Grand Finale
DMX, Method Man, Nas & Ja Rule - Belly SoundTrack - Def Jam
Come Thru
DMX ft Busta Rhymes - Year of the Dog... Again - Def Jam
Get At Me Dog
DMX ft Sheek Louch - It's Dark and Hell Is Hot - Def Jam
24_Hrs_To_Live
Mase ft The LOX, Black Rob and DMX - Harlem World - Bad Boy
X Gonna Give It To Ya
DMX - Cradle 2 the Grave Soundtrack - Def Jam
Whats My Name
DMX - And Then There Was X - Def Jam
4,3,2,1
LL Cool J ft Dmx, Method Man, Redman, Master P, Canibus - Phenomenon - Def Jam
Where The Hood At
DMX - Grand Champ - Def Jam
Its Murda
Ja Rule ft DMX & Jay Z - Venni Vetti Vecci - Def Jam
Ruff Ryders Anthem
DMX - It's Dark and Hell Is Hot - Def Jam
Money, Cash, Hoes
Jay Z ft DMX - Vol. 2... Hard Knock Life - Def Jam
Slippin
DMX - Flesh of My Flesh, Blood of My Blood - Def Jam
Hot Steppa
Chifferson feat Grand Sire X - single - Indi


The Humpty Dance
Digital Underground - Sex Packets - Tommy Boy