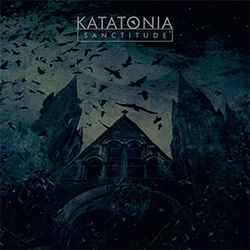 eV's Underground
Tuesday April 7th, 2015 with e.V., Queen of Doom
Katatonia / Sinners Moon / Knút
HOUR 3: Sweden's doom masters Katatonia have a brand new live album, Sanctitude and we have it for you, courtesy of Our Dearest Lady Death. Hour 4: This week's Helsinki Spotlight Artists are gothic metal Sinners Moon, actually technically Slovakian (!) but they are signed to Finnish label, Inverse Records, which IS based in Helsinki. :) This week's ReverbNation Band of the Week are Danish stoner metal band, Fusskalt. HOUR 5: And because of the solar eclipse our producer found some really cool tuneage out of the small but musically mighty Faroe Islands. Introducing the "psychedelic gospel pop" of Knút, (full name: Knút Háberg Eysturstein) and his album, "On High".
Strange World
HIM - XX: Two Decades of Love Metal - The End Records
Forsaken
Dream Theatre - tba
Burden
Opeth - tba
Alias
In Flames - tba
I Long
Saturnus - bootleg
Hammer Of The North
Grand Magus - tba
Colossal
Wolfmother - tba
Frozen Angel
Norther - single
Blackhearted
Norther - Mirror of Madness
Betrayal
Norther - Mirror of Madness
6 Under
Viveyenne - demo

Bat Cobra
Le Fang - demo
My Heart, Your Hands
Dommin - Love Is Gone
Dance d'Amour
The 69 Eyes - Paris Kills
My Obsession
Cinema Bizarre - Single
Once
Script Of Flood - tba
Last Word
Rentrer en Soi - tba
Two Gods
Attrition - tba
Lost Among The Light
Script Of Flood - tba
A Chemical Rabbit
Sexydeath - single
Until The Day You Die
Abney Park - Tba
Airship Pirate
Abney Park - tba
In The White
Katatonia - Sanctitude

Ambitions
Katatonia - Sanctitude
Teargas
Katatonia - Sanctitude
Gone
Katatonia - Sanctitude
A Darkness Coming
Katatonia - Sanctitude
One Year From Now
Katatonia - Sanctitude

The Racing Heart
Katatonia - Sanctitude
Tonight's Music
Katatonia - Sanctitude
Sleeper
Katatonia - Sanctitude
Undo You
Katatonia - Sanctitude
Lethean
Katatonia - Sanctitude

Day
Katatonia - Sanctitude
Idle Blood
Katatonia - Sanctitude
Unfurl
Katatonia - Sanctitude
Omerta
Katatonia - Sanctitude
Evidence
Katatonia - Sanctitude

The One You Are Looking For Is Not Here
Katatonia - Sanctitude
Buried
Sinners Moon - Atlantis

Pity For The Child
Sinners Moon - Atlantis
My Servant
Sinners Moon (ft. Tony Kakko) - Atlantis

Memento Mori
Sinners Moon - Atlantis
Drive
Fusskalt - Rebels Without A Clue

Stand In Line
Fusskalt - Rebels Without A Clue
Break Out
Aeverium - Break Out

Deyðir varðar
Hamferð - live during the solar eclipse in The Faroe Islands, March 20th 2015 - Hamferð's Youtube Channel

Morrígan
Guild The Mourn - single - bandcamp
The Road
Knút - On High - Tutl Records
Quiet Town
Knút - On High - Tutl Records
Empty Streets
Knút - On High - Tutl Records
Whispers
Knút - On High - Tutl Records
Growing Old
Knút - On High - Tutl Records
On High
Knút - On High - Tutl Records
Revolution Of The Hearts
Knút - On High - Tutl Records
Healing Heart
Knút - On High - Tutl Records
Touch Of Grace
Knút - On High - Tutl Records
I Long To See The City
Knút - On High - Tutl Records
Winter song
Thalie Némésis - Némésis - bandcamp
Dirty Weather
Double Eyelid - Seven Years