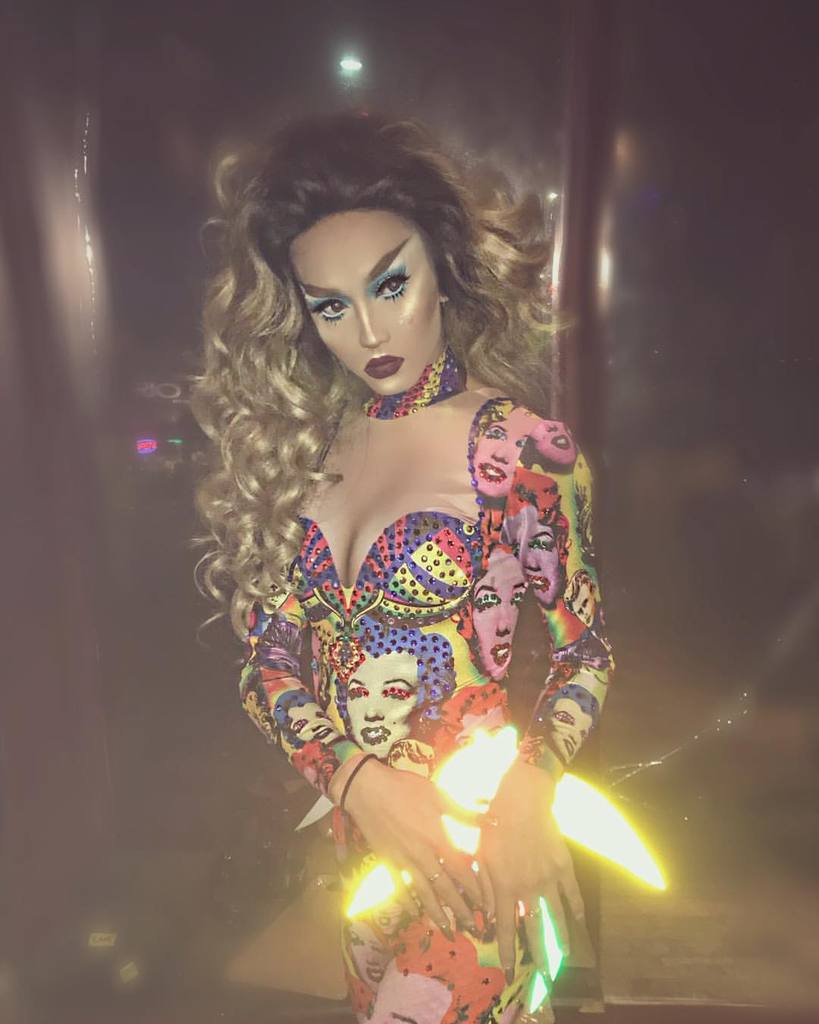 The Tea Party
Wednesday June 12th, 2019 with Brianna and Nico
Interview w/ Kimmy Dymond!!
Today marks the third anniversary of the Pulse Nightclub Shooting in Orlando, Florida. We will commence tonights program with a statement in regards to this horrific event. Tonight we also have a very special guest, the Kimmy Dymond! Ottawa's #1 Drag Queen, Dancing Diva, and the current holder of the title Ms. Canada Capital Pride! And as always, fre$h & fun tunes to help guide you through this late night tea parti <3 Are you a member of our community and want to share your work, voice, talent, event, or opinion at one of our bi-weekly tea parties? Do you have suggestions, questions, or an idea you want us to discuss? Shoot us an email! TheTeaParty613@gmail.com Follow Kimmy on IG: @KimDymond_1 Follow Us on IG: @TheTeaParty613 Events in the city: Jun 14, 8-1am. Salsa Bachata Golden Night Social, 397 Kent st. Fun Time dancing, chilling with awesome people and enjoying cold refreshments GUARANTEED! SALSA, BACHATA & KIZOMBA Workshop by different Teachers from Ottawa, Montreal & Toronto every second Friday. Followed by salsa/kiz/bachata social with DJ Tee or DJ Peets known for his authentic modern taste of latin music. At the end we will throw some Afro Beat dancing to spice the night
https://www.facebook.com/events/466168380596344/
June 15, 7-11pm. Fet.Nat, Jayohcee & Demoxide: Show for the Likhts'amisyu Clan, 5b Fairmont Avenue. Indigenous Solidarity Ottawa invites you to a fundraising concert for the Likhts'amisyu Clan from the Wet'suwet'en Nation. Everybody is welcome. $15 in advance (advance sale ends on Friday June 14) $20 at the door Send an e-transfer at indigsol@riseup.net and we'll put your name on the list at the door. PWYC/no one turned away for lack of funds. Share and invite your friends!
https://www.facebook.com/events/851399198555962/
Jun 15, 7-11pm. The Ottawa Knights Drag Gala, 340 Kent st. Come on out for a good entertaining night with host Jessica Zoey Wolfe and her sisters of Haus of T's, also some special guests as we entertain you through dinner with a fabulous show or all kinds of classics young and old.
https://www.facebook.com/events/2476359985727622/
Jun 16, 2-4pm. Unite Against Racism: Community Picnic, Dundonald Park. Join $15 and Fairness Ottawa, Anakbayan Ottawa and Pilipinong Migrante Sa Canada - PMSC Ottawa here on unceded Algonquin territory (Ottawa) on Sunday, June 16th for a community picnic! From 2pm-4pm come to Dundonald Park at Somerset St W and Bay St. *If the weather doesn't work with us, the rain plan is 251 Bank St.* In Alberta, Quebec, Ontario, Manitoba and Saskatchewan, right wing politicians have swept into office using a strategy of racism and divisiveness. Once in power, they are imposing wide ranging attacks on public services, the climate and our communities in the interests of the richest few. The increased racism has resulted in escalating violence, white supremacists are mobilizing and hate crimes are rising. All of this gets worse as we get closer to the October federal election. We must take to the streets to show politicians that racism cannot be an electoral strategy; to show white supremacists that their violence will not be tolerated; and to push forward a unified transformative vision for us all. We all need decent work, universal services, permanent resident status, gender, racial and global justice. Together, we can win.
https://www.facebook.com/events/438127480322008/
Jun 16, 12-430pm, 6th Annual NAD Parade, @Garden of the Provinces and Territories. Join us on Sunday for the 6th Annual National Aboriginal Day/National Indigenous Peoples Day Parade! Join us in celebrating First Nations, Inuit and Metis cultures! BRING YOUR DRUMS! BRING YOUR BANNERS! BRING YOUR FLAGS! WHO WE ARE: The Ottawa Aboriginal Parade Committee is a grassroots committee with the goal to promote cultural awareness of First Nations, Inuit, and Metis peoples by hosting an annual parade/procession in conjunction with National Aboriginal Day/National Indigenous People's Day in downtown Ottawa. *********(Say this part if we need to fill space)WHAT IS NAD: In 1996 former Governor General Romeo LeBlanc declared June 21st as National Aboriginal Day, a day for all Canadians to celebrate the unique and diverse cultures of the First Nations, Inuit, and Metis peoples. In 2017 Indigenous and Northern Affairs requested June 21st to be renamed National Indigenous People's Day. Jun 20, 630pm. Kaleidoscope, Kind Space 222 Somerset st W. Queer Trans Youth, Cafe Q, 20 Something Meetup, Gender Quest are some of the amazing drop in's that Kind space holds. Now a new young adult group for ages 19-30 for Black, Indigenous and People of Colour is returning to Kind. The intention of this group is to bring young adults who are people of colour together to be able to break individual silos and meet new people. It should be noted given that this space is for young adults, this space will hold nuance for trauma, healing, harm reduction and difficult conversations that arise, but will be guided by accessibility needs and trigger prevention frameworks. The space will only be formal during introductions and then folks can hang out, however folks may plan excursions, on the off days to enjoy the summer together. Jun 21-23. Summer Solstice Indigenous Festival, Vincent Massey Park. A Weekend of Free Family Fun and Entertainment! Experience the diverse Indigenous cultures of the National Capital Region and celebrate National Indigenous Peoples Day! Stage performances; interactive "make & take" arts and crafts, culinary experience; International Competition Pow Wow; cultural workshops; Indigenous artisan marketplace; community celebrations.
https://www.facebook.com/events/588571711664157/
Jun 23, 1030-1230. Bear Feeding - Brunch, Tuckers Marketplace 61 York st. Are you looking to spend some time with big and furry gay men? Then join the Ottawa Bears for their monthly Bear Feeding / Brunch at Tucker's Marketplace in the Byward Market. We welcome all bears and bear admirers who want to meet up in a non-judgmental and friendly atmosphere of camaraderie. The meal will cost $25 and includes a non-alcoholic drink (coffee, juice or soft drink), a sumptuous buffet, taxes and tip.
https://www.facebook.com/events/2296231907107146/
Jun 23, 1-4pm. Capital Black Joy Sunday's, Location TBA. Black Joy Sunday is a closed space for Queer, Non-Binary, Trans and Woman identifying folks who also identify as African, Afro-Caribbean, Afro-Latinx, Afro-Indigenous, Black Nova Scotian, African of the Diaspora, Black etc. This event is intention is to bring queer and/or gender diverse black folks together in Ottawa, to create a space that is focused in our collective brilliance. The space is designated as a hang out where folks can read, chat, play games, engage and organize in conversations that they wish. The first part is to function as a debrief and healing space, but may have direct themes and excursions based on the direction of Black Joy's participants, or we can just hang out and casually discuss liberation.
https://www.facebook.com/events/334976813884395/
I Am What I Am
Gloria Gaynor - Gloria Gaynor '90 - All New Version
Move It
Jaded - Move It - Single
Inhale
Duke Dumont ft. Ebenezer - Single
Como Si Na
Melii - Single
Rapture
Koffee - Rapture EP