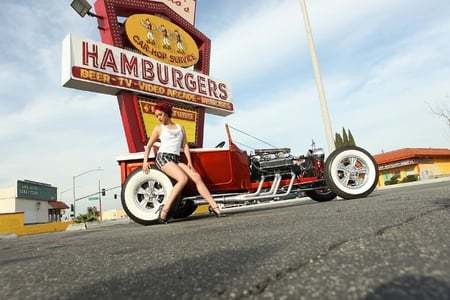 Renny's Riot
Wednesday November 16th, 2022 with Road Rash Renny
GIRLS & GRILLS! Songs about hot girls, hot rods & hot hamburgers.
I'd like to thank those listeners who supported the show. I'd like to thank Reg Allen of Good2Go. I'd also like to thank Dave O'Halloran of What Wave Radio at Radio Western out of London (ON). Thanks to John Tackaberry of Black & Blues (here on CKCU, Sun. nights at 9). A special thanks to drummer & movie buff extraordinaire, Jeb Bond. Thank you very much Gregory Marshall. Thank you, Lisa Patterson. Thanks to Richard Parks (former host of this time slot, Both Kinds of Music) and to Stephen Noah, former host of the Kids Half Hour and all-round great guy. Thanks to Laurie Pardoe, another groovy supporter of CKCU. I'd like to thank Wally, who is the owner and operator of the amazing indie label, The Beautiful Music, for his support. I'd like to thank Nancy Sharples, a regular Rock-It Rioteer. Thank you very much, Johnny Loan. I'd like to thank former CKCU deejay, David Lewis, for his donation. My thanks go out to Elizabeth, thank you. And I'd like to thank Margaret Worton who donated to the show in memory of her close friend & long-time station volunteer, deejay & Funding Drive Coordinator, the late, great Janis Lockwood. Thank you, Margaret. I'd also like to thank the anonymous supporters of the show, who have donated. Thank you all. Thanks for your support. I luvs ya all!
Renny's Riot
The Scarlet Drops - The Scarlet Drops 1984-1992 - 1989 What Wave/2021 Harriet Records/Bandcamp

Left Wing Fascist
Simon Chardiet - Bug Bite Daddy - 1997 Upstart Records
(I Live For) Cars & Girls
The Dictators - Go Girl Crazy! - 1975 Epic
Ooh Baby Ooh
The Master Plan - Ooh Baby Ooh single - 2022 Rum Bar Records
No Morals
French Girls - Rum Bar Records Rocktober Sampler - 2020 Rum Bar Records
Neighborhood Girls
The Barracudas - Through The Mysts of Time - 1984 Coyote Records/1998 Snodome Records USA

Girls Talk
Dave Edmunds - Let's Go! (That Rockabilly Rhythm) - 1979 Swan Song/2010 Rhino Special Products/Starbucks Coffee
Local Girls
Graham Parker & The Rumour - Squeezing Out The Sparks - 1979 Vertigo
Girls Who Smoke
Atoms Of Silence - Lost & Forgotten - 2017 Self-released/Bandcamp

Pretty Girls
Arson - Smash The State: Volume One - Recorded 1979/unissued/1994 No Exit Records

Looking For Girls
The Pursuit Of Happiness - Love Junk - 1988 Chrysalis

Plastic Girls
The Diodes - Tired Of Waking Up Tired - The Best of The Diodes - 1977 Columbia/1998 Epic

Teenage Girls
The Dogmatics - Rock Turns To Stone - 1988 Vild Records
High School Girls
The Gears - Rockin' At Ground Zero - 1980 Playgems Records/1999 Bacchus Archives
Catholic School Girls Rule
The Streetwalkin' Cheetahs - All The Covers (And More) - 2022 Rum Bar Records

Girls Girls Girls Girls Girls
The Nervebreakers - We Want Everything! - 1981 Wild Child/1994 Existential Vacuum
Let's Talk About Girls
Psychotic Youth - Wave From The Grave Vol. 10 - 1986 What Wave Magazine/Records

Let's Talk About Girls
The Undertones - True Confessions (Singles = A's + B's) - 1979 Sire/1999 Essential Records/Castle Music
Let's Talk About Girls
The Tongues Of Truth (a.k.a. The Grodes) - The Tongues Of Truth/The Grodes - 1966 Current Records/1983 Voxx Records
Boys Are Boys And Girls Are Choice
The Monks - Black Monk Time - 1966 International Polydor Production/1994 Repertoire Records
Naughty Girls
Bloodshot Bill - All Messed Up - 2007/2010 Hog Maw Records

Chicken Squawk
Millions Of Dead Cops a.k.a. Millions Of Dead Children - Chicken Squawk 7" / Millions Of Dead Cops - Millenium Edition - 1984 R. Radical Records/1988 Boner Records
Lust For Life
The Bad Livers - Lust For Life 7" - 1991 Fist Puppet
Hot Rod Race
Jim & Jesse - Y'all Come: The Essential Jim & Jesse - 1967 Epic/1998 Epic Records Group
Hot Rod Lincoln
Charlie Ryan & The Timberline Riders - Lux & Ivy Dig Insane Rockabilly (Over Fifty 45s About Mad Men, Playboys, Cars, Bugs And Brawls) - 1959 Four Star Records/2021 Righteous
Thunder Road Rock
The Planet Rockers - 26 Classic Tracks - 1992 No Hit Records/1997 Spinout Records
Jaguar & Thunderbird
Chuck Berry - Gold: Chuck Berry - 1960 Chess/2005 Geffen Records/Chess
Brand New Chevy
The Devil Dogs - Devil's Hits - 1989 Crypt Records/1991 1+2 Records
Hot Rod
Hell Bent Rockers - Hell Bent Rockers - 2017 Self-released

Hot Rod Shotgun Boogie #2
The Raging Teens - Melody Roundup - The Complete Collection - 1998 Annabelle Records/Scollay Square Music/2021 Rum Bar Records
Hot Rod Dissertation
The Royal Pendeltons - Oh Yeah, Baby - 1998 Sympathy For The Record Industry
Don't Burn My Clutch
Al Perry - Little Bird sessions - 1999 Star Time Records
Devil's Hot Rod
Dead City Rebels - Rock 'N' Roll Enemy #1 - 1998 High Society International

Hot Rods To Hell
Spinout - Spinout - 1991 Delicious Vinyl
Five-O Ford
Reverend Horton Heat - Liquor In Front - 1994 Interscope Records/Sub Pop
Hot Rod Baby
The Flat Duo Jets - Lucky Eye - 1998 Outpost Recordings
Hot Rod Rocky
Jools Holland - Jools Holland Meets Rock 'A' Boogie Billy - 1984 I.R.S. Records
Hot Rod
Hal Singer & His Orchestra - House Party - 1955 Savoy Records/1994 Savoy Jazz
Girl And A Hot Rod
Ritchie Deans & The New Tones - Lux & Ivy's Good for Nothin' Tunes—The Wild, The Weird & The Wang Dang Doodlin' - 1960 Pontiac/2019 Righteous
Hot Rod Shotgun Boogie No. 2
Tillman Franks & His Rainbow Boys - Hillbilly Boogie Box - 1951 Gotham/2002 Proper Records
Don't Sell Hot Dogs Tonight
The Leather Uppers - O.K., Don't Say Hi - 1994 Past It Records

Hot Hamburgers
Lee Slaughters & The Cumberland Playboys - Grand Daddy's Rockin' - 1959 Jay Records/1992 Legend
Hamburger Hop
Johnny Hicks & His Troubadours - Hillbilly Boogie! - 1950 Columbia/1994 Columbia Legacy
Hamburgers & Popcorn
Boozoo Chavis - The Lake Charles Atom Bomb (The Original Goldband Recordings) - 1964 Goldband Records/1990 Rounder Records
Hamburger Joint
Jimmy McCracklin & His Blues Blasters - Blues Blasters Boogie - Selected Classic Sides 1945-1955 - 1949 Modern Records/2013 JSP Records
Some last minute thank-yous. I'll share my gratitude and thanks for your kind donations during next week's show. These are pledges I received after I had recorded this Riot. Thank you to former CKCU deejay & production manager, Jen Priest. Thank you, Paul Sheridan. Paul used to be my co-host on HouseRockin', and also managed the production department. Thank you, comrades.