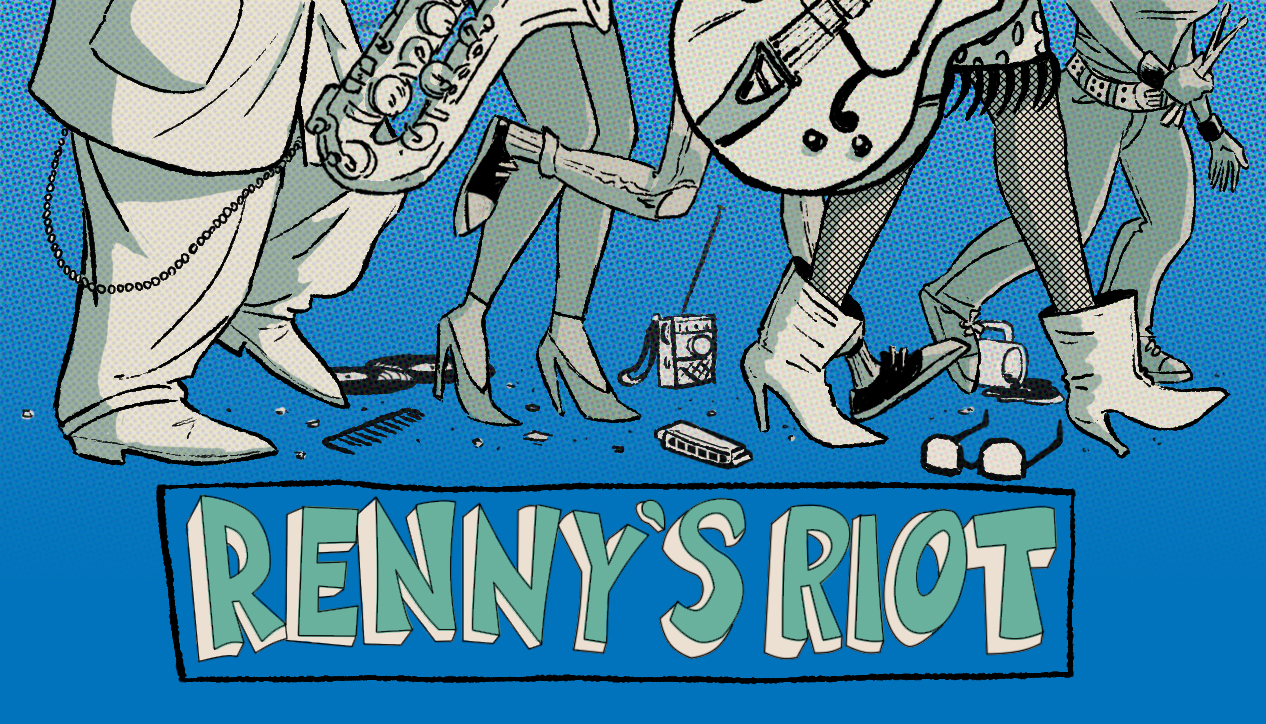 Insurrection in stereo! Caffeinated tunes, scrappy music, past & present, to keep your midweek moving.
Hosted by: Ian Jeans and Renny G
Airs: Every Wednesday from 1:30 PM to 3:30 PM

Coming up at 1:30 PM on September 27th, 2023:
OUT OF CONTROL! Delinquent pop, NYC scuzz, Antipodean punk legends, and maybe the weirdest George Jones song ever. Chubby and the Gang, Booji Boys, Basic Bitches and lots more.
| Date | Host | Highlight | On Demand |
| --- | --- | --- | --- |
| Sep. 20, 2023 | Roasted Renny | HOG WILD: Wham! Blam! A Cancon cram! Pearls about swine, new releases, old gems & too much attitude. | available |
| Sep. 13, 2023 | Rickety Renny | HARPING ON ABOUT IT: Blues harp in punk rock, country harmonica in hillbilly boogie, Jean Caffeine in Ottawa & a couple of mother-covers included. | available |
| Sep. 6, 2023 | Raspy Renny | WHAMMA BLAMMA: BETWEEN ROCK & A HARD PACE. A feature on "Robust Action" a brand new EP from Toronto's Early Tombs, more new releases from NOBRO, the Cruzados & the Cornfed Project. Expecting a Meteors shower in the afternoon & the bands of Austen Morrow. | available |
| Aug. 30, 2023 | Ian Jeans | IGGY IS COMING, LOOK BUSY! New treasures, old obscurities. A veritable flea market of the best music on the planet! Along with Mr. James Osterberg Jr. you'll hear Sham 69, Dead Boys, Muffs, and way tons more! And a couple of new Public Animal ditties! | available |
| Aug. 23, 2023 | Rancorous Renny | WHISKEY, SEX, GUNNS & THE UNDERTONES. | available |
| Aug. 16, 2023 | Rarin' Renny | THE WORLD'S OLDEST TEENAGER: Reclaiming my title with songs about teenagers, trains, "motor sickles" and Who covers. Jazz & Western Swing from the dirty Thirties, to the new whamma blamma of today. 89 years of great music. | available |

Subscribe to Renny's Riot