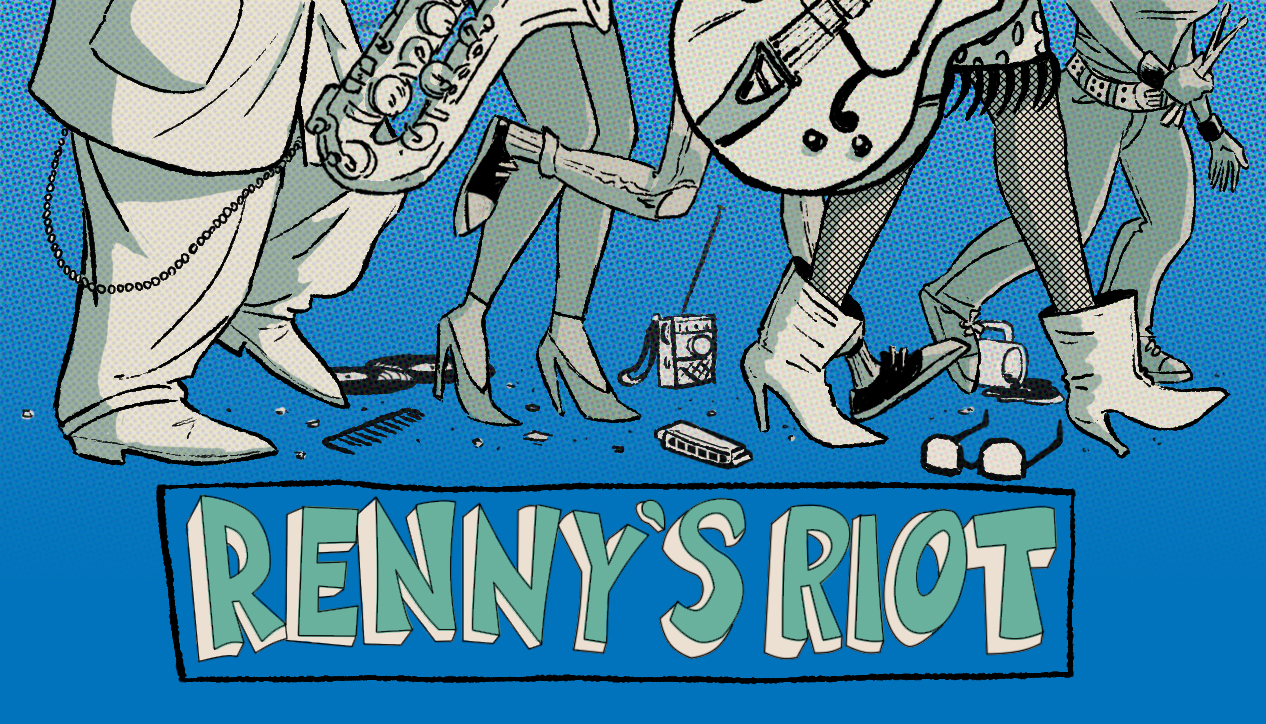 Insurrection in stereo! Caffeinated tunes, scrappy music, past & present, to keep your midweek moving.
Hosted by: Ian Jeans and Renny G
Airs: Every Wednesday from 1:30 PM to 3:30 PM

Coming up at 1:30 PM on February 8th, 2023:
The African-American roots of rock & roll & some libation for the nation with an hour and a half of RHYTHM & BOOZE songs. Cheers to Black History Month. Bottoms Up.
| Date | Host | Highlight | On Demand |
| --- | --- | --- | --- |
| Feb. 1, 2023 | Reversing Renny | A collision of the past with the present, starting with a feature on the Welsh trio, The Bug Club. Then a tribute to recently deceased rockabilly, Johnny Powers. A ferocious Can Con cram & in the last half hour, hep music for sugar crazed toddlers. | available |
| Jan. 25, 2023 | Ian Jeans | RUNNIN' ON FUMES! Two hours of gunk punk, teenager anger, and pent-up pop. Slip'n'slide in the grease pits of the Riot's cluttered garage. Durango 95, Arson, Black Halos, Pink Fairies, Gun Club keep the wheels spinnin'! | available |
| Jan. 18, 2023 | Rebellious Renny | Vintage Sixties music or a reproduction? If it still sounds great, WHO CARES? Also a Can Con Catl. drive & a set of music on Joe Strummer's dime. | available |
| Jan. 11, 2023 | Rocksteady Renny | A DOG'S BRUNCH with a mad mix of genres including glam rock, island music with ska, rocksteady & reggae originals, big drums, angry young men, an amphibious assault with songs about frogs & more. | available |
| Jan. 4, 2023 | Resolute Renny | FULL CIRCLE! Hepcat jazz from the Forties, more music about underwear, ripping songs, girls groups, new releases & ska. A Can Con cram, featuring Toronto's Ichi-Bons, "Live In Tucson Vol. 3" & Andy Butler's latest CD, "Years Of This". | available |
| Dec. 28, 2022 | Ian Jeans | MID-TEMPO MERRIMENT! A mellow holiday breather. Soul, funk, reggae, ska, dub, some vintage Ontario bands and a few seasonal ditties. Relax with Ray Charles, Bob Marley, Bowie, Frank Soda, Tess Parks, a mini Stax tribute, and plenty more. | available |

Subscribe to Renny's Riot