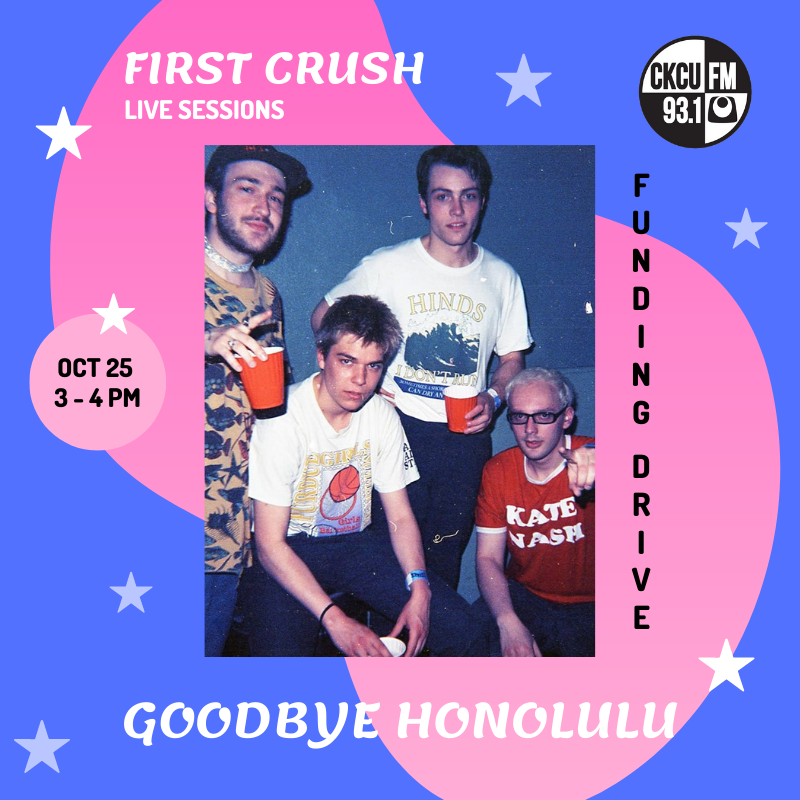 First Crush
Friday October 25th, 2019 with Zoë Argiropulos-Hunter
Funding Drive Special 2019 #1 With Goodbye Honolulu
CKCU's 41st Funding Drive! is on! I'm kicking off the first day with a live studio session featuring Goodbye Honolulu ! Tune in from 3-4PM to catch their set before their show at The 27 Club Ottawa! More details on that throughout the program! My show goal this year is $400! Dial and donate at (613) 520-2898 (phone room opens at 8AM) or online, anytime, at ckcufm.com! For the price of a coffee or a pint, you can donate and keep the Mighty 93.1 FM on-air! I'll be giving away 2 tickets for tonight's show featuring Goodbye Honolulu, Winona Forever and No Hits at the 27 Club! Listen in for your chance to win! Huge thank you to Colin for teching this live session!
I Wanna Be Famous
Tinkertoy Fog Machine - Phantasmagoria (2019) - Self-Released


U Got It
Goodbye Honolulu (live) - Single (2019)

How You Doing?
Goodbye Honolulu (live) - Single (2019)

You and Me
Goodbye Honolulu (live) - Single (2019)

Typical
Goodbye Honolulu (live) - More Honey (2018)

Make You Mine
Goodbye Honolulu (live) - Single (2019)

Backseat
Winona Forever - Feelgood (2019)

Leave Your Love Behind
Goodbye Honolulu (live) - Single (2019)

Mother to a Brother
Goodbye Honolulu (live) - More Honey (2018)