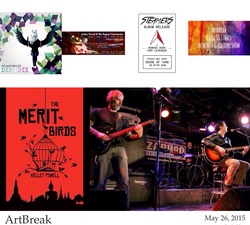 ArtBreak
Tuesday May 26th, 2015 with Kristine St-Pierre
Arts & Culture
This week on #ArtBreak: Ottawa author Kelley Powell joins us in the studio to talk about her new book The Merit Birds and we meet up with the local band The A.M. Resolution. Plus we've some great new music by Melanie Brulée, Ashley Newall and the Raging Suburbanites, Steamers, and Lindsay Ferguson.
Obtus
Melanie Brulée - Débridée


New album "Débridée" out May 26. melaniebrulee.com
INTERVIEW with Kelley Powell about her new book "The Merit Birds." For more information and to purchase the book: https://www.dundurn.com/books/merit_birds
Follow The Way
Peter Katz - We Are the Reckoning


Playing Saturday, May 30 at The Black Sheep Inn with s/g Mark Fossen. Show starts at 8:30pm.
Hey Earthlings
Ashley Newall and The Raging Suburbanites - Greatest Misses


Playing Friday, May 29 at Mavericks - Double album cd release party.
INTERVIEW with Ottawa folk-rock band The A.M. Resolution. They are playing Saturday, June 13 at LIVE! on Elgin (9pm) and Monday, July 6 at Zaphod's (8pm).
Info: http://www.reverbnation.com/theamresolution
Cowboy
The A.M. Resolution - -

Passer une nuite
Steamers - Years


CD release party Friday, 29 May at House of Targ.
Info: https://www.facebook.com/events/917552908297080/
Ships
Lindsay Ferguson - Chameleon


Bad As You
Lindsay Ferguson - Chameleon