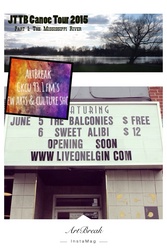 ArtBreak
Tuesday May 19th, 2015 with Kristine St-Pierre
Arts & Culture
This week on #ArtBreak: we go visit Ottawa's new venue LIVE! On Elgin, which will be opening on June 5th and we talk to The Jimmy Tri-Tone Band about their upcoming canoe tour on the Mississippi River! And as always, lots of great music from Durham Country Poets, Sin and Swoon, Chris MacLean, Jasper Bridge and more!
Hey Earthling
Ashley Newall - Greatest Misses


New album to be released May 29 at Mavericks.
Get Your Act Together
Sin and Swoon - Did I turn the oven off?


Glow On
Durham County Poets - Chikkaboodah Stew

Montreal folk-duo Sin and Swoon and Quebec country band Durham County Poets are playing Thursday, May 21 at The Black Sheep Inn.

Info: https://www.facebook.com/events/1564023703859732/
INTERVIEW with Jon Evenchick, owner and manager of LIVE! on Elgin. For info on opening night and upcoming shows visit: www.facebook.com/liveonelgin
End of The World
Jen & John - Jen & John

Chicago
John Antoniuk - Always With You

Fairy Tales
Jasper Bridge - Love To A Wild Thing


Wouldn't Stay Still
Jasper Bridge - Love To A Wild Thing


Saskatchewan singer-songwriters Jen Lane and John Antoniuk will be playing at Raw Sugar Cafe, Friday May 22. They will be joined by guest Jasper Bridge. 8-11pm

https://www.facebook.com/events/875681442491072/
INTERVIEW with Randelle Ashley and James Walters of The Jimmy Tri-Tone Band about their upcoming canoe tour starting Thursday, May 21. For all details on shows and on how to join in, visit:
http://www.jimmytritone.com/#!/pages/canoe
Trees
The Jimmy Tri-Tone Band - Wanted

Sweet Release
Chris MacLean - Procrastinator


Playing Saturday, May 23 at The Black Irish Pub on Selkirk Street as part of the Tunes After Noon music series with host Greg Kelly.

Info: https://www.facebook.com/events/967694809918447/