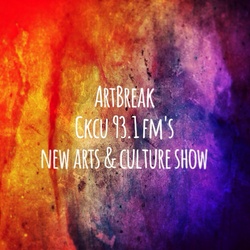 ArtBreak
Tuesday February 3rd, 2015 with Kristine St-Pierre
Arts & Culture
This week on #ArtBreak: the Megaphono festival is taking place around the city! We revist an interview with organizer Jon Bartlett and listen to various artists that are playing as part of the festival. Plus, we talk to two DJs originally from Zimbabwe about Black History Month and the series of events they're organizing, including Our Musical Roots: Origin of Beat. All that and much more on this week's ArtBreak!
Six Feet
Megan Landry - -


Watch Megan's new song Six Feet, as well as other original songs, on her YouTube channel: www.youtube.com/meganlandrypixeldust.
Lost Sock
Ron Kassner - -

Playing Friday, Feb. 6 at West End Well as part of the Spirit of Rasputin's monthly music series The Next Stage. Also playing is Larry 6 String.
For more info: http://rasputins.ca/events/ron-kassner-larry-6-string/
INTERVIEW w/ Jon Bartlett of Megaphono (originally aired in December 2014). The Megaphono music festival is taking place in Ottawa Feb. 3 to 5. For more info: megaphono.tv
Not There Tonight
Hilotrons - At Least There's Commotion

Heavy Weather
Catriona Sturton - -

Silence d'or
Yao - Perles et paraboles

Off You Go
Jill Zmud - Small Matters of Life and Death

Jolene
Jeremy Fisher - Goodbye Blue Monday

Passed Down The Line
Amanda Rheaume - Keep A Fire

Fug Dat
Medhi Cayenne Club - Na na boo boo

INTERVIEW w/ Thabani Malaba and Tumelo Ponalo of Tribal Threat. Their event Our Musical Roots: Origin of Beat is taking place Saturday, Feb. 7 at Maxwell's on Elgin from 10pm to 2am. Additional events are also taking place at SAW Gallery on Feb. 14 and Feb. 21st.
For more info, visit: http://www.tribalthreat.com/upcoming-events.html

These events are part of Black History Month. Tribal Threat Music is partnering with House of PainT Festival of Urban Arts and Culture, Black Artists Network in Dialogue (BAND) and TD Canada Then & Now Black History month.
Father Daughter Dance
Craig Cardiff - -

Playing at 1848 student bar at the University of Ottawa. All proceeds will go towards Relais pour la vie uOttawa Relay for Life! Cost is by donation for students, and $10 for general public!
Show: 8:00pm
Heartache
Leonard Youngfoot - -

Playing Thursday, Feb. 5 at A Thing For Chocolate as part of the weekly music series Sounds Simple.
For more info: https://www.facebook.com/events/839129702815482/