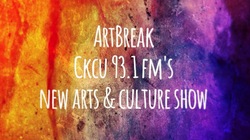 ArtBreak
Tuesday October 7th, 2014 with Kristine St-Pierre
Arts & Culture
This week on ArtBreak: We hear from Ottawa's mayoral candidates about the importance of arts and culture in the city (8:18), we talk to the producer of TFO's new magazine show 24.7 (30:04) and we go in the studio with Blue Blue Satellite as he puts the final touches on his new album (40:06). And as usual, lots of local music!
Roaming Still
Cooper Maclaren - Roaming Still


EP release Saturday, 11 October at Atomic Rooster. No cover.
Oh my darlin
The Side Street Nobodies - -

How Would We Know
Sans Foulard - -

The Side Street Nobodies and Sans Foulard are playing at the Lunenburg Pub Friday night, 10 October as part of Battle of Bands Play for the Pot.
All You Know is All You Know
By The Lights - -

Playing Friday, 10 October at Cafe Dekcuf. Also playing are the bands Spell It Nature and Monday I Retire.
Annabella
Blue Blue Satellite - If By Now


New single by Blue Blue Satellite out now. Visit his website at www.bluebluesatellite.com.
Children of the Corn
Ryan Cook - Wrestling with Demons

Playing Saturday, 11 October at Quinn's as part of the John Allaire Show. 3-5pm
Into The Sun
Archy & Mehitabel - -