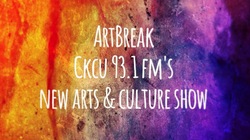 ArtBreak
Tuesday September 30th, 2014 with Kristine St-Pierre
Arts & Culture
This week on ArtBreak: we get a tour of Ottawa's new establishment the West End Well Coop, we talk to visual artist Rebekah Elkerton about her new exhibition, we discuss perseverance with Franco-Ontarian slam artist YAO (French interview) and we meet up with Ottawa's Gold & Marrow to talk about their new album. And of course, lots of music!
River of Sand
Lynne Hanson - River of Sand


Interview: West End Well (8:49)
One For The Road
Old Whiskey Road - Welcome Home

Playing a free show as part of O-Town Hoedown Saturday, Oct. 4 at Atomic Rooster. Also playing are Tilda and Jon Laurie-Beaumont.
Interview: Rebekah Elkerton (18:17)
Crooked Lines
Linda Vanderlee - -

Adolescence
Scott Lemoine - -

Linda Vanderlee and Scott Lemoine are featured artists at this week's Next Stage, a monthly event organized by The Spirit of Rasputin's. For more info visit rasputins.ca.
Interview with YAO (31:58)
Silence d'or
Yao - Perles et paraboles

Luciole
Yao - Perles et paraboles

Yao is playing at Cafe de Joel in Rockland, Friday, Oct. 3 at 8:30pm.
Interview: Gold & Marrow (44:32)
Fighter
Gold & Marrow - Forever


CD Release at The Black Sheep Inn, Saturday Oct. 4. Opening act: The Visit.
Offering
The Visit - -

Opening for Gold & Marrow this Saturday, Oct. 4 at The Black Sheep Inn.