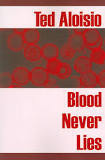 Thursday Blend Early
Thursday August 24th, 2017 with Suzette Schmiedel
What Your Blood Can Tell You with Ted Aloisio
Ever wonder what state of health you are in? According to Certified Nutritional Microscopist Ted Aloisio your blood never lies about the state of your health. On this episode of I Am Alive he will share the stories that blood can tell from his new best seller Blood Never Lies. Special Guest: Ted Aloisio Director of Veritas Health Institute in Toronto Certified Nutritional Microscopist Author of three books including best seller BLOOD NEVER LIES veritashealth@netscape.net For upcoming Live Blood Microscopy sessions in the Ottawa/Outaouais region with Ted Aloisio contact Sylvia Parker at 613-721-0039.
The River Is Flowing
Asher Quinn - Serpent in Paradise
Inka Spirit Drum Song
Deep Soundsix - Single
Wild River
Michael Cretu - Moon, Light & Flowers
Mahk Jchi - Heartbeat drum song
Robbie Robertson - Music for Native Americans

Subscribe to receive podcast links to the I Am Alive Shows, its free!!! email suzette@wellnesslearning.ca