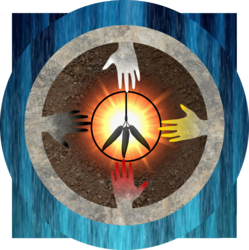 Thursday Blend Early
Thursday January 7th, 2016 with Suzette Schmiedel
The Culture/Land Connection
THE CULTURE/LAND CONNECTION Is culture connected in some way to the land? Do these lines that separate us on a map or a globe somehow define who we are? Find out with Executive Director of ICMI, Indigenous Culture Media Innovations Monique Manatch and Spiritual Director of Heart + Soul Light Centre for Spiritual Growth Judith Matheson who both have a unique way of assisting people to discover ancient traditional ways that allow us to hear the wisdom of the land.
Mother Earth
Vince Ravons - The Human Spirit

Lakota Mother Earth Song
Lakota - Youtube
An Innis Aigh
Scottish gaelic traditional song - Youtube
Starwalker
Buffy Sainte-Marie - Up Where We Belong

Monique Manatch
Executive Director of ICMI
Indigenous Culture Media Innovations
mmanatch@gmail.com
www.icmi.ca

Judith Matheson
Holistic Teacher/Spiritual Director
Heart + Soul Light Centre for Spiritual Growth since 2000
Ottawa/Gatineau/Aylmer
819-684-3099
Judith. Matheson@bell.net
Websites www.birthottawagatineau.com and www.FreetheFalls.ca
Facebook: FreetheFalls.ca

PLEASE SIGN AND SHARE THE PETITION
to Free Chaudière Falls - Go to:
www.FreeTheFalls.ca

NEXT FREE THE FALLS MEETING
Sunday, Jan. 17
Kitchissippi United Church
Island Park Drive ( Just off Byron St.)
Ottawa near Westgate Shopping Centre

To subscribe for free to this show email suzette@wellnesslearning.ca