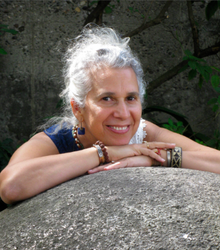 Unpaid & Uncaffeinated
Thursday December 10th, 2015 with Suzette Schmiedel
What is self-mastery with Bedhanya Swami Tierra
SELF-MASTERY WITH BERDHANYA SWAMI TIERRA What is self-Mastery and can it be obtained by the average person? Find out on I Am Alive with Berdhanya Swami Tierra, a spiritual teacher who has spent over 30 years guiding people towards inner freedom and self-mastery. Originally from Cartagena, Colombia, Berdhanya has formal training in psychology, natural sciences (homeopathy and herbology), yoga, meditation and Ayurveda. She studied in Colombia, Brazil, USA, India and Canada and is now based both in Ottawa and Wakefield, Quebec.
Dawn's Spirit
Marcomé - River of Soul

Amanecer
Magda Angelica - Ilhuikatzin
Third Movement: The Murmur of the Stars (Pt. 2)
Patrick Bernhardt - Solaris Universalis
Cité D'or Et De Lumière
Louis Lachance - Le Grand Rassemblement

Nostrie Tiempo (Radio Edit)
Marcomé - River of Soul

Special Guest:
Berdhanya Swami Tierra
Spiritual Teacher
Audio courses, lectures and meditations available at
www.berdhanya.ca
Connect with her on Facebook, Twitter, LinkedIn and Instagram.

To subscribe for free to this show email suzette@wellnesslearning.ca