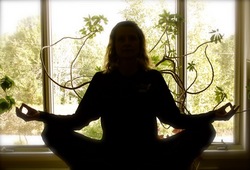 Unpaid & Uncaffeinated
Thursday September 4th, 2014 with Suzette Schmiedel
Yoga Wisdom
Todays show is filled with wise yoga tips and information. Learn the difference between Yoga and Yoga Therapy with Jo-ann D'Alfonso and something that can complement your yoga practice called Acu-Destress with Maureen Fallis of the Surround Circle Yoga Centre. You will also enjoy wise quotes from famous philosophers with a yogic perspective.
Hari Om Nararayan
Surya Chandra - Mystic Tongue

Coyote Danse
Robbie Robertson & RRE - Music for Native Americans

The Grand Bazaar
Tea Party - Alhambra

Closer to Heaven
Pink Mountaintops - Outside Love

Ghost Dance
Robbie Robertson & RRE - Music for Native Americans

Interview with
Jo-Ann D'Alfonso
Yoga Educator/Therapist
dalfonsoja@gmail.com
613-794-4991

and

Maureen Fallis
Yoga Instructor/Therapist and
Founder of Surround Circle Yoga
surroundcircleyoga.com