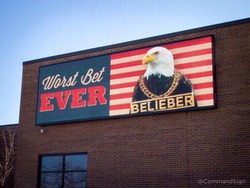 Thursday Special Blend - Geek On
Thursday February 20th, 2014 with Kiernan Mac
Geek On! Do The Winter Olympics Contribute To Internet Meme Culture?
It's that time of year again, where on a four-year basis the collective nations of the world come together in the interest of celebrating each other's differences and commemorating good sportsmanship and, verily, compete in the premier social and cultural sporting event of the world. All the while celebrating all of humankind. Nonetheless, the Internet proceeds to create an assortment of completely extraneous Internet memes – an idea, style, or action, popularized on the Internet, which, rather than celebrating goodwill towards all humankind, celebrates "lolcats" and "Cool Runnings" (not to say these icons are less deserving of universal praise). Relive the discussion as host Kiernan Mac delves into discussing the relationship between Internet Memes and the Olympics. Has Internet culture created a cultural "singularity" existent because of humankind's desire for culture and need to watch various cultural events? Is, according to "meme culture", Canada more or less nationalistic than the USA during the Winter Olympics? How did anime and extreme sports influence Justice's, complete awesome, "New Lands" music video? #DawnsEarlyLight and tune in to Geek On!
Sleeping Maggie
Ashley MacIssac - Hi, How Are You Today?

New Lands
Justice - Audio, Video, Disco
Rinzler
Daft Punk - TRON: Legacy (Music from the Motion Picture)
Heaven Knows
The Pretty Reckless - n/a