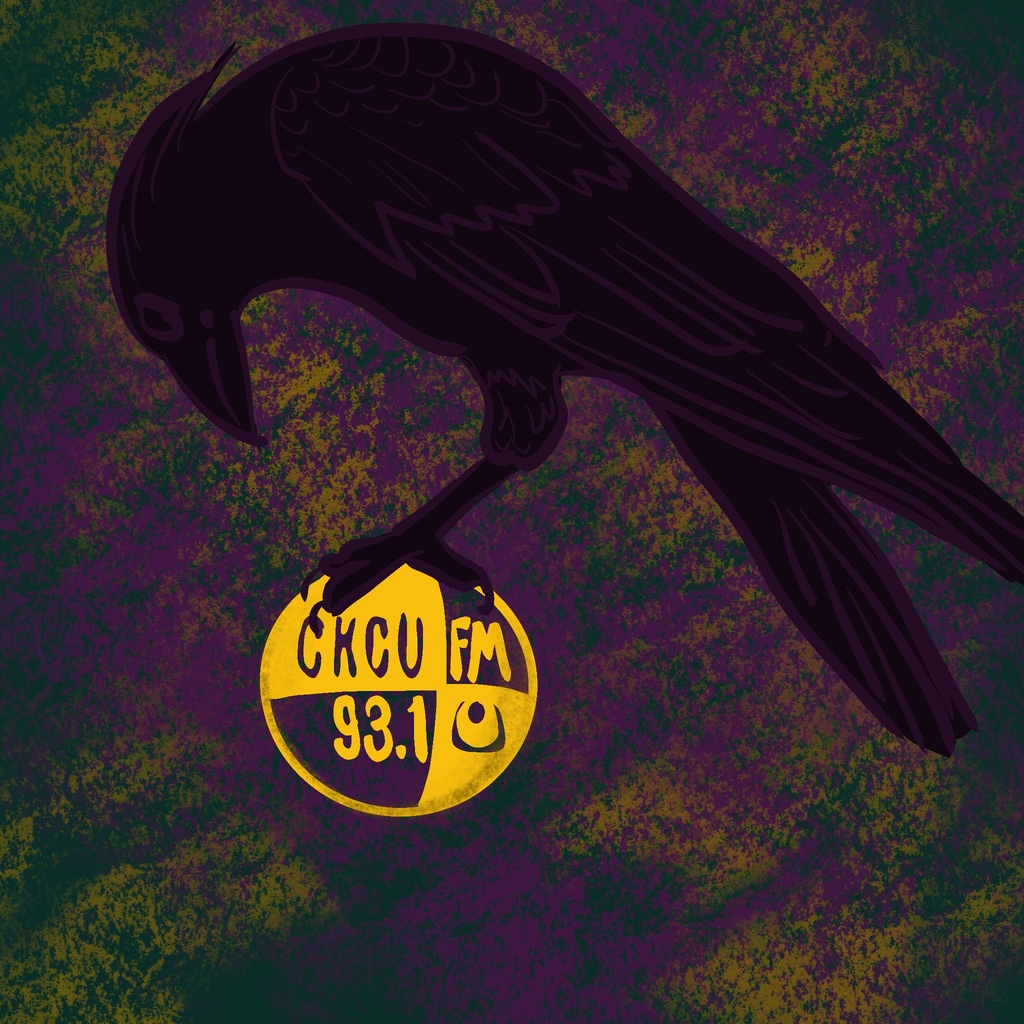 Monday Special Blend
Monday November 22nd, 2021 with Jumpin' Joel Flash & Kim Valentine
It's David GoGo and Mad Gamma and a METRIC TON of local music on the Monday Special Blend!
Still time to get donations in for the 2021 CKCU Funding Drive! Head to
ckcufm.com
and make your donation! You can also find the link in our bio! An Interview with David GoGo! He's got himself a brand new album, and a DOUBLE NIGHT BILL at the Rainbow for their 37th anniversary this weekend! And then another Interview with Mad Gamma! This Folk Rock Trio has a new EP, and a show this Saturday at Avant Garde with Class of 91 and Sorry Snowman! You'll also hear tracks from Rebelle, Raine Hamilton, The Good Guys, Side Eye & Grace and Max Webster!
Hangover
Max Webster - Max Webster

Liminal Spaces
Side Eye & Grace - Liminal Spaces


Poetically Incorrect
Side Eye & Grace - Liminal Spaces


Side-Eye & Grace is an Ottawa-based chamber-jazz outfit. Their sound is a melting-pot of influences ranging from Maurice Ravel and late Romanticism through to modal jazz, east-coast fiddle music, and the avant-garde. Their lineup includes Garrett Warner and Kyle Jordan on guitars, Chris Pond on bass, and Erik Johnson-Scherger on the violin. The group released their debut album, Liminal Spaces, in January of 2020.

https://side-eyeandgrace.bandcamp.com/

PLAYING SATURDAY!

Side-Eye & Grace - Album Release w/ Duck Toys
Saturday, November 27th
7:00pm Doors // 8:00pm Show
Live! On Elgin - Upstairs 220 Elgin Street
$12 Advanced Tickets Only
https://www.liveonelgin.com/products/side-eye-grace
Old Enough to Know Better
David GoGo - Silver Cup


Silver Cup
David GoGo - Silver Cup


=============================================
AN INTERVIEW with David GoGo! He's got himself a brand new album, and a DOUBLE NIGHT BILL at the Rainbow for their 37th anniversary this weekend!

ABOUT DAVID
Veteran Canadian bluesman David Gogo is releasing his 16th full length album "Silver Cup" on October 8 2021. This acoustic affair was recorded at his home with longtime friend Steve Marriner producing and playing on the project. The COVID pandemic and subsequent shutdown of the live music scene gave Gogo time to reflect on his life, heritage and career and the new songs he has written reflect this.

The title track was inspired by an antique cup made in the 1800's that was passed down to him from his 95 year old grandmother. The cup once belonged to his Great,Great, Great Uncle James McKay who was a Métis builder of Canada. McKay was originally a trapper and guide, but eventually was involved in the negotiations of Treaties 1 through 5 and held several positions with the newly formed Province of Manitoba, including dealings with Louis Riel.

David Gogo has six JUNO Award nominations, has been named Guitarist Of The Year three times at the Maple Blues Awards, was named Musician Of The Year at the West Coast Music Awards, won Blues Recording Of The Year at the Western Canadian Music Awards, and received the Great Canadian Blues Award for his lifetime contribution to the blues in Canada as voted by the listeners of CBC's Saturday Night Blues.

PLAYING FRIDAY & SATURDAY

DAVID GOGO - Rainbow 37th Anniversary Shows
Friday, Nov.26 & Saturday, Nov.27 2021
The Rainbow - 76 Murray St.
https://www.ticketweb.ca/search?q=rainbow+bistro

=============================================
Eclipse
Raine Hamilton - Brave Land


Love Has Come For Me
Raine Hamilton - Brave Land


Resonant, acoustic chamber folk with an other-world ly edge, and a lyric presence that cuts deep. Prism-clear vocals + strings. Anchored in the ancient mountains, reaching out beyond the earthly.

Raine is part prairie songstress, part storyweaver; Each song has a story, delivered between songs with humour and grace. Raine invites her love of the violin into the singer-songwriter genre, writing for violin and voice, as well as for guitar and voice. Joined by cello and upright bass, expect string arrangements that push and pull, that move as they console.

Art is for everyone, music is for everyone. Raine often performs alongside an American Sign Language (ASL) interpreter, making her concerts accessible to the Deaf community. She is great with kids; Ask her about her songwriting workshops.

https://www.rainehamilton.com/
Mercury Lights
Mad Gamma - Moving On


4 Corners
Mad Gamma - Moving On


Mad Gamma

AN INTERVIEW with Mad Gamma! This Folk Rock Trio has a new EP, and a show this Saturday at Avant Garde with Class of 91 and Sorry Snowman!

We are Mad Gamma, an Ottawa-based folk-rock band composed of members Matt Atchison (drums, bass, vocals), Emma Bulchak-Healy (vocals, piano, synth), and Sam Fisher (guitar, vocals). Drawing inspiration from artists including Hawksley Workman, Pink Floyd, and Fleetwood Mac, our music blends dynamic three-part harmonies and anthemic rock with progressive, folk, and jazz influences.

We write about our lived experiences with conflict, mental health, recovery, and personal growth. Our songs seek to find beauty in the unexpected, meaning in moments of darkness, and strength in our struggles.

https://www.madgammamusic.com/

PLAYING SATURDAY

CLASS OF 91 + SORRY SNOWMAN & MAD GAMMA
Sat Nov 27 2021 at 8:30 pm
Avant-Garde Bar - 135½ Besserer St.
https://allevents.in/ottawa/class-of-91-sorry-snowman-and-mad-gamma/200021793760345
Howlin'
The Good Guys - The Good Guys


The Pizza Song
The Good Guys - The Good Guys


The Good Guys is a new modern jazz fusion band based in Ottawa. Composed of five seasoned musicians, this up-and-coming instrumental ensemble is really "all about the music." Soaring rock guitar solos mingle with chunky saxophone lines in an experience that sounds like the ghost of Chick Corea crashed a Ninja Turtles pizza party. Their debut eponymous album ranges from bombastic to introspective, with influences from Charlie Parker and Snarky Puppy to King Crimson and Jamiroquai. A Good Guys show spans the grooviest funk to the most introspective jazz, in a one-of-a-kind experience audiences are sure to enjoy.

https://goodguysottawa.com/

Apt613 #ottmusic Weekly playlist: https://apt613.ca/ottmusic-weekly-13-new-songs-added-to-the-apt613-playlist/
Kicks
Rebelle - s/t


The Rapture
Rebelle - s/t

Once described as "filthy with a beat" this Wakefield, Quebec based four-piece draws inspiration from bands like Muse, Demob Happy, The Vines, Band of Skulls, Blur, Oasis, Black Sabbath and Dinosaur Pile-Up.

https://www.rebellemusic.com/
Apt613 #ottmusic Weekly playlist: https://apt613.ca/ottmusic-weekly-13-new-songs-added-to-the-apt613-playlist/

PLAYING DECEMBER 3

Crown Lands - The Big Wave Tour
w/ Sky Wallace & Rebelle
Fri Dec 3 2021 - 7:30 PM (Doors 7:00 PM)
Bronson Centre Theatre - 211 Bronson Avenue
https://www.ticketweb.ca/event/crown-lands-the-bronson-centre-theatre-tickets/11189785