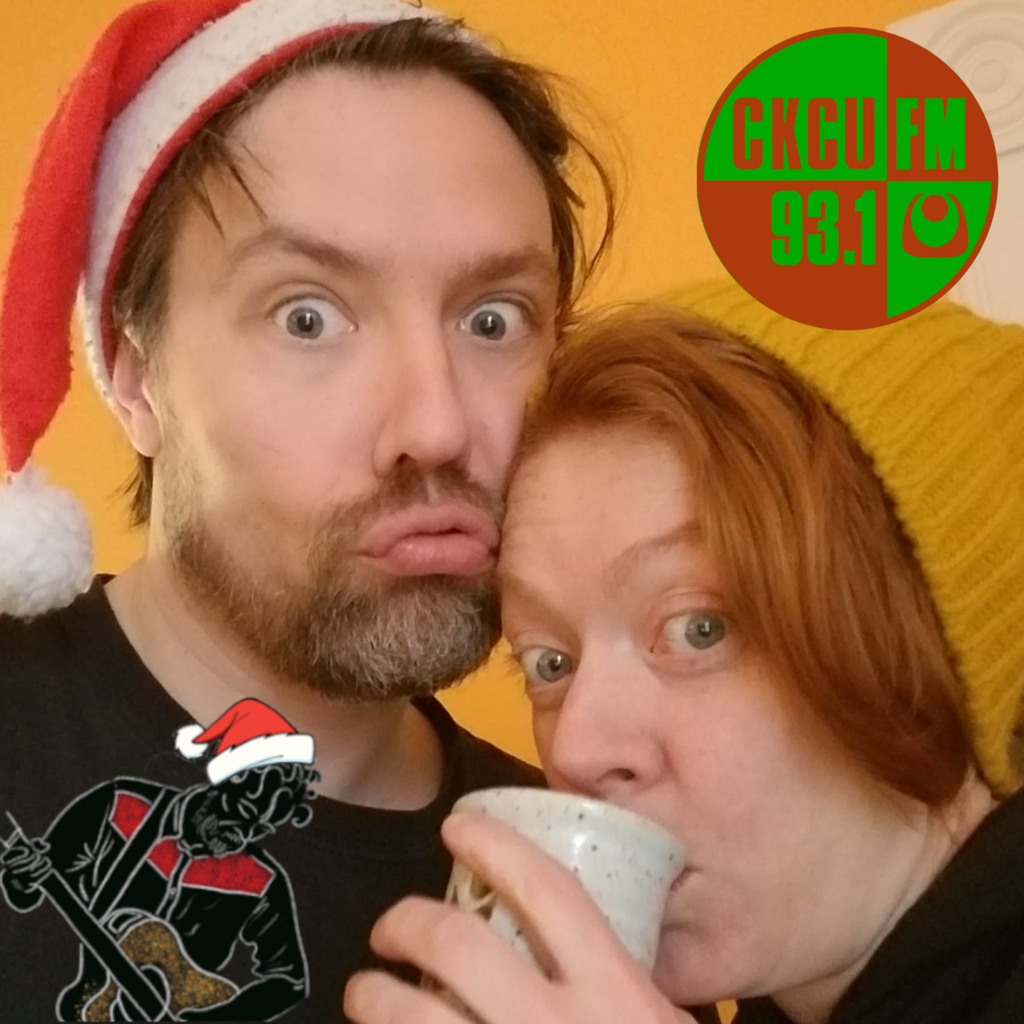 Monday Special Blend
Monday December 21st, 2020 with Jumpin' Joel Flash & Kim Valentine
It's a Holly Jolly Local Christmas Music show on The Monday Special Blend!
In this holiday special, I'm joined by a co-host with the most-most…. Kim Valentine! I've collected a whole bunch of Ottawa/Gatineau Christmas tracks, and we're gonna yik yak and smile and have a great time sharing them! You'll hear cheery Holiday tracks from Paul Weber, Francine Honey, Danah Lee, Shawn Tavenier, Kelly Prescott & The Telegrams, Ambre Maclean, Foreman and Co., Sandy Shore, Blinded by Life, Slo' Tom and The Handsome Devils, Andrew Waines, Melissa Ouimet, Jesse Dangerously, MC Lars, Klopfenpop, Brant Pethick, My Favourite Tragedy, Crystalena, Renée Landry, Amanda Cottreau, Kristine St-Pierre & Justin Lacroix, Jessica Pearson and the East Wind & Wayne Rostad!
Christmas in the Valley
Wayne Rostad - s/t

Bio:
Wayne is, without a doubt, one of the most commanding and compelling performers anywhere. He takes to the stage with his guitar in hand, a powerful one-man show that keeps audiences spellbound with his songs, stories, humour and passion. He has that very rare and special ability to make everyone feel that he is singing for them and them alone. His television show travels have given Wayne a unique understanding and perspective of Canada and its people, making him exceptional among Canadian entertainers. On stage, Wayne has shared billings and rubbed shoulders with many of the best entertainers in the business – Johnny Cash, Ricky Skaggs, Charlie Pride, Loretta Lynn, the Bellamy Brothers, and Emmylou Harris – just to name a few; and opened for such greats as Waylon Jennings and Roy Orbison.

Wayne not only loves people, he loves humanity. He is a strong community activist, who has helped raise millions of dollars for The Children's Hospital of Eastern Ontario and the Ottawa Heart Institute. He has also served as Honourary Chair of the Christmas Exchange. His work has garnered him many awards and honours. He has been inducted into the Canadian Country Music Hall of Fame and the Ottawa Valley Country Music Hall of Fame; he is a Paul Harris Fellow; and a Judge Brian Stevenson Award recipient. He also serves as a Board member at several charitable foundations.

Wayne is a member of the Order of Canada. He received this distinction for his strong commitment to the people in his own backyard and in communities across the country.

More Wayne here: http://waynerostad.ca/
Hallelujah x Carol Of The Bells Mashup
Crystalena - s/t

Bio:
The street beats of Ottawa and the rare Open mic late night is where I currently live and perform. I followed my dream of pursuing music and spent 4 years studying music at Carleton University. I write my own lyrics and started producing my own songs alongside artists and sound engineers who inspire me. Recently came back from a three week tour reaching Canada's beautiful East Coast including P.E.I, Halifax, Moncton, and more.

I love and live for collaborating with other artists and experimenting with different genres of music. I find inspiration all around me. I strive to make my music representative of myself and my generation. I love the places that most people don't give a second glance, especially the weird and eerie. The lunar phases are especially an inspiration in my latest collaborations.

More Crystalena: https://crystalena.ca/
Murray Street Christmas
Paul Weber - Ode to Gerry Barber

Bio:
Paul Weber is a Canadian singer, songwriter, guitarist, storyteller and video documentary maker and who has performed across Canada in various incarnations. Paul has been kicking around Ottawa since the early 1970s when his parents fled the U.S. in search of a calmer place to raise kids. Paul has worked sweeping stairs, waiting tables, working in a homeless shelter, trouble-shooting rooming house issues for the City of Ottawa, and for the last decade paying the bills by working for the federal government. He has successfully led, performed in and managed several groups, including Cheza (1991 - 2012) and the Main Street Market Band (2013-2018).

more Paul here: http://www.paulweber.ca/index.html
Chiron Beta Prime
Blinded by Life - Wish Uke A Merry Christmas

Bio:
I guess this is the place where I tell you a bit about myself and my music. But I am not really good and explaining things. For a song writer I am not always good with my words, which is probably why I am rambling a bit right now. Oh crap I seem to be running out of characters and I haven't really told you anything yet. I still have a bit of space so I guess I should at least say that my music is

More Blinded by Life here: https://blindedbylife.bandcamp.com/
A Gift for You
Ambre Maclean - s/t

Bio:
"McLean's voice – is an instrument itself: gorgeous, sometimes with a rich, bluesy feel, other times a sweet mellow sound, alternatively soft and ferocious, always carrying these tunes straight to your musical heart." (David Yazbeck, NXEW.ca)

more Ambre here: https://ambremclean.com/
Promenade d'hiver
Kristine St-Pierre & Justin Lacroix - Noël avec toi

Kristine bio:
Kristine St-Pierre is a bilingual folk singer-songwriter with soul-searching ballads and a rollicking bluesy flair. Described as a 'chansonnière' with a traveling heart,' Kristine sings her life with passion, vulnerability and authenticity. She has released two bilingual albums, followed by a francophone album called La promesse in late 2017. The title track "La promesse" reached no. 2 on Sirius Xm Franco Country. The album consists of six catchy pop songs, all the while remaining true to her introspective and sensitive folk style.The album received a Canadian Folk Music Award nomination in the French songwriter of the year category in 2018, as well as a nomination for Francophone artist of the year by the Country Music Association of Ontario in 2019.

Kristine is also a strong advocate for equality, taking every opportunity to use her voice and expertise to advance women's and girls' rights. She counts herself lucky for having had the opportunity to perform in several countries in Sub-Saharan Africa as well as most recently in Ukraine. In the spring of 2018, she embarked on a five-week cross-Canada family tour from Ottawa to Vancouver Island by car with her partner and her two children who were at the time 3 years and 9 months old!

more Kristine here: https://kristinestpierre.com/

justin bio:
Winnipeg's bilingual singer-songwriter Justin Lacroix infuses the timeless sounds of blues, folk and roots-rock into a soulful experience. Through his stories of love, loss and life on the road, Justin shares a message of optimism and connection to the world around him.

Justin first emerged in 2005 with his first solo album Boogieman. He followed up with 3 solo albums and 2 albums and 2 EPs recorded with his band. His latest solo acoustic album Sweet Time of Mine was released February 18th, 2018 and was recorded with his long-time friend and bandmate, Joël Perreault.

Nominated for both WCMA (2016) and Trille Or (2017) awards, Justin has engaged with festival audiences from coast to coast and in Europe, including Live from the Rock (Red Rock, ON), Festival du Voyageur (Winnipeg, MB), Snow King Festival (Yellowknife, NWT), Festival OFF Avignon (Avignon, France) and in 2017: Pride Festival, Trout Forest Music Festival, South Country Fair (AB) , Edmonton Chant' (AB), Hay Days Festival, Dauphin Country Fest as well as the Canada Summer Games.

More Justin here: http://www.justinlacroix.com/
Santa, Bring Me A Reindeer
Renée Landry - A Christmas Night

Bio:
Recently named one of Ottawa's best musicians on Ottawa Life Magazines "Best of Ottawa 2020" list, Renée Landry is a powerhouse of Northern Ontario soul. Hailing from Sault Ste. Marie, with her commanding stage presence and fierce vocal delivery, the Ottawa songstress weaves confessional stories of love gone wrong with 90's pop-soul sensibilities.

A classically trained musician, Renée has performed at numerous venues & events over her career including Loplops Lounge, The Elmdale Tavern, The Rainbow, Options Jazz Lounge, Live! On Elgin, NAC Fourth Stage, Irene's Pub, Ottawa Jazz Festival, and RBC's Ottawa Bluesfest, just to name a few. Renée's music often graces the Canadian airwaves on CBC Music, and has been streamed all over the world
from the UK to Japan.

Backed by her 7 piece soul band, her latest album "Like A Boss" (released January 2019) is a modern take on the beloved Motown sound. With empowering lyrics, heavy horn lines, and catchy melodies, Renée's newest musical creation has been met with enthusiastic praise by critics and ​music lovers a like!

More Renee here: www.reneelandryoffic
Christmas 'Round My Tree
Francine Honey - Take me to the North Pole

Bio:
Francine Honey is an International Award-Winning Canadian Bilingual Singer, Songwriter and Recording Artist of Americana and Country music. Her latest single "I Carry On" is a testament to the human spirit and its ability to overcome the challenges that life throws our way. Where does this courage come from? When the path through is unclear, there are unexpected heroes that appear with help. Whether it is a partner, a caregiver, a parent, a child, a friend, or one's faith in something larger than life, this song expresses gratitude to those that light our world and help us through. Honey is not new to dealing with adversity and finding a way to "carry on". Her path through life and into song writing has been years in the making. A mother of two and former federal civil servant is finally living the dream. She has the love of her life, and the career she long denied herself.

"I Carry On" is the second single being released in anticipation of her upcoming fifth project entitled 2020 Vision; a chronicle of her life story so far in song, as a double album due out later this year. It follows the single "Red Sky" released (Oct/19) and a full-length Holiday album entitled Take Me To The North Pole (Dec/19). Prior to that Francine's third album To Be Continued… features tales of heartache and struggle, loss and crisis received critical acclaim. Honey streams on Facebook regularly and creates award winning music videos as additional expressions of her songs.

More Francine here: https://francinehoney.com/
Winter Lullaby
Jessica Pearson and the East Wind - s/t


bio:
Jessica Pearson is a Canadian born storyteller with a voice like melting honey on a summers eve. Accompanied by Maddy O'Regan on the fiddle, they bring to life tales of the past and express the beauty and heartbreak of the world today.

In 2017 they released their debut EP 'Grave and Garden Songs' to a sold out crowd at LIVE! On Elgin. Playing over 80 shows a year in Canada, Ireland and the United Kingdom, they have been writing songs and collecting stories from all over the world.

Jessica Pearson and the East Wind have recently signed to Willow Sound Records and Syndicut Music Publishing with Jessica's first cut on Joe Diffie's single 'As Long As There's A Bar'. They are currently working on their first full length album to be released in 2020.

Their music blends folk, roots and East Coast bluegrass to create a unique sound of their own. From a cappella tunes sung in the middle of the audience to recollections of growing up in Canada, Jessica Pearson and the East Wind will take you on a journey with their dynamic live shows and entertaining story telling.

more JPEW here: https://www.jessicapearsoneastwind.com/
Christmas Lights
My Favourite Tragedy - My Favourite Christmas

Bio:
Often described as a cross between Cat Stevens, Counting Crows and Dave Matthews, my Favourite tragedy has its own unique dynamics. This three piece acoustic ensemble with upright bass delivers high energy and quiet whispers that take you on an emotional roller coaster.
mFt takes their name from the shifts in thinking that people experience in life's most challenging conditions. They have heartfelt relatable lyrics and catchy melodies that hook listeners in a wide range of demographics.

more MFT here: https://www.facebook.com/myfavouriteband/
It ain't Christmas without you
Andrew Waines - The Night Before Christmas

bio:
Ahead of his formal introduction into Canada's music industry, Andrew is best known for his covers of some of music's top artists like Shawn Mendes, Ed Sheeran and John Mayer. Until now, Andrew has focused his efforts to primarily boosting his social following with his music. Some of his best received covers include Keith Urban's "Blue Ain't Your Colour" as well as Kent Jones' hit "Don't Mind." His covers have even garnered him quite a strong fanbase in his hometown of Ottawa, where he's performed some of his most popular ones on CTV Morning Live Show, CKCU-FM 93.1 and at Mike's Place Pub at Carleton University.

Like many of his predecessors, Andrew's musical journey started very early on. Thanks to his parents, he grew up listening to the likes of Billy Joel, Maroon 5, and Barenaked Ladies; artists who ignited his interest for guitar. While he began with piano lessons at six-years-old, Andrew moved onto professional guitar lessons in his early teens with Dan Hay (Amos The Transparent).His passion continued to flourish as he practiced along to the tunes of his biggest influences likes of Guns N Roses, Stevie Ray Vaughan, John Mayer and Ed Sheeran. In 2012, while only in grade 10, Andrew joined Jordan McIntosh's Country Band as a rhythm guitarist where he perfected his guitar and performing skills playing at Ottawa Bluesfest, Boots & Hearts Country Music Festival, Cavendish PEI Beach Festival and more. Besides his musical ambitions, growing up Andrew was also heavily involved in soccer, something he almost pursued professionally. After playing competitively for almost 10 years, he got scouted by a Queen's University soccer coach at age 16. During what was one of the biggest crossroads in his life, Andrew took a leap of faith and decided to fully commit to his music career instead, a decision he hasn't regretted since.

more andrew here: http://andrewwainesmusic.com/
Noël dans la tête
Melissa Ouimet - Noël dans la tête


bio:
/ La rockeuse franco-ontarienne s'approprie les scènes de partout depuis plus de dix ans. Au fil des années, la carrière de Mélissa Ouimet n'a cessé de croître. Gagnante d'un Trille Or pour la « chanson primée » avec son extrait « Amours jetables », l'auteure-compositrice et interprète continue de se faire un nom dans l'industrie musicale.
On a pu l'applaudir notamment lors des Francos de Montréal, du FestiVoix de Trois-Rivières, de Constellation francophone à Ottawa et dans le cadre des festivités entourant le 150e du Canada.

Récipiendaire du « Prix du Public » dans le cadre d'Ontario Pop, Mélissa Ouimet s'est envolée pour l'Asie en 2007 où elle a donné pas moins de 310 représentations en une année ! Un véritable marathon entre Hong Kong, Kuala Lumpur et Séoul.

Riche de nombreuses collaborations, Mélissa Ouimet a également assuré les premières parties d'artistes de renom tels que Robert Charlebois, Véronic DiCaire, Eric Lapointe, Bobby Bazini, Martin Deschamps et Sylvain Cossette.

More Melissa here: http://melissaouimet.com/
Fox in the Hole
Foreman and Co. - Fox in the Hole

bio:
Original Canadiana alt country rock.

More Foreman here: https://www.facebook.com/ForemanandCo/
Pretty Little Winter World
Shawn Tavenier ft. Kelly Prescott & The Telegrams - s/t

Shawn Bio:
Shawn Tavenier is a singer, songwriter and performer from Ottawa, Canada.

more Shawn here: https://shawntavenier.bandcamp.com/

Kelly Bio:
Kelly Prescott comes by her music in the most honest way possible, as a third generation singer/songwriter on both sides of her family. She grew up between a tour bus & a world class recording studio, her childhood steeped in traditional country music. Kelly and her family recently made their Grand Ole Opry debut as guests of Terri Clark.

The past few months have been a whirlwind for singer-songwriter Kelly Prescott since the release of her acclaimed EP "Love Wins" on February 21st via SteelHead Music. Her first new album since her 2016 EP "Hillbilly Jewels", "Love Wins" sees Prescott return to her roots with the sounds and styles she loves, delivering a collection of songs that are contemplative and masterfully highlight her soulful vocals. The self-penned six song collection draws straight from her own heart, and just earned Prescott her first ever CCMA Award nomination for "Roots Album of the Year". "Love Wins."

She has toured all over North America with such acts as Alan Doyle, Kyle Cook (Matchbox 20) Terri Clark, Dallas Smith, Jim Cuddy (Blue Rodeo) Colin James, Dean Brody, her former band The Claytones and performing as Emmylou Harris in the theatrical production of Grievous Angel: The Legend of Gram Parsons.

More Kelly here: http://www.kellyprescottmusic.com/
Swag Nog (remix)
Jesse Dangerously feat. MC Lars & Klopfenpop - s/t

Jesse bio:
unpopular rap legend, unpaid bear model, indie rocket scientist. Member in good standing of the irrepressible Backburner Crew. Partially culpable for the nerdcore hip-hop problem. My friends have done incredible things.

Jesse Dangerously is a solo artist, a collaborator, and a group member. They write and perform songs with Danger Grove, The Library Steps, and The Penetrating Gaze.

More Jesse: https://dangerously.ca/

MC LArs Bio:
MC Lars (real name: Andrew Nielsen) began making hip-hop-based tapes while still a kid, but was sidetracked from rap by such traditionally important issues (to teenagers) as playing guitar in a punk band and getting accepted to a college. Nielsen went to Stanford and then did an exchange stint at Oxford, but all the while he was fiddling with desktop productions and developing his quirky, pop-culture-savvy style. Boisterous live gigs and word of mouth built buzz for Lars' home-studio raps (influences: everything from and to and ).

London imprint issued a Lars full-length, Radio Pet Fencing, in 2003, and the MC followed that with U.S. and U.K. tour dates. While the entirety of Fencing was recorded on his computer, the 2004 EP Laptop -- while still charmingly simplistic -- was a comparatively grander production, with samples of notable rockers (, ) and a stronger melodic sense. Cuts like "iGeneration" and "Signing Emo" were hits with downloaders and mtvU viewers, and MC Lars did live dates with groups like and through spring 2005. The full-length The Graduate -- as MC Lars could hence call himself a Stanford alum -- appeared in March 2006.

In 2009, he collaborated with on "True Player for Real," a track from This Gigantic Robot Kills, and he was joined by and for Lars Attacks! in 2011. One year later, the Edgar Allan Poe EP dropped. Lars' 2015 project, The Zombie Dinosaur LP, was funded by Kickstarter and featured appearances from and , among others; it reached Billboard's Heatseekers chart. Next came the 2016 mixtape Donald Trump Has Very Bad Morals and a 2017 EP, Revenge of the Nerd. ~ Johnny Loftus, Rovi

More Lars here: http://mclars.com/

Klopfenpop bio:
Digital Organic Productions, helmed by Northwest native Josh Klopfenstein a/k/a Klopfenpop, provides services for beat commissions, other music production, recording sessions, mixing, mastering, and coaching.

more Klop here: http://klopfenpop.com/
It's Christmas Time
Brant Pethick - s/t

bio:
Brant Pethick is a Covenant award winning Christian pop singer/songwriter from Ottawa, Canada, who focuses on writing and performing positive and hopeful inspirational anthems!

Brant's first live performance was in a church and since 2012 he has released 1 album and 7 singles. His hooky melodic phrasing and passionate songwriting style has resulted in a 2020 Covenant Award, extensive radio play including songs that have charted for weeks on Christian radio, and multiple international songwriting awards in the Gospel/Christian category. Brant has collaborated with several prominent JUNO and Covenant award artists and producers such as Andrew Horrocks, Jaylene Johnson, Chelsea Amber, Arun Chaturvedi, Jesse Weeks and Colin Bernard.

With much anticipation, Brant's new EP called Hope is a collection of 6 inspirational uplifting songs that pursue hope through spirituality and is a collaboration with JUNO and Covenant award songwriters and artists. Brant recorded these new songs over the last couple years and allow him to share and express encouragement through God's faithfulness.

More Brant here: https://www.brantpethick.com/
.​.​.​X​-​mas​?​.​.​.​. AGAIN!
Slo' Tom and The Handsome Devils - s/t

bio:
So really… who is Slo' Tom? His story is the stuff of legend. Tom burst upon the 1990's punk/alternative scene and his band FurnaceFace soon became a nationally know entity releasing five albums, major label distribution, videos with heavy rotation on Much Music, multiple CMVA awards, and a dozen national tours. Tom has spent a decade reinventing himself as a songwriter.

more Slo tom here: https://slotomandthehandsomedevils.bandcamp.com/
Almost Christmas
Amanda Cottreau - s/t

bio:
"Canadian singer-songwriter Amanda Cottreau blends haunting melodies with themes of love and redemption. Her tunes are wrought with internal conflict but always seem to offer some sort of resolution through self-awareness. While she cites Tori Amos, Sarah McLachlan and Sarah Harmer as influences, Cottreau has a voice all her own." ~ Collin Elliott, STEREOFAME ( Nov 02, 2010 ).

In 2009, Amanda met and began collaborating with Ryan Potter, a seasoned Ottawa musician and closet producer. After almost two years of juggling work, motherhood and recording, Amanda finally birthed her first solo album "Universe in a Soft Shell" (NOV 2010). In August 2012, Toronto's Instinct Entertainment took notice and featured the track "Couldn't Wait", from Amanda's recently released EP "Universe in a Soft Shell," on Canada's longest running television show, Degrassi.

Amanda has played over 200 shows between Ontario, Quebec & Nova Scotia and has shared stages with countless artists: Ogen (Mathieu Holubowski), The Visit (Raphael Weinroth-Browne & Heather Sita Black) Nathanael Larochette, Brandon Wint, Russell Levia, Nick Beauregard, Andrew Johnson, Alex Millaire, Jeremy Sills & Naomi Athena, Rory Taillon, Keturah Johnson, Brandon Wint, Steve Perron, Sarah Smith, Jack Pine & The Fire, Tara Porter, Her Harbour (Gabrielle Giguere), Sohayla Smith, Domestic Crisis Group, Musk Ox, Katey Morley, Lani Billard, Meghan Tonjes, Mike Falzone, Sheree Plett, Jeremy Eisenhauer, Ophelia Syndrome, The Strip, Jason Paul Johnston, Terns, Natasha Pasternak, Jayda, Brothers Through The Hill, The Powergoats, Ryan J. Potter, Tracie Morgan Mac Maghnuis, Joel Keuhn, Soulfat Funk.

More Amanda: http://amandacottreau.reverbnation.com/#about
O come o come emmanuel
Danah Lee - These are a few of my favourite hymns


Bio:
Danah-Lee is an Ottawa Valley singer songwriter and music educator. For the last decade, Danah has been teaching many musical minds, young and old. And still, she makes time for her own creative works.

Groundwork for Danah's musical knowledge began at a young age, when she would literally steal music out of the trash after Sunday morning church services. Danah was determined to learn the complexities of chords, vibrations, and sounds; wanting to know how each flowed together to create music. Since then, Danah has learned how to use her knowledge freely and has developed a framework for creating music and expressing what is happening internally.

​With a voice described as "crisp, pure and powerful," Danah-Lee has been singing songs that share snippets into her life experiences.

More Danah here: https://www.danahleemusic.com/
Merry Christmas Night
Sandy Shore - s/t

bio:
Thanks for stopping by…now, where to begin? …I was born in Canada and that's where I began my singing career. I joined my church choir in 1958 and was taught "how to sing" by Ms. MacDonald, a fantastic choirmaster. After a few years in the junior and the senior choir, I realized that I really wanted to sing songs like the ones I was listening to on the radio, so in 1963 I started my first Rock & Roll band. We sounded a bit like Buddy Holly and we toured armed forces bases and colleges across Canada and the U.S. Our repertoire was continually changing as we strived to play the kind of music that our audiences wanted to hear but after a number of years and a number of tours, I felt like something was missing. I felt that my heart and my soul were the happiest when I sang the classics by Frank Sinatra, Dean Martin, Tony Bennet, Englebert and also the fantastic pop songs I fell in love with during the British Invasion of the 60's….so…I donned the tuxedo and moved to Las Vegas. It was a tough go at first but eventually I was working The Strip as a headliner in the smaller clubs and occasionally I was fortunate enough to play the Big Rooms as the opening act for some of my idols.

A few years ago I toured Eastern Canada and during a stop in Ottawa, I took some time to do some sight-seeing around the city and I was amazed at the gorgeous countryside. I decided that it was here I wanted to put down roots. I now live in a beautiful country setting in Manotick Ontario and I continue to sing and entertain in Canada's National Capital Region.

more Sandy here: https://www.reverbnation.com/sandyshore
Blue Christmas
Blinded by Life - Wish Uke A Merry Christmas

La fenêtre
Kristine St-Pierre & Justin Lacroix - Noël avec toi