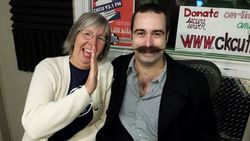 Monday Special Blend
Monday November 3rd, 2014 with Trish and Ka
Last Brew Funding Drive show!!
The funding drive continues until Nov. 9th BUT this is the last show for The Brew on CKCU during the 2014 Funding Drive. Please donate now!! Mention The Brew on CKCU, the first hour of Monday Special Blend!
Growing Song
Rayannah - .


Winnipeg based solo-artist

Featured in JUNOfest, the TD Winnipeg International Jazz Festival and Jazz Winnipeg's Nu Sounds Series

Playing at the Daily Grind
Thu, 6 November, 21:00 – 23:00

http://www.rayannah.ca/
https://soundcloud.com/rayannah
Time Has Come
Flatrock - .


Toronto based Indie band

Playing at the Daily Grind
Sat, 8 November, 21:00 – 23:00

https://www.youtube.com/watch?v=oZ_2HGE9PWk
Claude Muson, Justic R.f and Brandon Wint - one last hoorah at Raw Sugar! This is officially the last chance to see Claude perform before he leaves for Europe for 5 whole months. Come say hello and farewell.

Surprise guests!!

Doors at 8pm.
Music and Poetry begin at 9pm

Free Show! there will be a little donation jar to support the artists and my travels..

I encourage every one to be there.
love you.
666 cigarettes
Wicked Witches - .


Toronto based swamp blues rock

Playing at Pressed Café
$7
Sat, 8 November, 20:00 – 23:00

http://wickedwitches.bandcamp.com/
Snidely Mansfield joins us in the studio. He sports a waxed, pointed moustache that spans 45 centimetres. He won GOLD at the World Beard and Moustache Championships in Oregon.
Colin Geitzler, aka Snidely Mansfield, competied against 300 other competitors from all around the world.

The Ottawa Facial Hair Club is hosting the capital city's first beard and moustache competition November 23rd at The Rainbow Bistro. Besides the competition, it's also a fundraiser for Movember and diabetes.
https://www.facebook.com/groups/ottawaFHC/
Madman
Sean Rowe - Madman


Sean Rowe https://www.facebook.com/seanrowemusic
Mandman album stream
https://www.youtube.com/playlist?list=PLJ7QPuvv91Jt3dUw7xoJPsZ4yq0zkpTlT

This Thursday, November 6th, 8:30 pm at The Blacksheep Inn with s/g Laurent Bourque. $12 in advance
7th Annual Ottawa Opry Benefit Concert: In support of Amnesty International featuring Pat Moore and The Vinyl Frontier, Shawn Tavenier, Russell Levia, Maple Hill, and The Monroe Sisters!!
At Irene's Pub, 885 Bank St. November 5th, 8 pm
$20 advance $22 at the door.
Tickets at www.patmoore.net or at Irene's
Father To Your Son
Firebelly - Firebelly EP

Firebelly plays Cafe Nostalgica at U of Ottawa on Tuesday, November 4th at 9 pm.

http://www.firebellyband.com/
https://soundcloud.com/firebellyband/father-to-your-son
Last of The Fighters
Virginia to Vegas - Volume 1 EP


Alyssa Reid and Virginia to Vegas will be in town Friday, November 7th at Ritual Nightclub as part of the Time Bomb tour. Virginia to Vegas just released his new video for his super catch track Don't Fight The Music - https://www.youtube.com/watch?v=Mr8SUf8oTk4. His debut EP Volume 1 is due out November 11th