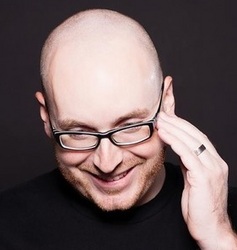 The nu Planet Rave Show
Sunday July 6th, 2014 with DJ's ELORIOUS CAIN, TEKNOBRAT & JOHN NORMAN
THE NU PLANET RAVE EPISODE 042
This week on Episode 042 of the Planet Rave Radio Show, We have due to circumstances beyond our control last minute fill in host ELORIOUS CAIN from The Groove which will open the episode and broadcast Teknobrat : mix live @ FAU MARDI 100% vinyle - 10 juin 2014 to replace KUBA MAYE who is away due to a last minute family emergency. Part 2 of the program TEKNOBRAT continues to mix and present to his listeners the best new releases and pre-releases in the genres of Tech House, Deep House, Detroit & Berlin Style Techno, Industrial Techno, 4 X 4 Techno, Hardgroove Techno & Deep Minimal Tech House... Part 3 we are extremely proud to present our 15th official DJ Guest from Winnipeg, Manitoba CANADA one of mid-western Canada's most prolific underground techno and house DJ Producer no other than the man himself JOHN NORMAN recently signed on Kevin Saunderson's KMS RECORDS, he has mixed all over Europe, UK, CANADA and the US, and he brings us an exclusive mix entitled THE NU PLANET RAVE MANITOBA TAKEOVER MIX. Hope you all njoi 042.... Peace Out !!! TEKNOBRAT & KUBA MAYE...
Teknobrat : mix live @ FAU MARDI 100% vinyle - 10 juin 2014
Teknobrat - Fau Mardi Livesets - Fau Mardi


PART 2. TEKNOBRAT
presents:

A SECRET JOURNEY INTO LOVE AND INTENSE PASSION... (Studio Mix)

100% Vinyl controlled Native Instruments Traktor Scratch Digital Mix

STYLES: TECH HOUSE, DEEP HOUSE, DETROIT & BERLIN STYLE TECHNO,
INDUSTRIAL TECHNO 4 X 4 TECHNO, HARDGROOVE TECHNO
& DEEP MINIMAL TECH HOUSE...

BROADCAST TIME: 2014-07-06TH
4:30 TO 5:45 A.M - E.D.T OTTAWA TIME
OR 8:30 TO 9:45 A.M G.M.T UNIVERSAL TIME
A Shiver For Koku (Modkopf Remix)
Mick Finesse - Birds EP - Prosthetic Pressings

Future
Deep Edge - Gurl EP - Joyfull Family Records

Ruggine
Unison - Good News EP - Nabuco Records

Sans Repaire
Pheek - Feux Follets EP - Archipel


Ceres Marcello Napoletano Remix)
DodiPalese - Greetings From The Solar Sytem Remixes EP - Dodi Palese

Alien Blood
Korova - Blue Knife EP - RSVD

Deep Dynamism
Giuliano Rodrigues - Same Effect EP - Lucidflow

Rojo Diablo
Billy Dalessandro - Boomers EP - Soniculture

November
Conrad Van Orton - #1 EP - Tangram

Brainwash
Paul Ritch - Brainwash EP - Drumcode

Haitian Rum Runner (Original Mix)
Deepchild - Haitian Rum Runner EP - Face To Face Recordings

1962
Unknown Artist - 1962 EP - 1962

Analysis
Keith Carnal - Analysis EP - Affin

Sorrows-D-Master
P.E.A.R.L. - The Fall Of Because EP - Falling Ethics

Mö7
Möd3rn - 04-14 EP - Möd3rn Records

Lost
Maan - Burn EP - Non Series

1975 C
Developer - 1975 EP - PoleGroup

Spitting Electricity
Mike Parker - Spitting Electricity EP - Mote Evolver

Society Failure
Annulled User - AU02 EP - Annulled User

Dédalo
Alberto Pascual - Deliquio EP - EX AEQUO Records

Fourteen (Rebekah Remix)
Hans Bouffmyhre - Where I Belong - The Remixes EP - Sleaze Records

Truthery
LaChriz - Pasenture EP - Out-ER

Galaxy (Original Mix)
Diagenetic Origin - The Galactic Clock EP - Sonic Groove

Minimise
Binny - Minimise EP - Orbis Records

Raw-1
Stanilav Tolkachev - Inkblots#1 EP - INKBLOTS

PART 3. JOHN NORMAN (KMS Records)
presents:

THE NU PLANET RAVE MANITOBA TAKEOVER MIX. (Recorded live DJ Set)

100% Human mixed on 2 X Pioneer CDJ-2000 CD/USB PLAYERS and one
CDJ-900 Mixer.

STYLES: TECH-HOUSE, DEEP HOUSE, MINIMAL TECH HOUSE, DETROIT + BERLIN STYLE TECHNO,
4 X 4 TECHNO & HARDGROOVE TECHNO.

BROADCAST TIME: 2014-07-06TH
5:45 TO 7:00 A.M - E.D.T OTTAWA TIME
OR 9:45 TO 11:00 A.M G.M.T UNIVERSAL TIME
Black Light (Original Mix)
Alex Costa - Black Light EP - Rusted Records
False Window (Original Mix)
Reset Robot - False Window LP - Truesoul

Give It Up (Original Mix)
Dave Angel - Voodoo EP - Bedrock Records
Return 2 Acid (Original Mix)
Kerri Chandler - Return 2 Acid/Plan EP - Large Music
Don't Stop No Sleep (Original Mix)
Radio Slave - Don't Stop No Sleep EP - Nonplus Records

Hellvenum (Original Mix)
Plankton & M.A.D.A - Darknet 09 EP - Darknet

Lost (Original Mix)
Harvey McKay - Lost EP - Drumcode
Hidden Buddy's Sheet (Original Mix)
Enrico Sangiuliano - Eating Bloody Shit EP - Driving Forces Recordings
313 (Greg Gow Vox Rework)
John Norman - 313 EP - KMS Records


Aurora (Original Mix)
Cosmin TRG - Panoramic EP - Running Back
Love Nation (Original Mix)
Carlo Lio - My Favourite Mistake EP - Intec

L3 (Original Mix)
Psyk - Time Foundation LP - Mote Evolver

Unprocessed Layer (Original Mix)
Reset Robot - Let Your Soul Outside - Truesoul

Platform 3 (Original Mix)
Loco & Jam - Missed Connection / Platform 3 EP - Alleanza
Graveyard Sway (John Norman Remix)
Marky V - Graveyard Sway EP - Corruption Records

No No No (Original Mix)
Etai Tarazi - No No No/Stress EP - MOOD
Dub City (Original Mix)
Irregular Synth & Andrea Frisina - Dub City EP - Gate Null Recordings