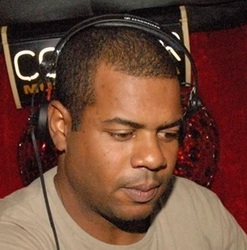 The nu Planet Rave Show
Sunday June 22nd, 2014 with DJ's TEKNOBRAT guest DJ ANDRE BACON & KUBA MAYE
THE NU PLANET RAVE EPISODE 041
This week on Episode 041 of The Nu Planet Rave Radio Show TEKNOBRAT kicks it off with 76 minutes of pre-releases in the genres of Berlin & Detroit Style Techno, 4 X 4 Techno, Industrial Techno, L.A Style Techno, Mexican Techno,Acid Techno, Hard Acid Techno, Minimal Techno pretty much 100% techno.... In part 2 of the program we are extremely proud to present to you our 14th official DJ guest from São Paulo BRAZIL signed on MIXWORKS records a Detroit techno label based in Berlin. He is one of the most respected ambassadors of Detroit inspired techno and house music in the world's 5TH largest country and South America's most powerful economy and nation, and currently the host of the FIFA 2014 World cup... His mix is exclusive and entitled the THE NU PLANET RAVE BRAZILIAN TAKEOVER MIX. It explores the rich sounds of Detroit inspired underground techno, house music and 808 style electro music. And to finish off in part 3. KUBA MAYE does his live on air mix and will be playing a deeper set then usual ....Then will play the New Riley Reinhold - Embark 04 Mixed By Riley Reinhold Continuous Mix and with a DJ Magda 30 minutes mix minimal. Polish power to finish the night!!! Hope you njoi 041.... Peace Out !!! TEKNOBRAT & KUBA MAYE...
PART 1.

DJ TEKNOBRAT presents:

ARREST MY CASE "TALES FROM A SECRET UNDERCOVER TECHNO VIGILANTE" !!! (Studio Mix)

100% Vinyl controlled Native Instruments Traktor Scratch Digital Mix

STYLES: BERLIN & DETROIT STYLE TECHNO, 4 X 4 TECHNO, INDUSTRIAL TECHNO,
L.A STYLE TECHNO, MEXICAN TECHNO, ACID TECHNO, HARD ACID TECHNO,
MINIMAL TECHNO I think by now I can say its pretty much 100% TECHNO....

BROADCAST TIME: 2014-06-22ND
2:00 TO 3:16 A.M - E.D.T OTTAWA TIME
OR 6:00 TO 7:16 A.M G.M.T UNIVERSAL TIME
Quantum Realm (Monomood remix)
Alessandro Crimi - Quantum Realm Remixes EP - Etui Records

Direct Fin
Juras Lietus - DesM EP - Wavereform

Subuteo
Coffee Pot - Coffee Pot 001 EP - Coffee Pot

Discontinue
Funk D'Void & DaveTarrida - Data Reader EP - Autofake

EXtrude
Plastikman - EX LP - Mute


The Dream (Original Mix)
Antwon Faulkner - The Vision EP - Hijacked Records Detroit


Vultures Circling 1
Fanon Flowers - Black Hand EP - Planet Rhythm

Taku Tower
ad.lib - 3RD02 EP - 3RD

Jazing
Gery Otis - A-Sides Volume II Part 2 LP Compilation - Drumcode

People Understand
Adam Beyer - A-Sides Volume II Part 2 LP Compilation - Drumcode

Acid
Abe Duque - Body Of Work LP - Abe Duque Records

The True Story of a Detroit Groove
BMG & Derek Plaslaiko - The True Story of a Detroit Groove EP - Interdimensional Transmissions

Cadence
Nikola Gala - Cadence EP - Vibe me Record

Resolution (MTD Rework)
Energun - Resolution EP - Nulabel LTD

Mnestic (Luis Flores Remix)
Frankie Serious - Mnestic - Roaches EP - The-Zone Records

Mental Block
Lex Gorrie - Mental Struggle EP - Unknown Territory

2.5 Miles Abyss
Ghostek - The Morning After - 2.5 Miles Abyss EP - Deep Sound Channel

The Loner
Lee Holman - The Forgotten EP - Birth

Under The Map (Truncate Remix)
Paul Nazca - Magneto EP - Skrytöm

Hell On Earth (Niereich Remix)
Al Ferox - Hell On Earth EP - DanceFloor Killers

Etna (Truncate Back to Basic Mix)
Marco Faraone - Etna EP - On Edge Society

Wezens
Expander & Thinkfreak - Frezens Wezens EP - Soniculture

Steckenpferd
Marc Baker - Stekenpferd EP - Baltic Dub

36 Oaths
I.vy & Solid State - Vol.1 & Vol. 2 EP - Chinese Laundry

Shari Vari (Digital Original AUX 88 Mix)
A Number Of Names - Sharivari 2013 - Puzzlebox

PART 2.

DJ ANDRE BACON of São Paulo BRAZIL
(MIXWORKS) presents:

THE NU PLANET RAVE BRAZILIAN TAKEOVER MIX (Studio Mix)

100% pure Vinyl mix, no computers or digital fx
all mixed on 2 X Technics SL-1200MKII's and a Pioneer DJM-800 mixer

STYLES: BERLIN & DETROIT STYLE TECHNO, MINIMAL TECHNO, GROOVY TECH HOUSE,
MINIMAL TECH HOUSE, HARD-GROOVE TECHNO, DISCO HOUSE, DEEP HOUSE,
DETROIT HOUSE & TR-808 STYLE ELECTRO.

BROADCAST TIME: 2014-06-22ND
3:16 TO 4:30 A.M - E.D.T OTTAWA TIME
OR 7:16 TO 8:30 A.M G.M.T UNIVERSAL TIME
State Of Mind
Roberto Bosco - Art 14.1 EP - Art Records
Turbulence (50 ml mix )
Santiago Salazar - Departure EP - Fazine Records
(Blaktony Deep Baked Rmx)
Aux 88 - Sharivari 2013 EP - Puzzlebox Records ‎

That Freak Stuff
L. Dales & M Smeets - The Passion EP - Tsuba
Beyond remix
Elliot Dodge - Life Recorder Beyond remix EP - Snapshot Records
Day Star Rising
Octave One - 4W-281 Moon EP - 430 West
State Of Mind
Roberto Bosco - Art 14.2 EP - Art Records
Infiniti Remix
Roberto Bosco - Game One O.voorm/J Atkins EP - Art Records
Alpha control
Alan Oldham - Detroitrocktscience Vol 2 LP - Pure Sonik Records

Detroit Work It Out
Raza - Depth Perception EP - Depth Perception
Clear and Present
Carl Craig - PE 65265 EP - Planet E Communications
Black Technician (UR Mad Mike Remix)
Robert Hood - Black Technician EP - Music Man
Destiny
Ketch & Bonds - "IO " EP - City Boy Music
Magic floor
Stephane Deschezaux - Marvelhouse EP - Bigelow records
What I do
Mike Huckaby - Reconstructed EP - Sushitech records
The Upstairs Lounge
Mike Huckaby - The Tresor EP - Tresor Records
Beyond Remix
Kirk Degiorgio - Life Recorder - Snapshot Records
Save the Bluebird
Underground Resistance presents Timeline - The Graystone Ballroom EP - Underground Resistance
Everyone Understand
DJ Rolando - Skudge Remix Part 3 EP - Skudge Records
Sketches Pt1
Carls Davis - Ŀast Decade EP - Planet E Communications
Full Clip
Martin Buttrich - Full Clip Remix - Planet E Communications
Resist
CRZKNY - Resist EP - Mixworks

Resist DJ Stingray Remix
CRZKNY - Resist EP - Mixworks

The Sun Goes Down EP (UR Remix)
Anthony Rother - When The Sun Goes Down EP - Datapunk
Part III
Dj Kuba Maye

Arthur Oskan Heliopause -
Tomomi Ukumori, Stelios Vasiloudis Green In Blue (Satoshi Tomiie Remix)
Tom Hades My People (Original Mix)
Skober Skyline (Original Mix)
Robert Babicz Rosegarden (Of Norway Remix)
Petar Dundov Origins (Original Mix)
Moll What I Feel (Predrag Nincic Dub Remix)
Armand Van Helden I Want Your Soul (Enrico Sangiuliano Remix)
Peter Van Hoesen Ascending (Vinyl Edit)
Joe Kaar Artemisa (Original Mix)
Gregor Tresher Permafrost (A_Ldric Warm Keys Remix)
Namatjira Torquay (Original Mix)

partIII .(b)
Embark 04 Mixed By Riley Reinhold

partIII (c) Dj magda minimal mix 2012 youtube