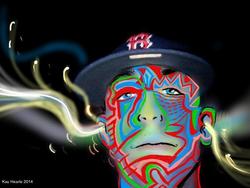 The nu Planet Rave Show
Sunday March 30th, 2014 with DJ's TEKNOBRAT, JAY LARGE & KUBA MAYE
THE NU PLANET RAVE EPISODE 035
This week on Episode 035 of The Nu Planet Rave Radio Show TEKNOBRAT opens up the show with forthcoming underground techno and house music releases we have also an interview with ANDRE + MICHELLE via Skype, as we talk about their upcoming LP Different Positions released on April 5th 2014 and preview 2 tracks from this release. Also this week we are very proud to present our 9th official DJ guest JAY LARGE of the Pozativ Promotions Crew as he brings us his exclusive mix with jacking deep house, tech house, acid house and groovy progressive techno. To close things off KUBA MAYE continues to deliver his live set compliments of his newest piece of gear the Pioneer DDJ SX controller and Serato Scratch. NJOI !!!! TEKNOBRAT + KUBA MAYE !!!
PT 1.DJ TEKNOBRAT presents:

SOUNDS OF THE PHUTURE NOW (Studio Mix)

A preview of forthcoming underground
techno & house music releases
in a 55 minute mixdown.

100% Vinyl controlled Native Instruments Traktor Scratch Digital Mix

STYLES: DETROIT - BERLIN TECHNO, DUB TECHNO,
4 x 4 TECHNO, HARDGROOVE TECHNO,
TECH-TRANCE, DEEP HOUSE & TECH HOUSE

BROADCAST TIME: 2014-03-30TH
2:00 TO 2:55 A.M E.S.T OTTAWA TIME
OR 6:00 TO 6:55 A.M G.M.T UNIVERSAL TIME
Above The Rain
Agaric - Into The Large Air LP - We Are

Guitar Man
Reset Robot - Let Your Soul Outside LP - Truesoul

Walk With Me (Ivan Garci Special Edit)
Riccicomoto & Ivan Garci - Walk With Me EP - Lucidflow

The Forest Roars
Architectural - Secret Chapter LP - Architectural Recordings

Berlin All Day Long
Nadja Lind - All Night Long EP - Lucidflow

The Dancer Ron Trent Remix
K-Alexi - The Dancer, PT.2 - K Klassik
Givin In
ZZT - Givin In EP - Turbo Recordings


Trapped (Ashworth Remix)
The Subs feat. Colonel Abrams - Trapped EP - Lektroluv

Wrong Turn (Orginal Mix)
Greg Gow - Canada Loves Techno 6 LP Compilation - Restructured


Crushed (Nadja Lind Remix)
Counrad - Shiver EP - Lucidflow

Stellar Stories (Original Mix)
Lioonel Weets - Canada Loves Techno 6 LP Compilation - Restructured


The Beast Is Sleeping (Original Mix)
Mikael Klasson - Skydance EP - Kiko Records

Metropolis
Timmo - We Beat On EP - Drumcode

Rhythm Of The Sleepless (Original Mix)
Mikael Klasson - Canada Loves Techno 6 LP Compilation - Restructured


Green Field
Universal Language - Woodlands EP - Lucidflow

Hedonism 2014 (Original Mix)
Teknobrat - Canada Loves Techno 6 LP Compilation - Restructured


Architectural 2.1
Architectural - Secret Chapter LP - Architectural Recordings

Riot
Psyk - Time Foundation LP - Mote Evolver

PT 1.5 TEKNOBRAT presents:

A SKYPE INTERVIEW WITH ANDRÉ + MICHELE
& TRACK PREVIEWS OF THEIR NEW FORTHCOMING
ALBUM RELEASE DIFFERENT POSITIONS

STYLES: MINIMAL, TECH HOUSE, EXPERIMENTAL,
ELECTRONIC + KRAUTROCK

BROADCAST TIME: 2014-03-30TH
2:55 TO 3:15 A.M E.S.T OTTAWA TIME
OR 6:55 TO 7:15 A.M G.M.T UNIVERSAL TIME
Interview of André + Michelle By DJ Teknobrat part 1
André + Michelle - Bunkerbliss Presents Interview Series 2014-04-30G - Bunkerbliss Presents


One Eyed Optimist
André + Michelle - Different Positions LP - Self Released


Interview of André + Michelle By DJ Teknobrat part 2
André + Michelle - Bunkerbliss Presents Interview Series 2014-04-30G - Bunkerbliss Presents


Cool Guy
André + Michelle - Different Positions LP - Self Released


Interview Conclusion of André + Michelle By DJ Teknobrat
André + Michelle - Bunkerbliss Presents Interview Series 2014-04-30G - Bunkerbliss Presents


PT. 2 DJ JAY LARGE (Pozativ Promotions / Records)
Presents:

DA POZATIV CREW TAKEOVER SESSION (Studio Mix)

STYLES: DEEP HOUSE, TECH HOUSE, GROOVY HOUSE,
ACID HOUSE, CHICAGO HARDHOUSE,
TECHNO, HARDGROOVE TECHNO
& PROGRESSIVE TECHNO.

BROADCAST TIME: 2014-03-30TH
3:15 TO 4:30 A.M E.3S.T OTTAWA TIME
OR 7:15 TO 8:30 A.M G.M.T UNIVERSAL TIME
RAW (Original Mix)
Kalden Bess - RAW / Mary Jane EP - Ground Factory Records
They (Original Mix)
WHYT NOYZ - They EP - SCI+TEC

Parts Unknown (Original Mix)
Nicole Moudaber - One Day Later EP - Intec

I'll Do You (Original Mix)
Thomas Schumacher - I'll Do You EP - Electric Ballroom

X Line (Original Mix)
Hollen - Tabula EP - Bitten
La Morena (Original Mix)
Kaiserdisco - La Turba - Drumcode
Lodi (Original Mix)
Gary Beck - Lodi EP - Suara
Duplo (Original Mix)
Egoism & Max Bett - Duplo EP - Great Stuff Recordings
INO (Original Mix)
Roy RosenfelD - INO EP - Form
Paradise (Original Mix)
Green Velvet & Craig Williams - Unshakable LP Compilation - Relief Records
Singing (Dixon Mix)
Agoria Feat, Scalde - Singing (Dixon Mixes) EP - Innervisions
Homage (Original Mix)
Dave Angel - Homage EP - Tronic
Bodysoul (Original Mix)
Mendo + Yvan Genkins - Drums Over Miami 2014 (Music Conference Essentials LP Compilation - Younan Music

Planes & Trains (Dosem Remix)
Hot Since 82 - Planes & Trains Remixes EP - Suara

Noise Underground (Original Mix)
Leonardo Gonnelli - When You See EP - Toolroom Records
Nightflow (Kenny Larkin Drama Mix)
La Fleur - Nightflow EP - Watergate Records
kuba mayes playlist
more to come

Grand Statement (Original Mix)
Break Down (Original Mix)
Skulls 2 (DUB)
Kopp (Original)
La Defense 92
Name Of The Game (Original Mix)
GR1
Indicie
Creep (Original Mix)
Morose (Original Mix)
New Day Rising (Restructured)
Rest In Pain (Original Mix)
Dancing Seeds (Original Mix)
Challenger (Vinyl Edit)
The 4th Verdict (Original Mix)
Untitled Title (Original Mix)
Ruzzle (Original Mix)
Infiltrate (Pfirter Remix)
Remain
GR2
Sargon's Birth (Frankyeffe Remix)
Future Dynamics (Dj Misjah Remix)
Diversions (Ad.lib & Silvision Remix)
Diversions (Original Mix)
72 (original mix)
BROS002 B Side Liars Go Astray
Moda 21 (Original Mix)
Iteration (Oscar Mulero Remix)
Grand Statement (Original Mix)
Paul Mac, Jorge Zamacona - Grand Statement EP - TENG