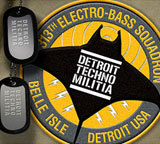 The nu Planet Rave Show
Sunday January 19th, 2014 with DJ KUBA MAYE, TOM LINDER of DETROIT TECHNO MILITIA & TEKNOBRAT
THE NU PLANET RAVE EPISODE 030
This week on Episode 030 of The Nu Planet Rave Radio Show Resident DJ KUBA MAY3 opens the show with his popular live on air bangin' techno tech-house mix. Guaranteed to blow the drivers off your woofers!! Then we are very very proud to present to you all our official 8th DJ guest on the show, we have an exclusive studio mix for The Nu Planet Rave Radio Show recorded by DJ TOM LINDER of the famous underground DJ and producer collective DETROIT TECHNO MILITIA from the Motor City DETROIT, MICHIGAN. USA. This will be followed by a 14 minute interview I conducted with ANGIE LINDER executive producer and TOM LINDER head producer of DETROIT TECHNO MILITIA somewhere on Woodward Avenue in May of 2011 right after that years Movement festival. DJ TEKNOBRAT will be closing the show with a 61 minute studio mix showcasing rare classics & new underground techno and house music 100% vinyl 12" singles. NJOI !!! KUBA MAY3 & TEKNOBRAT... --------------------------------------------------------- Detroit Techno Militia is a record label and a street level DJ/Producer collective dedicated to preserving the legacy of true Detroit electronic music and its proliferation around the world. They take pride in contributing to a tradition that has deeply inspired electronic music aficionados the world over. Detroit Techno Militia soldiers work to maintain and preserve the significance of techno made in their native city, Detroit, Michigan, USA. The collective started as a group of like-minded individuals who have similar inspirations and beliefs regarding to Detroit Techno; where it comes from, where it is, and where it is going in the future. There are currently two united factions of elite DJs, Producers, and Live Performers. The DTM Home Team is made up of performers currently residing in the Detroit Metropolitan Area: T.Linder, Darkcube, DJ Seoul, Neil V., DJ Psycho, and Annix. DTM Recon:313 is made up of Techno Militia members residing in locales across the globe: The Mercenary (Belgium), Doc (New York, NY), Loner.9 (Charlotte, NC), Maxx T (France), Dimitri Pike (Germany), and Shawn Rudiman (Pittsburgh, PA). The Detroit Techno Militia also features ensemble acts with multiple DJs performing on multiple turntables at the same time. In the summer of 2007, the DTM 5x5 was formed. The DTM 5x5 was the first group in the Techno genre to feature five DJs (Darkcube, T.Linder, DJ Seoul, Neil V. and DJ Psycho) performing together on five analog turntables. On April 17th, 2010, Detroit Techno Militia accepted the Detroit Music Award for "Outstanding Electronic Music Group". Their groundbreaking performance on the Made In Detroit Stage at the 2011 Movement: Detroit Electronic Music Festival stands out as one of the most memorable sets at the three day festival. International techno legend Claude Young remarked that witnessing the DTM 5x5 was the highlight of his entire weekend. With a worldwide footprint in the world of underground electronic music, the members of the Detroit Techno Militia are no strangers to touring and life on the road. In 2008 a group of DTM techno soldiers embarked on a 3 week international tour, appropriately named the "RECON:313 European Tour". In 2010, the Detroit Techno Militia launched the month-long "2010 Solidarity Tour" which culminated in a performance in front of thousands of party-goers at the Pact Festival in Eindhoven, Netherlands on Queen's Day. In April of 2011, DTM followed up with the "2011 European Tour". This six week long adventure featured 14 shows in seven different European countries, and included an eight hour DJ set by the DTM 2x4 (DJ Seoul and T.Linder performing on four turntables and two mixers) at the 20th Anniversary of the legendary German nightclub, Tresor:Berlin. After years of incorporation, in early 2007 Detroit Techno Militia formally launched their record label in a partnership with Cratesavers Muzik. After three very successful 12" vinyl EP releases, DTM001, DTM002, and DTM003, they amicably split with Cratesavers and took all of the responsibilities in-house. Their next two 12" vinyl EPs, DTM004, and DTM005 were independently released and distributed. Many of these releases have been charted and played by some of the biggest international names in techno music. DTM's music is regularly featured by legendary DJ, Dave Clarke on his radio show "White Noise" on the Dutch national radio station, 3VOOR12. Today, the Detroit Techno Militia continues to release music on their own vinyl label, their digital label: "DTM Digital", and other internationally distributed record labels. With over a decade under their belt, Detroit Techno Militia received a prestigious Detroit Music Award for Best Electronic Group. This award is voted on by their peers in the music industry in Detroit. DJ Psycho has also received two individual awards for Best Hip Hop DJ, proving once again that this vinyl master will not be contained to just one genre. Angie Linder, the founder and label manager of the Detroit Techno Militia sums up the mission statement by saying, "Similar to the restoration of historic architecture; we are not tearing down and building anew. Rather using the existing structure as a basis for our own endeavors. Detroit has always had much to offer musically and it is our mission to make it known to the rest of the world for generations to come." "It's a battle for the soul of the music"
This Episode I dive Back into some tech-house for a sessions that will be on the Techno side of tech -house and not the House side of tech house. I have been playin hard 4 four style tevhno for the last yr so i really enjoyed bringing this style in my mix.
Jeffry Hide Quasar (jon hash mix)
Tina V Tina V - Beat Original Mix
Mr. Bizz Mr. Bizz - Enigmatic Form Original Mix
Ivan Devero Ivan Devero - Menostrucha Original Mix
Hollen, Tony Dee Hollen Tony Dee - Boarding Pass Original Mix
Ivan Devero Ivan Devero - Menostrucha Original Mix
Jon Gurd Jon Gurd - Do Not Review This Original Mix
Mental Drops Mental Drops - Paintings (Original mix)
Kassey Voorn Kassey Voorn - Dance The Pain Away Original Mix
Fabio Neural Fabio Neural - Yoda Original Mix
Harvey McKay Harvey McKay - Cinnamon Kiss (Original Mix)
Karlos Cheadle Karlos Cheadle - Control The Darkness Original Mix
Andrea Bertolini, Motel Connection Andrea Bertolini Motel Connection - Arpeggio Andrea Roma Remix
Raffaele Rizzi Raffaele Rizzi - Step One Original Mix
Paride Saraceni Paride Saraceni - Killergroove Original Mix
An-Beat An-Beat - Hatred Original Mix
Christian Smith & Wehbba Christian Smith & Wehbba - Second Life Original Mix
Ivan Devero Ivan Devero - Ranion Original Mix
Johnny Kaos Johnny Kaos - Don't Touch My Bass (Original Mix)
D-Nox, Beckers D-Nox, Beckers - My Voice (Christian Smith Remix)
Oliver Lieb Oliver Lieb - Better Run (Original Mix)
David Herrero David Herrero - Shock (Original Mix) -
Florian Meindl Florian Meindl - Warehouse 92 (Vazik Remix)
Fat And Ugly Fat And Ugly ex original
Minitech Project Minitech Project - 8 Minus -
Noye - Move Back Original Mix-
Leon (Italy) & Toky Leon (Italy) & Toky - Rock Me (Leon 909 Dub Mix)
Mark Henning Mark Henning - Blackout-
Fat And Ugly Fat And Ugly - Xe-
Kai Alce - The Rabbit s Hole Original Mix Tim Xavier, Noah Pred
Tim Xavier Noah Pred - For The Love Of XXX Butane Remix
Legowelt Legowelt - Sark Island Acid
PART 2. TOM LINDER of DETROIT TECHNO MILITIA Presents:

MADE & MIXED IN THE MOTOR CITY, TECHNO CITY USA (Exclusive Studio Mix)

STYLES: DETROIT & BERLIN STYLE TECHNO, INDUSTRIAL TECHNO, 4X4 TECHNO,
HARD TECHNO, HARDGROOVE TECHNO, ACID TECHNO, CHORD TECHNO, GHETTO TECH
& 808 STYLE FREESTYLE ELECTRO

100% vinyl mix

BROADCAST DATE: 2014-01-19th

BROADCAST TIME:
4:30 TO 5:45 A.M E.S.T OTTAWA TIME
OR 9:30 A.M TO 10:45 A.M G.M.T UNIVERSAL TIME
I Am From Detroit (Original Mix)
Scan 7 - I Am From Detroit EP - Elypsia
Respect
T.Linder Feat. Blak Tony - DTM003 EP - Detroit Techno Militia
X²
Electric Soul - X² EP - Direct Beat
Detour
A. Paul - Innuendo EP - E'poch Worx
Flowerchild (Original Mix)
Morgan - Flowerchild EP - Synewave
Death Announced
Dimitri Pike - DTM005 EP - Detroit Techno Militia
Salsa "Produced by Adam Winick"
Arthur Oskan - Resolutions EP - Cratesavers Muzik

2 The Floor
Technasia feat. DJ Nasty & Fletch Flex - 2 The Floor EP - Technasia Records ‎
Test 1
Backdraft - Filter EP - End to End
Miranda (Original '96 Mix)
Convextion - Miranda (Remixes) EP - Matrix Records
The Tresor Track
Mike Huckaby - The Tresor EP - Tresor ‎
Time Distortion
Claude Young - One Complete Revolution EP - Utensil Records
Flint & Steel
T.Linder - Pre-Release Promo - Motech

Bandsaw (Forest People Replant)
Kostas Maskalides - Bandsaw EP - Nachtstrom Schallplatten
Knighthof
Zenker Brothers - Lion In Mars EP - Tresor
The Vamp (Kevin Saunderson Remix)
Outlander - The Vamp (Revamped) EP - R & S Records ‎
Sweat Electric (Inst.)
Underground Resistance - Sweat Electric EP - Somewhere In Detroit
Automatic Activity
Di'jital - Automatic Activity EP - Direct Beat
Schoolcraft Bump
M.I.A - Mississippi Mutants / Schoolcraft Bump EP - Underground Resistance
Kill My Radio Station (T.Linder Remix)
Underground Resistance - Unreleased Promo - Not On Label - Unreleased Promo

Waiting In The Dark (Aux 88 Remix)
Franki Juncaj - Waiting In The Dark EP - Decabaret Records
Kosmic Tempo (Original Mix)
Teknobrat - Kosmic Tempo EP - Hemisphere Records ‎

Flaunt The Law
Jel Ford - But Wait ... There's More EP - Tortured Records
Edge
A. Paul - Innuendo EP - E'poch Worx
Untitled A1 (Ben Klock Remix)
Terrence Dixon - Minimalism Remixes Part 2 EP - Sino
Wisdom To The Wise 'Red 2' (Robert Hood Remix)
Dave Clarke - Red 1 & 2 EP - Bush
Wisdom To The Wise
Dave Clarke - Red 2 EP - Bush ‎
Smoke & Mirrors (Jerome Sydenham's Looking Glass Dub 2013)
Ben Sims - Smoke & Mirrors Remixes EP - Drumcode ‎
My House (The Word)
Aaron-Carl - My House EP - Wallshaker Music
Aumento
Joey Beltram - Code 6 EP - Tresor ‎
Automanikk (Derrick May The Force Be With You Mix)
A Guy Called Gerald ‎ - Automanikk (Bass Overload Mix) EP - CBS ‎
PART 3. BUNKERBLISS PRESENTS INTERVIEW SERIES

Interview of TOM LINDER & ANGIE LINDER of DETROIT TECHNO MILITIA
by TEKNOBRAT.

Interview conducted on May 30th 2011
Somewhere on Woodward Avenue in DETROIT, MI, U.S.A

BROADCAST DATE: 2014-01-19th

BROADCAST TIME:
5:45 TO 5:59 A.M E.S.T OTTAWA TIME
OR 9:45 A.M TO 10:59 A.M G.M.T UNIVERSAL TIME
Tom Linder & Angie Linder of Detroit Techno Militia Interview conducted by Teknobrat on May 30th 2011 Somewhere on Woodward Avenue in Detroit, Mi, U.S.A
Tom Linder & Angie Linder of Detroit Techno Militia - Bunkerbliss Presents Interview Series 2011-50-30G - Bunkerbliss Presents


PART 4. DJ TEKNOBRAT Presents:

CHICAGO, DETROIT, NEW YORK,
MONTREAL, AMSTERDAM SONIC TIME TRAVEL JOURNEY (Studio Mix)

100% Vinyl Mix

STYLES: NEW YORK LOFT STYLE DISCO, DEEP HOUSE, NEW YORK CLASSIC DEEP HOUSE,
CHICAGO STYLE RETRO HOUSE, NU-DISCO, SPACE DISCO,
CHICAGO HARDHOUSE, NABI HOUSE, ACID HOUSE,
DETROIT, BERLIN & CHICAGO TECHNO, TECHNO,
ACID TECHNO & CLASSIC DUTCH TECHNO.

BROADCAST TIME: 2014-01-19th
5:59 TO 7:00 A.M E.S.T OTTAWA TIME
OR 10:59 A.M TO 12:00 P.M G.M.T UNIVERSAL TIME
Music Affair
Skymark featuring Jair Santiago Rodriguez - Music Affair EP - Rush Hour Store Jams

Feels So Good (Boogie's Edit)
Boogie Nite - It's Real / Feels So Good EP - Rush Hour Store Jams

Feel It (The Salso Mix)
After Hours - Waterfalls / Feel It EP - Strictly Rhythm
The Graveyard Orchestra
DJ Skull ‎ - Hard Drive EP - Djax-Up-Beats
Solitude
Amplified Orchestra - Solitude EP - Amplified
Black Star
Black Star - Black Star EP - TGO ‎

My First Love
Bernard Badie - Bernards Got The Funk EP - Mojuba
Yes He Is
Rheji Burrell - Yes He Is EP - Rush Hour Store Jams

Dance
Format ‎ - Dance / Burning Passion EP - Rush Hour Store Jams

Flash
Fix - Flash EP - Rush Hour Store Jams

Blind Rage
Gene Farris ‎ - Farris Wheel EP - Relief Records
Midrats
Delicate Genius - Oz-e Drum Traxx EP - Rush Hour Store Jams

Dynamic Allocation
Scott Stanley - OCV3 EP - Obsolete Components

Divine Intervention
Marquis Hawkes - Higher Forces At Work EP - Dixon Avenue Basement Jams
Of Hands
Bybo - Twists And Turns EP - Surface Records France ‎
Anindica
Rod - Klockworks 11 EP - Klockworks

Crispy Bacon (Jeff Mills Solid Sleep Mix)
Laurent Garnier ‎ - Crispy Bacon (Jeff Mills Remix) EP - F Communications
In My Dreams
Windell Storm - Welcome To Chicago EP - Djax-Up-Beats
Prance
Claude Young ‎ - The Dexit EP - Elypsia ‎
Intensity
Ron Maney & Cari Lekebusch ‎ - Intensity EP - Hybrid Sound Architectures