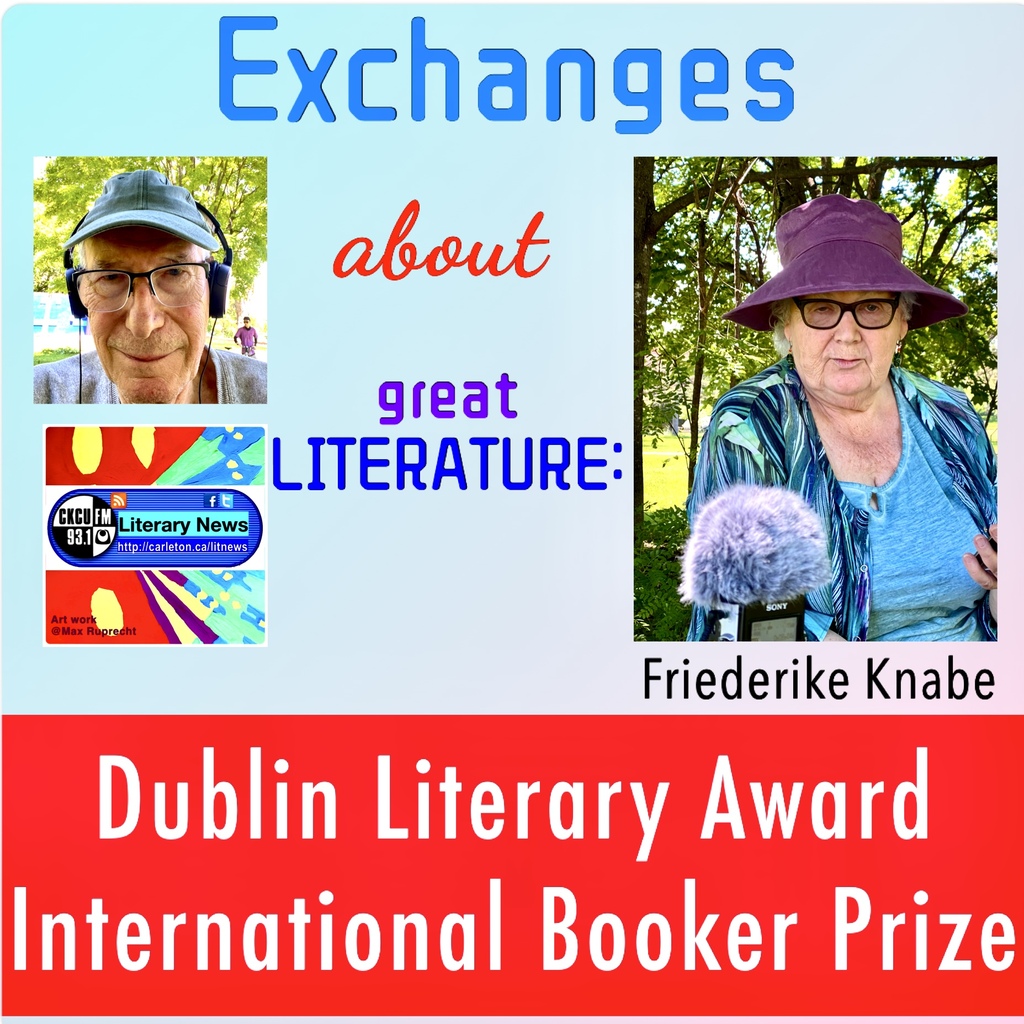 CKCU Literary News
Wednesday June 1st, 2022 with Hans G. Ruprecht & Friederike Knabe
The Dublin Literary Award 2022 and the International Booker Prize 2022 in critical perspective.
Monday 23rd May 2022: 🔶 French author Alice Zeniter and Irish translator Frank Wynne win the 2022 DUBLIN Literary Award. The 2022 DUBLIN Literary Award Shortlist The shortlisted titles are: 1. Remote Sympathy by Catherine Chidgey (New Zealander).
Published by Europa Editions.
Nominated by Auckland Libraries, New Zealand and Dunedin Public Libraries, New Zealand. 2. At Night All Blood is Black by David Diop (French).
Translated from the French by Anna Moschovakis.
Published by Pushkin Press.
Nominated by Bibliothèque de Reims, France. 3. The Death of Vivek Oji by Akwaeke Emezi (Nigerian).
Published by Faber & Faber.
Nominated by Helsinki City Library, Finland. 4. The Art of Falling by Danielle McLaughlin (Irish).
Published by John Murray.
Nominated by Cork City Libraries, Ireland. 5. Noopiming: The Cure for White Ladies by Leanne Betasamosake Simpson (Michi Saagiig Nishnaabeg).
Published by House of Anansi.
Nominated by Ottawa Public Library, Canada. 6.🔶 The Art of Losing by Alice Zeniter (French).
Translated from the French by Frank Wynne.
Published by Picador, Pan Macmillan.
Nominated by Bibliothèque publique d'information, Paris, France.
https://dublinliteraryaward.ie/news/dublin-city-council-announces-the-2022-dublin-literary-award-shortlist/
__________ Thursday, May 26, 2022: 🔶 Geetanjali Shree and Daisy Rockwell wiin the 2022 International Booker Prize for "Tomb of Sand" (originally रेत समाधि; Ret Samadhi), translated into English by U.S. translator Daisy Rockwell. In 2022 (Tilted Axis Press and Penguin Books India (English)).♦️ The French translation "Ret Samadhi, au-delà de la frontière" by Annie Montaut (Éditions des Femmes, Paris, 2020) was shortlisted for the 2021 Émile Guimet Prize for Asian Literature. The 2022 International Booker Prize shortlist * Cursed Bunny, written by Bora Chung, translated by Anton Hur from Korean; published by Honford Star * A New Name Septology VI-VII, written by Jon Fosse, translated by Damion Searls from Norwegian; published by Fizcarraldo * Heaven, written by Mieko Kawakami, translated by Sam Bett and David Boyd from Japanese; published by Pan Macmillan, Picador * Elena Knows, written by Claudia Piñeiro, translated by Frances Riddle from Spanish; published by Charco Press 🔶Tomb of Sand, written by Geetanjali Shree, translated by Daisy Rockwell from Hindi; published by Tilted Axis Press * The Books of Jacob, written by Olga Tokarczuk, translated by Jennifer Croft from Polish; published by Fitzcarraldo Editions.
https://thebookerprizes.com/media-centre/press-releases/the-2022-international-booker-prize-shortlist-announced-2
There are no tracks in this playlist.