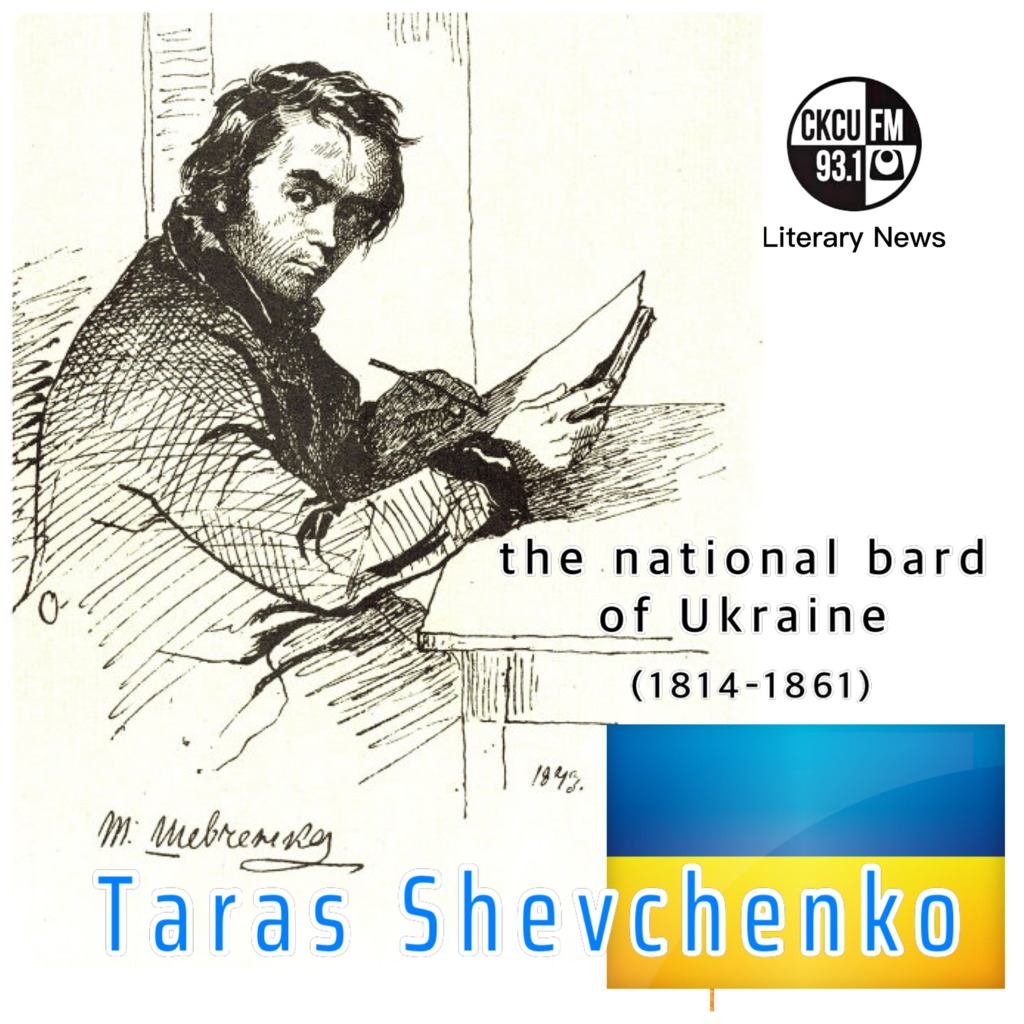 CKCU Literary News
Wednesday March 2nd, 2022 with Hans G. Ruprecht
Taras Shevchenko (1814-1861) - celebrated for his 'Kobzar'.
For more information about the great Ukranian poet and painter please visit The Shevchenko Museum,1604 Bloor St. West
Toronto, Ontario
M6P 1A7, Canada,
https://www.shevchenko.ca/about/
🟦🟨 CKCU-FM 93.1 | Literary News, a program of Radio Carleton,
https://carleton.ca/litnews/programs/
, which is the campus based community station of CARLETON UNIVERSITY in Ottawa Canada, lends full support to the recent initiative of PEN International which reads as follows: "PEN International, the literary and free expression organisation, has released a letter signed by over 1000 writers worldwide, expressing solidarity with writers, journalists, artists, and the people of Ukraine, condemning the Russian invasion and calling for an immediate end to the bloodshed. Read in Ukrainian, Russian, Arabic. To our friends and colleagues in Ukraine, We, writers around the world, are appalled by the violence unleashed by Russian forces against Ukraine and urgently call for an end to the bloodshed. We stand united in condemnation of a senseless war, waged by President Putin's refusal to accept the rights of Ukraine's people to debate their future allegiance and history without Moscow's interference. We stand united in support of writers, journalists, artists, and all the people of Ukraine, who are living through their darkest hours. We stand by you and feel your pain. All individuals have a right to peace, free expression, and free assembly. Putin's war is an attack on democracy and freedom not just in Ukraine, but around the world. We stand united in calling for peace and for an end to the propaganda that is fueling the violence. There can be no free and safe Europe without a free and independent Ukraine. Peace must prevail. Signatories Burhan Sonmez, Svetlana Alexievich, Margaret Atwood, Paul Auster, Tsitsi Dangarembga, Anthony Doerr, Jonathan Franzen, Aleksandar Hemon, Siri Hustvedt, Yann Martel, Benjamin Moser, Joyce Carol Oates, Orhan Pamuk, Maria Ressa, Marilynne Robinson, Salman Rushdie, Elif Shafak, Colm Toibin, Olga Tokarczuk, Ludmila Ulitskaya." NOTE: The total number of signatories is 1000. More at
https://pen-international.org/
There are no tracks in this playlist.