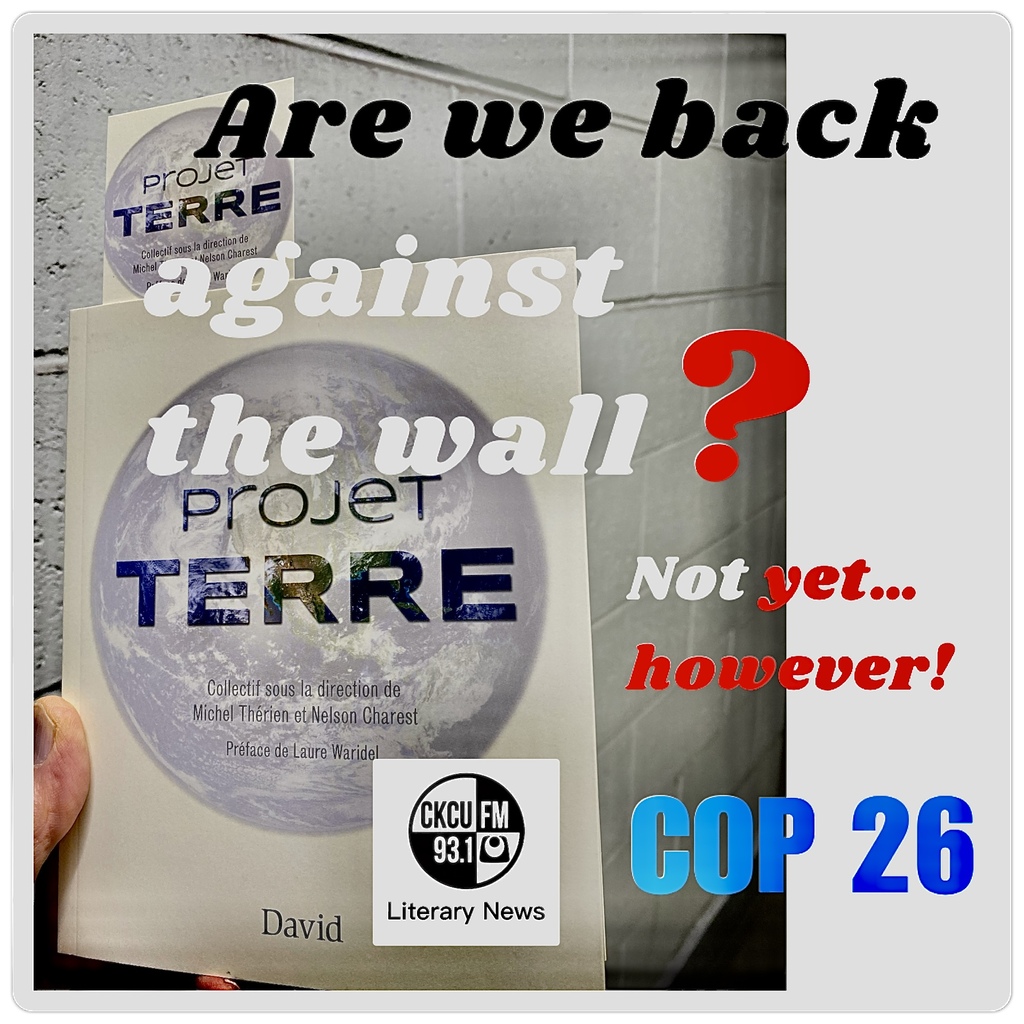 CKCU Literary News
Wednesday November 3rd, 2021 with Hans G. Ruprecht
Poetic perspectives on climate change.
Lancement du "Projet TERRE," collectif sous la direction de Michel Thérien et Nelson Charest (David, 2021). Genre: Poésie, 171 pages. Date de parution: 14 septembre 2021 ISBN (Papier): 9782895977834 / ISBN (PDF): 9782895978145 With thanks to Véronique SYLVAIN, responsable de la promotion et des communications, Les Éditions David (Ottawa). "Nous vivons à une époque qui montre, par d'innombrables signes, un besoin urgent et impérieux de reconnecter les humains à leur alma mater, la Terre. Ce besoin, on le retrouve exprimé ici par diverses voix poétiques provenant de partout au Canada. Avec ce collectif, nous voulons donner l'occasion à des lectrices et à des lecteurs, jeunes et moins jeunes, de se reconnaître dans ces mots et ces poèmes qui veulent sonner l'alerte." ♦️Pour feuillter ce live
https://flipbook.cantook.net/?d=%2F%2Fwww.entrepotnumerique.com%2Fflipbook%2Fpublications%2F114662.js&oid=225&c=&m=&l=fr&r=https://editionsdavid.com&f=pdf
"Simplement, directement, parfois violemment, les poètes nous rappellent que la Terre, ce n'est pas rien." "La Terre, c'est Tout." 🔷Avec la participation de : Martine Audet, Sébastien Bérubé, Antoine Boisclair, Paul Bossé, Éric Charlebois, Nelson Charest, Tina Charlebois, Sonia-Sophie Courdeau, Maya Cousineau Mollen, Jean Marc Dalpé, Hélène Dorion, Christiane Dunia, Laurent Fadanni, Lise Gaboury-Diallo, Daniel Groleau-Landry, Chloé LaDuchesse, Clara Lagacé, Vincent Lambert, Jonathan Lamy, Daniel Lavoie, Georgette LeBlanc, Jean Morisset, Amber O'Reilly, Maude Pilon, Jean-Philippe Raîche, Zachary Richard, Sylvain Rivard, Jonathan Roy, Chloé Sainte-Marie, Véronique Sylvain et Michel Thérien. 🔻Hors collection
https://editionsdavid.com/projet-terre-collectif-sous-la-direction-de-michel-therien-et-nelson-charest/
Credit to Climate Reality
Project.org
for Armanda Gorman, "Earthrise"
https://youtu.be/xwOvBv8RLmo
and to Peepal Tree Press for Kendel Hippolyte, "Eco Chant (for Cactus Valley, St Lucia)"
https://youtu.be/j_7UkxjCKaw
There are no tracks in this playlist.