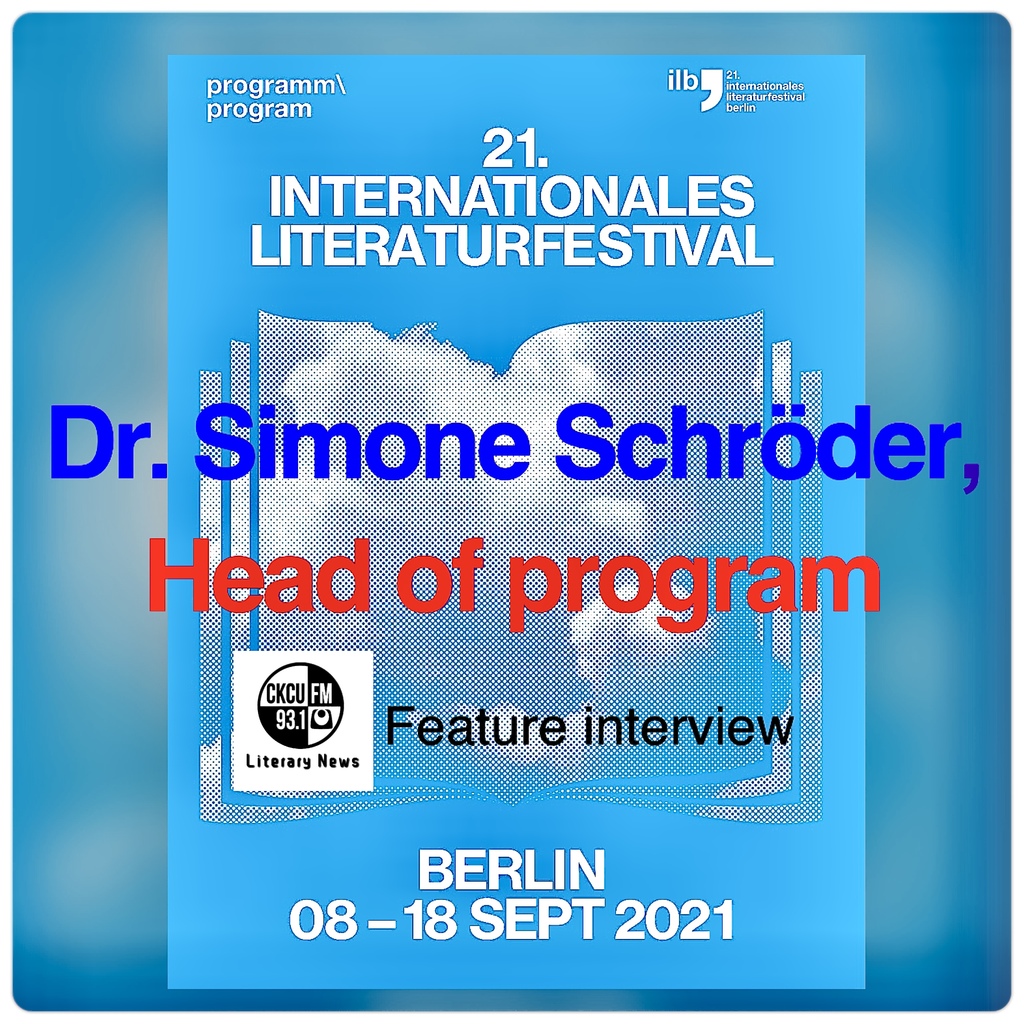 CKCU Literary News
Wednesday September 22nd, 2021 with Hans G. Ruprecht
Feature interview with Dr. Simone SCHRÖDER, Head of Program, International Literature Festival Berlin (Internationales Literaturfestival Berlin) about the festival's 21st edition (ilb 2021), SEPT 08-18.
International Literature Festival Berlin (Internationales Literaturfestival Berlin) Program 2021:
https://www.yumpu.com/de/document/read/65833557/ilb21pro2207endversion2k1
🔻"The international literature festival berlin (ilb) ranks as one of the world's most important literary events. Its comprehensive stylistic and thematic spectrum is unique – encompassing prose, poetry, non-fiction, graphic novels as well as children's and young adult literature. The program ranges from roundtable discussions with Nobel Prize winners in literature to events aimed at promoting reading and the teaching of literature. Contemporary political issues and scientific discourse are discussed, as are trends in the literary scene with all its forms, temperaments, and styles from the mainstream to the niche. The aim of the ilb is to address as broad an audience as possible and to involve them in a variety of ways. In short, the festival offers individuals in Berlin and the surrounding region an extraordinary opportunity to gain a curated insight into the fascinating world of literature. The ilb is committed to human rights, cosmopolitanism, multiple perspectives, dialogue, and hospitality.   🔸The ilb's Hall of Fame: from Salman Rushdie to Isabel Allende Guests at past festivals have included: Leila Aboulela (Sudan/ UK), Chimamanda Ngozi Adichie (Nigeria/ USA), Swetlana Alexijewitsch (Ukraine/ Belarus), Isabel Allende (Chile), Assia Djebar (Algeria), Tahar Ben Jelloun (Marocco/ France), John M. Coetzee (South Africa/ Ausralia), John Green (USA), David Grossman (Israel), Daniel Kehlmann (Germany), Judith Kerr (Germany/ UK), Judith Hermann (Germany), Robert Menasse (Austria), Michael Ondaatje (Canada), Yvonne Adhiambo Owuor (Kenya), Yasmina Reza (Iran/ France), Arundhati Roy (India), Salman Rushdie (India/ USA), Elif Shafak (Turkey/ UK), Charles Simic (Serbia/ USA), Wole Soyinka (Nigeria), Mario Vargas Llosa (Peru/ Spain), Irvine Welsh (UK).   🔹Sections Literatures of the World The audience experiences big names of the literary scene and the stars of tomorrow in a very special setting. The international authors read their texts in the original language, then actors recite the German translation. The following moderated discussions provide a platform for insight and perspective, as well as exciting discussions. It is not unusual for the works to celebrate their book premiere here. The events conclude with a book signing.   🔹Reflections Always cutting-edge, always with an exciting cast. Authors, journalists, scientists, and politicians explain and discuss a wide range of social and political issues.   🔹International Children's and Young Adult Literature This is where the next generation connects. It is an initiative for the interactive promotion of reading and for the strengthening of intercultural competence. The core of the project encompasses a wide range of readings and events, both outside of school and in the classroom. And indeed, teachers and students are equally enthusiastic.   🔹Memory, Speak This retrospective pays tribute to well-known, misunderstood or forgotten authors from decades and centuries past. Readings, lectures, and discussions lead to exciting new discoveries and allow for rediscovery.   🔹Science and the Humanities Looking ahead. In this section, the latest scientific research is as much the focus as socially relevant debates. A progressive way to combine different disciplines as well as nationalities.   ♦️Specials Every year is different, every year is special. The ilb will present projects and events on selected special topics.   🔹ilbDIGITAL Experience the ilb digitally: Authors who cannot be present on site will be connected live or will appear via pre-recorded talks. Selected events will also be streamed live."  Credit:
https://www.literaturfestival.com/festival-en/the-ilb
🔻Simone Schröder is the author of 'The Nature Essay / Ecocritical Explorations' Series: Nature, Culture and Literature, Volume: 14 (BRILL 2019)
https://brill.com/view/title/36151
E-Book (PDF) ISBN: 978-90-04-38927-4 Publication Date: 04 Jan 2019 Hardback ISBN: 978-90-04-36038-9 Publication Date: 21 Mar 2019
There are no tracks in this playlist.