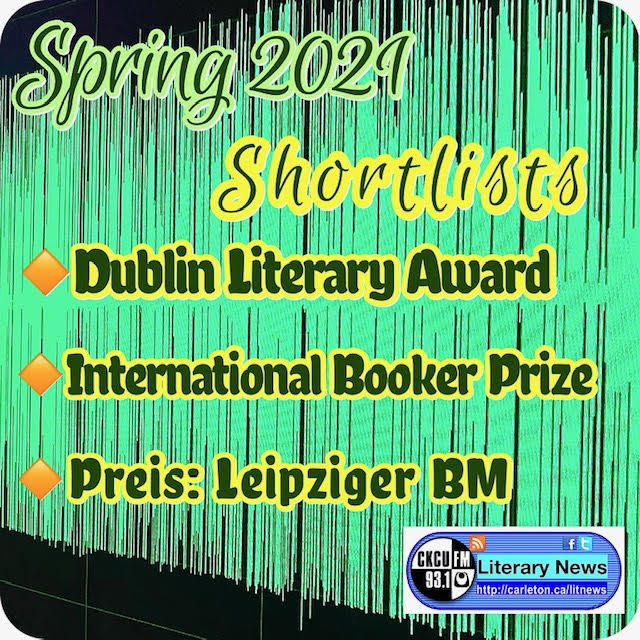 CKCU Literary News
Wednesday May 26th, 2021 with Hans G. Ruprecht & Friederike Knabe
Spring 2021: Literary awards and shortlists
DUBLIN LITERARY AWARD 2021 «The shortlisted titles are: 1. Girl, Woman, Other by Bernardine Evaristo (British). Published by Hamish Hamilton Ltd. and Penguin Books Ltd. Nominated by libraries in Berlin, Germany and Waterford, Ireland. 2.  Lost Children Archive by Valeria Luiselli (Mexican). Published by Alfred A. Knopf and 4th Estate. Nominated by Vila de Gràcia Library, Barcelona, Spain. 3. Apeirogon by Colum McCann (Irish). Published by Bloomsbury Publishing. Nominated by South Dublin Libraries, Ireland. 4. Hurricane Season by Fernanda Melchor (Mexican). Translated from the Spanish by Sophie Hughes. Published by Fitzcarraldo Editions. Nominated by libraries in Canada, Mexico, and the USA. 5. On Earth We're Briefly Gorgeous by Ocean Vuong  (Vietnamese-American). Published by Jonathan Cape and Vintage. Nominated by libraries in Norway, Sweden, Switzerland, and the USA. 6. The Nickel Boys by Colson Whitehead (American). Published by Little Brown Book Group and Doubleday. Nominated by libraries in Belgium, and the USA.»
https://dublinliteraryaward.ie/news/dublin-city-council-announces-the-2021-dublin-literary-award-shortlist/
INTERNATIONAL BOOKER PRIZE 2021 «Several titles and authors of genre interest made the 6-title shortlist for the 2021 International Booker Prize: * At Night All Blood Is Black, David Diop, translated by Anna Mocschovakis (Pushkin) * The Dangers of Smoking in Bed, Mariana Enríquez, translated by Megan McDowell (Granta) * When We Cease to Understand the World, Benjamín Labatut, translated by Adrian Nathan West (Pushkin) * The Employees: A workplace novel of the 22nd century, Olga Ravn, translated by Martin Aitken (Lolli) The award is given "every year for a single book that is translated into English and published in the UK or Ireland." The £50,000 prize is divided equally among the author and translator(s). Shortlisted authors and translators will each receive £1,000. Judges for 2021 are Aida Edemariam, Lucy Hughes-Hallett, Neel Mukherjee, Olivette Otele, and George Szirtes. The winner will be announced on June 2, 2021. For more information, including the complete shortlist, see the Booker Prize website.
https://thebookerprizes.com/international-booker/2021
» PREIS DER LEIPZIGER BUCHMESSE «Belletristik * Iris Hanika: Echos Kammern (Literaturverlag Droschl, 12. Juni 2020) * Judith Hermann: Daheim (S. Fischer Verlag, 28. April 2021) * Christian Kracht: Eurotrash (Kiepenheuer & Witsch, 4. März 2021) * Friederike Mayröcker: da ich morgens und moosgrün. Ans Fenster trete (Suhrkamp Verlag, 20. Juli 2020) * Helga Schubert: Vom Aufstehen: Ein Leben in Geschichten (dtv, 18. März 2021) Sachbuch / Essayistik * Heike Behrend: Menschwerdung eines Affen. Eine Autobiografie der ethnografischen Forschung (Matthes & Seitz Berlin, 1. Oktober 2020) * Dan Diner: Ein anderer Krieg. Das jüdische Palästina und der Zweite Weltkrieg 1935 – 1942 (Deutsche Verlags-Anstalt, 15. März 2021) * Michael Hagner: Foucaults Pendel und wir. Anlässlich einer Installation von Gerhard Richter (Verlag Walther König, 25. März 2021) * Christoph Möllers: Freiheitsgrade. Elemente einer liberalen politischen Mechanik (Suhrkamp Verlag, 27. September 2020) * Uta Ruge: Bauern, Land: Die Geschichte meines Dorfes im Weltzusammenhang (Verlag Antje Kunstmann, 26. August 2020)»
http://www.preis-der-leipziger-buchmesse.de/neuigkeiten/das-sind-die-nominierten-2021/1217273
There are no tracks in this playlist.