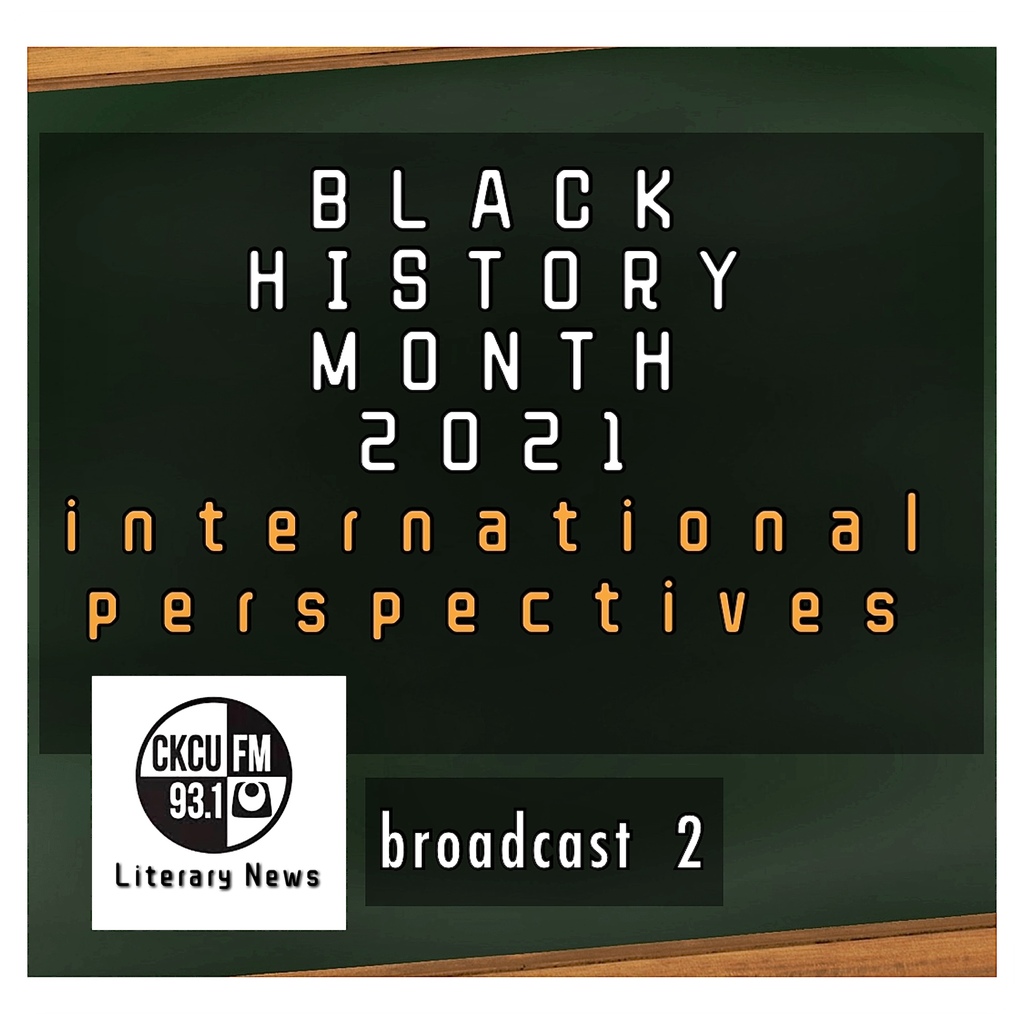 CKCU Literary News
Wednesday February 24th, 2021 with Hans G. Ruprecht & Friederike Knabe
BLACK HISTORY MONTH 2021 / international perspectives (Canada, UK., Germany, Africa, Columbia).
Senior CKCU | Literary News contributing correspondent Friederike KNABE in conversation about fictional and critical writings in Canada, Britain (UK.), Germany, Columbia, etc. dealing with Afro-descendent notions of identity and 'black history'. Focussing on Achille MBEMBE, 'Critique de la raison nègre' (2013) / 'Critique of Black Reason' (Duke U Press, 2017). This includes (in the course of conversation) reference to the following authors and their works: Jael Richardson,  Gutter Child, 2021; Zalika Reid-Benta, Frying Plantain, 2019; Tiffany N.Florvil, Mobilizing Black Germany, 2020; Margaret Busby, New Daughters of Africa, 2019; Achille Mbembe, Critique de la raison nègre (2013) / Critique of Black Reason, 2017; Bernadine Evaristo, 'Bernardine Evaristo: the forgotten black British novels everyone should read' The Booker-winning novelist is relaunching a series of neglected novels by black British writers. She explains why they deserve a new readership
https://www.theguardian.com/books/2021/jan/30/bernardine-evaristo-the-forgotten-black-british-novels-everyone-should-read?CMP=Share_iOSApp_Other
Esi Edugyan, Ian Williams; Paula Marcela Moreno, El poder de lo invisible. Memorias de solidaridad, humanidad y rersistencia, 2014; Aurora Vergara Figueroa, Race, Gender, Class, And Land Properyy in Columbia 1851-2011; Mara Viveros, Les couleurs de la Masculinité. Expériences intersectionnelles et pratique de pouvoir en Amérique latine, 2018. Links: Initiative Schwarze Menschen in Deutschland Bund e.V. 
https://isdonline.de/
BHM in Germany Rethinking Black History Month in Germany | AAIHS
https://oxfordaasc.com/view/10.1093/acref/9780195301731.001.0001/acref-9780195301731-e-41798
LA ANTOLOGÍA DE MUJERES POETAS AFROCOLOMBIANAS EL CAMINO HACIA EL POSICIONAMIENTO DE LA MUJER AFRO EN COLOMBIA Por Yesenia Escobar
https://afrofeminas.com/2019/04/19/algunas-escritoras-afrocolombianas-que-deberias-conocer-y-leer/amp/
AFRO FÉMINAS
https://afrofeminas.com/
_____________ Before signing off, we bring you the fabulous YOU TUBE audio track of a slam poetry performance by Elizabeth ACEVEDO, who is the NYT bestselling author of two collections of poetry, including 'Clap When You Land' (Haper-Collins, 2020), and a novel called 'The Poet X' (2018). The slam poem you will be hearing, by courtesy of SlamFind TV, at the very end of the show is called "Afro Latina".
There are no tracks in this playlist.