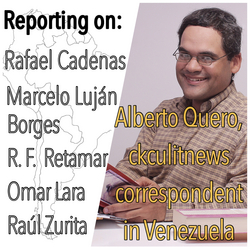 CKCU Literary News
Wednesday July 6th, 2016 with Hans G. Ruprecht & Alberto Quero
Latin American literary news.
Alberto Quero (Dr. ciencias humanas, U del Zulia), poet, writer, literary critic is CKCU Literary News correspondent in Maracaibo (Venezuela. He is bringing the latest on a select group of Latin American novelists and poets, including Rafael Cadenas (Venezuela), Marcelo Luján (Argentina / Spain) Jorge Luis Borges on the occasion of the 30th anniversary of his death (14 June 1986), on Cuban writer, poet and scholar Roberto Fernández Retamar's 80th birthday, and on award winning Chilean poets Omar Lara and Raúl Zurit
There are no tracks in this playlist.