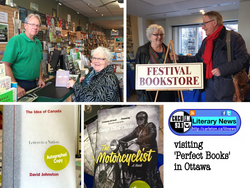 CKCU Literary News
Wednesday May 4th, 2016 with Hans G. Ruprecht & Friedrike Knabe
A visit to PERFECT BOOKS in Ottawa.
A visit to PERFECT BOOKS
http://www.perfectbooks.ca/PB/
which is the bookstore of the Ottawa International Writers Festival, with Friederike Knabe, Senior Correspondent of CKCU-Literary News.
There are no tracks in this playlist.