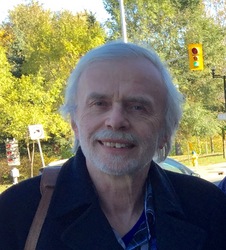 CKCU Literary News
Wednesday November 18th, 2015 with Hans G. Ruprecht
Didier COSTE, écrivain, poète, traducteur.
Didier COSTE, écrivain, romancier, traducteur littéraire, dramaturge, poète, essayiste, théoricien de la littérature et professeur émérite (U de Bordeaux Montaigne) de littérature omparée parle de la genèse et de l'évolution de son oeuvre; tout particulièrement de sa poésie et de son travail de traducteur. Il a traduit les oeuvres de fictions de grands auteurs laliino-américains, dont Reinaldo Arenas, Manuel Puig, José Donoso, Camillo Torres et José Lezama Lima. Ainsi que de l'anglais américain les Herbert Marcuse, Steven Milhauser et Luke Rhinehart. Didier Coste est aussi l'auteur d'un livre de théorie littéraire mondialement connu, soit 'Narrative as communication' (University of Minnesota Press, Minneapolis, 1989).
There are no tracks in this playlist.