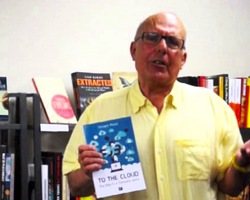 CKCU Literary News
Wednesday October 21st, 2015 with Hans G. RUPRECHT
Dr. Vincent MOSCO, Political economist
Part two of a feature interview with Dr. Vincent MOSCO (Ph.D. Harvard, Prof. Emeritus of Sociology, Queen's University, Canada Research Chair in Communication and Society). His new book 'To the Cloud, Big Data in a Turbulent World'. Boulder, CO: Paradigm Publishers, 2014. 273 pp. "was named a 2014 Outstanding Academic Title by Choice: Current Reviews for Academic Libraries," and "was chosen one of the top ten IT Security Books for Big Data Scientists, August 2015 Issue of Information Management." Source:
http://www.vincentmosco.com/
Focussing on what is being called the 'next Internet' and * iCloud computing * Big Data Analysis, and * the Internet of things. * What are its environmental impacts?
There are no tracks in this playlist.