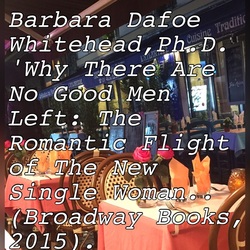 CKCU Literary News
Wednesday September 9th, 2015 with Hans G. Ruprecht & Friederike Knabe
The new season's take off.
Kicking off the season, includig perspectives on current feminist thought and fiction by women. Kate Bolick, Spinster: Making A Life of One's Own (Crown, 2015), who is also the author of a cover essay entitled 'All The Single Ladies' of The Atlantic, November 2011; Roxane Gay, Bad Feminist (Harper Perennial / Harper Collins, 2015); Barbara Dafoe Whitehead, Ph.D., social historian, Why Are No Good Men Left: The Romantic Flight of the New Single Woman (Broadway Books, 2015). Paula Hawkins, The Girl on the Train (Riverhead / Penguin Books, 2015); Kristin Hannah, The Nightinggale (St. Martin's Press / Macmillan 2015); Camilla Gibb, THis is Happy (Penguin Books, 2015); Christine Angot, Un amour impossible (Flammarion, 2015).
There are no tracks in this playlist.