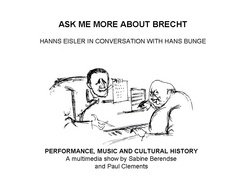 CKCU Literary News
Tuesday January 28th, 2014 with Helmut Zobl
SABINE BERENDSE (Interview)
SABINE BERENDSE spricht mit Helmut Zobl über ihren Vater Hans Bunge, seiner Zeit Regieassistent am 'Berliner Ensemble', dem zahlreiche Tonbandaufnahmen seiner kultur- und theatergeschichtlich sehr bedeutsamen Gespräche mit dem Komponisten HANNS EISLER zu verdanken sind. Hanns Eisler war ein enger Freund und Weggefährte von BERTOLT BRECHT. Im Herbst 2014 erscheint im Verlag BLOOMSBURY Publishing (London, U.K.) das Buch: 'Brecht, Music and Culture Hanns Eisler in Conversation with Hans Bunge'. By: Hans Bunge Translator: Sabine Berendse, Paul Clements.
There are no tracks in this playlist.