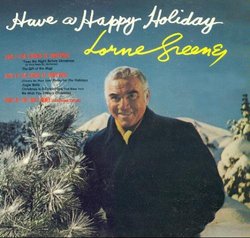 Cool Cuts
Thursday December 24th, 2015 with Chris Sharp
Christmas Eve Special!
Tonight's show is a Christmas Eve Special featuring music from my family,some Christmassy stuff, themed sets on family visits and public transit for all that partying that surrounds Christmas and ringing in the New Year.
We start off with some Christmas hymns my father recorded for his family in 1952.
Hark The Herald Angels Sing/Oh Little Town of Bethlehem/Silent Night/Joy To The World
Robert Arnold Sharp - Private 78 rpm ep(1952)
Oh Holy Night
Robert Arnold Sharp - Private 78 rpm ep(1952)
Next up we have more Sharp Family music recorded by my daughter.
Take Me Away
Farron Leigh Sharp - Farron-3 songs(2010)
Hey Awaya
Farron Leigh Sharp - Farron-3 songs(2010)
Tin Roof Rusted
Farron Leigh Sharp - Farron-3 songs(2010)
Extended Holiday
Miles Howe with Farron Leigh Sharp - Happy Feet(2008)
Next we shift the spotlight to Christmas music and a few titles that could be Christmas music.
Let It Snow!Let It Snow!Let It Snow!
Vaughn Monroe - His Greatest Hits(1962)
Santa Baby
Homer & Jethro - Cool Crazy Christmas(1968)
There's No Lights On The Christmas Tree Mother
The Sensational Alex Harvey Band - Framed(1972)
Nuttin' For Christmas
Spike Jones - Spike Jones Presents a Xmas Spectacular(1956)
Death May Be Your Santa Clause
Mott The Hoople - Rock and Roll Queen(1974)
Jingle Bells
Lorne Greene - Have A Happy Holiday(1965)

A visit to the family is usually in order during the holidays.
Coming Home
Ian Thomas - The Best of Ian Thomas(1980)

Take Care of My Brother
Biff Rose - Thorn In Mrs. Rose's Side(1968)
Simple Sister
Procol Harum - The Best of Procul Harum(1972)
Grandmother's Song
Steve Martin - Let's Get Small(1977)
Go Back To Daddy
Doris - Did You Give The World Some Love Today Baby-1966-70(1994)
If Only Mother
Mickey Jupp - Juppanese(1978)
Grandpa Was A Carpenter
John Prine - Sweet Revenge(1973)
Family Portrait
Good Rats - Good Rats(1967)
With all the partying taking place over the next week or so you are encouraged to use public transit for your travelling needs.
Don't Sleep In The Subway
Petulia Clark - These Are My Songs(1967)
Taxi
Harry Chapin - Heads & Tales(1972)
Nighthawkin'
Tim Buckley - Greetings From L.A.(1972)
No Spitting On The Bus
Steve Gibbons Band - Down In The Bunker(1978)
The Magic Bus
The Who - Meaty Beaty Big and Bouncy(1972)
Cab Driver
The Mills Brothers - Paper Doll(1974)
City Bound("E" Train)
Novo Combo - Novo Combo(1981)
Yellow Cab Man
Gun - Gun(1968)
Sub-Rosa Subway
Klaatu - 3:47 E.S.T.(1976)

Silver Bells
Booker T & The M.G.'s - VA:Soul Christmas(1991)
Thank you for listening and have a safe Christmas season.Next show broadcasts Jan. 7, 2016.