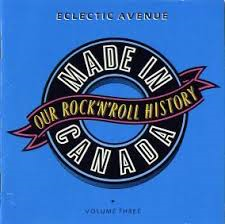 Cool Cuts
Thursday June 25th, 2015 with Chris Sharp
4th Annual Canada Day Show
Cool Cuts 4th Annual Canada Day Blowout!
We open with musicians and bands based in Quebec(excepting the comedy track, Tommy Chong is from Edmonton)in the 60's and 70's.Winchester,an American draft dodger,eventually became a Canadian citizen.Mashmakan's Jerry Mercer went on to drum for April Wine,Moonquake backed up Pagliaro in the early 70's and Stone Circus was a group of Montreal natives that organized a band in New York(for 1 lp).
As The Years Go By
Mashmakan - VA:Made In Canada(1991)

Hey Little Lover
Mahogany Rush - World Anthem(1977)

Remember
Moonquake - Moonquake(1973)

People I Once knew
Stone Circus - Stone Circus(1969)

Rebuttal:Speaker Ashley Roachclip
Cheech and Chong - Big Bambu(1972)

Let The Rough Side Drag
Jesse Winchester - Let The Rough Side Drag(1976)

Next set:Mother Tucker's Yellow Duck is tonight's lone B.C. representative.Joni Mitchell spent much of her youth in Saskatchewan.Gregorash,Jacks,The Guess Who and Merryweather hailed from the province of Manitoba.
Someone Think
Mother Tucker`s Yellow Duck - Home Grown Stuff(1969)

Coyote
Joni Mitchell - Hejira(1976)

Jodie
Joey Gregorash - VA:Made In Canada(1991)

Concrete Sea
Terry Jacks - Seasons In The Sun(1974)

Orly
The Guess Who - The Best of The Guess Who Vol 2(1973)

High Altitude Hide `n`Seek
Neil Merryweather - Space Rangers(1974)

We now switch gears to the Eastern side of the nation.Stompin' Tom hailed from New Brunswick.Nova Scotia was(and still is) called home by Anne Murray,Minglewood and Pepper Tree(many musicians were part of this band through the early 70's including Matt Minglewood and Brian "Too Loud" Macleod).
Big Joe Mufferaw
Stompin`Tom Connors - Stompin`Tom Meets Big Joe Mufferaw(1970)

Rocket Fuel
Minglewood - Smokers(1981)

If You Won`t See Me
Anne Murray - Greatest Hits(1980)

I Could Not Control It
Pepper Tree - You`re My People(1971)

Next up:Musicians and bands that call the great province of Alberta home(except for Cheech Marin).Ruzicka was coined "The Singing Dentist",guitarist Dan Lowe led 49th Parallel,Painter and Hammersmith and The Stampeders had a long string of hits in the 70's.
God Almighty Mama
Bob Ruzicka - Soft Rocker(1973)

Citizen Freak
49th Parallel - The Best of 49th Parallel(1995)

Goin`Home(To Rock `n` Roll)
Painter - Painter(1973)

Hello,It`s For You
Hammersmith - It`s For You(1976)

Evelyn Woodhead Speed Reading Course
Cheech and Chong - Los Cochinos(1973)

Playing In The Band
The Stampeders - Hit The Road(1976)

We finish the show with bands and musicians hailing from Ontario(American Segarini eventually became a Canadian citizen).
Born To Be Wild
Mars Bonfire - Mars Bonfire(1968)

Flaggit
Warpig - Warpig(1973)

1849
Lighthouse - One Fine Morning(1971)

Cousin Mary
Fludd - Cock On!(1972)

Odd Couples
Bob Segarini - Goodbye L.A.(1979)

We`re All In This Together
Cat - Cat(1970)

Thank you for listening and enjoy Canada Day.Next show broadcasts July 9.