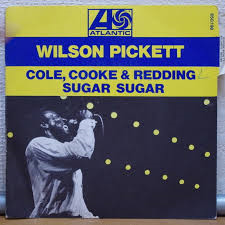 Cool Cuts
Thursday July 9th, 2015 with Chris Sharp
Tributes/Parodies/Covers
Tonight's show features a number of tributes,parodies and cover versions.
Tributes,parodies and cover versions of the Beatles and Rolling Stones to open the show.
I Like The Beatles and My Baby Likes The Rolling Stones
Bob Segarini - Goodbye L.A.(1979)

Daytripper/We Can Work It Out
Fever Tree - Fever Tree(1968)
I've Just Seen A Face
The Dillards - Wheatstraw Suite(1968)
I Want To Hold Your Hand
Homer and Jethro - Homer & Jethro:The Weird World of America's Song Butchers(1997)
Gimme Shelter
Merry Clayton - Merry Clayton(1970)
Keith Don't Go
Nils Lofgren - Nils Lofgren(1975)
All Those Years Ago
George Harrison - Somewhere In England(1981)
Next up:an ironic elegy to the 60's,an ode to the British Blues boom of the era,Bob Dylan as record huckster parody and a tribute to the late great Bob "The Bear" Hite.
The Sixties
T-Bone Burnett - Proof Through The Night(1983)
I've Got Those Fleetwood Mac,Chicken Shack John Mayall Can't Fail Blues
Liverpool Scene - Bread On The Night(1969)
Those Fabulous Sixties
National Lampoon - Greatest Hits of National Lampoon(1978)
The Bear
John Mayall - Blues From Laurel Canyon(1968)
In this set Shuggie Otis pays tribute to his influences,some T.V. game show humour,a pre twist(his first hit) Chubby Checker pulls out some impressions and Roy Buchanan plays the blues.
Shuggie's Boogie
Shuggie Otis - Shuggie's Boogie:Shuggie Otis Plays The Blues(1994)
For $15,000
National Lampoon - That's Not Funny That's Sick(1977)
The Class
Chubby Checker - Wild and Frantic Rock & Roll of the 50's(1991)
For $25,000
National Lampoon - That's Not Funny That's Sick(1977)
Tribute To Elmore James
Roy Buchanan - Second Album(1973)
This set: Charlie Daniels recognizes his Southern brethren,some fun at the axe jamboree,a respite at the rest home-only one thing left to do- a Righteous trip to "Rock and Roll Heaven".
The South's Gonna Do It
The Charlie Daniels Band - Fire On The Mountain(1974)
Guitar Jamboree
Chris Spedding - Chris Spedding(1976)
The Golden Oldies Old Folks Home
The Barron Knights - Songs For Traffic Jams(2005)
Rock and Roll Heaven
The Rightgeous Brothers - 7 inch single(1973)
In this set we have Joe Tex agreeing with Ray Charles opinion of Joe Tex,Buddy Myles with a tribute to both and Gil Scott-Heron leaving everybody with a good feeling.
Ring of Fire
Ray Charles - Love Country Style(1969)
You're Right Ray Charles
Joe Tex - The Very Best of Joe Tex(1988)
Joe Tex
Buddy Miles - A Message To The People(1971)
Lady Day and John Coltrane
Gil Scott-Heron - Pieces Of A Man(1971)
With Otis Redding's rewrite of Cooke's "Yeah Man" how could Conley fail?, an excellent James Brown rip with some odd call-outs(Pearl Bailey?),an emotional tribute from the wicked one and Otis Redding's excellent Sam Cooke cover.
Yeah Man
Sam Cooke - Keep Movin' On(2003)
Sweet Soul Music
Arthur Conley - Sweet Soul Music(1968)
We Got More Soul
Dyke & The Blazers - VA:Soul Shots(1988)
Cole,Cooke & Redding
Wilson Pickett - A Man and a Half(1992)
Shake
Otis Redding - Monterey International Pop Festival:Otis Redding/The Jimi Hendrix Experience(1970)
Thank you for listening. Next show broadcasts July 23.