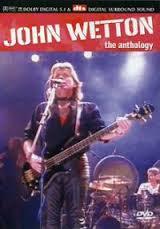 Cool Cuts
Thursday June 11th, 2015 with Chris Sharp
John Wetton
Tonight's show features the musical projects of U.K. musician John Wetton(b June 12, 1949) from 1970 to 1983.The musical projects of John Hudson and Robert Ford(Hudson-Ford) and the music of Skin Alley and Graham Parker will also be featured in tonight's all U.K. show.
Wetton joined Mogul Thrash and then Family as a bass player and back up vocalist.He also did extensive session work with Larry Norman and Gordon Haskell(among others) but his big break came when Robert Fripp asked him to join King Crimson as vocalist,bassist and co-composer in 1973(for 3 l.p.'s)
Sleeping In The Kitchen
Mogul Thrash - Mogul Thrash(1971)
Top Of The Hill
Family - Bandstand(1971)
Readers Digest
Larry Norman - Only Visiting This Planet(1972)
One More Red Nightmare
King Crimson - Red(1974)
Fripp dissolved King Crimson and Wetton then joined Roxy music on tour and worked on several of Bryan Ferry's solo projects.After a 2 lp stay with Uriah Heep he formed the progressive band U.K. with drummer Bill Bruford.
Funny How Time Slips Away
Bryan Ferry - Another Time,Another Place(1974)
Can't Keep A Good Band Down
Uriah Heep - High & Mighty(1976)
In The Dead Of Night
U.K. - U.K.(1978)
Rendezvous 6:02
U.K. - Danger Money(1979)
3 l.p.'s later Wetton released his first solo l.p.He then joined prog rockers Wishbone Ash for 1 album before forming super group Asia with Steve Howe(ex Yes),Geoff Downes(ex Yes) and drummer Carl Palmer(ex E.L.P.and Atomic Rooster)to huge international success.
Turn On The Radio
John Wetton - Caught In The Crossfire(1980)
Loaded
Wishbone Ash - Number The Brave(1981)
Wildest Dreams
Asia - Asia(1982)
Richard Hudson and John Ford formed the rhythm section for Elmer Gantry's Velvet Opera.After that band's demise they joined The Strawbs on drums and bass.After an acrimonious split from The Strawbs in 1973 they formed Hudson-Ford(Hudson had dropped drumming for guitar and vocals).New wave and punk music spelled the end for most minor progressive acts so the duo went on to form the tongue in cheek band The Monks in 1979.
Mary Jane
Elmer Gantry's Velvet Opera - Elmer Gantry's Velvet Opera(1968/2010)
Lay Down
The Strawbs - Bursting At The Seams(1973)
Take It Back
Hudson-Ford - Nickelodeon(1973)
Nice Legs, Shame About Her Face
The Monks - Bad Habits(1979)
Thomas Crimble formed the progressive jazz-rock Skin Alley in 1969.They were a popular U.K. act but had very poor distribution in North America.Though critically acclaimed poor sales led to their break up in 1973.
Living In Sin
Skin Alley - Skin Alley(1969)
The Demagogue
Skin Alley - Two Quid Deal?(1972)
Mr. Heavy
Skin Alley - Skintight(1973)
So Glad
Skin Alley - Two Quid Deal?(1972)
Pub rocker Graham Parker was the U.K.'s amswer to Bruce Springsteen(or at least Southside Johnny) in the late 70's.
Soul Shoes
Graham Parker - Howlin' Wind(1976)
Heat Treatment
Graham Parker - Heat treatment(1976)
Help Me Shake It
Graham Parker - Heat Treatment(1976)
Local Girls
Graham Parker - Squeezing Out Sparks(1979)
Thank you for listening.Next show broadcasts June 25.