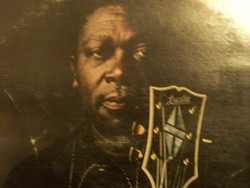 Cool Cuts
Thursday May 28th, 2015 with Chris Sharp
Tonight's show features the careers of 5 guitarists and a short tribute to B.B. King-"King of The Blues"
B. B. King(Sept 16,1925-May 14,2015)
The Thrill Is Gone(musical bed)
B.B. King - King of The Blues(1992)
We open the show with some musical involvements of the brilliant technician Roy Buchanan between 1957 to 1977.
Suzie Q
Dale Hawkins - Rock and Roll Tornado(1998)
Who Do You Love
Ronnie Hawkins - Ronnie Hawkins and the Hawks:The Roulette Years(2001)

Hey, Good Lookin'
Roy Buchanan - Roy Buchanan(1972)
Further On Up The Road
Roy Buchanan - Live Stock(1975)
The Circle
Roy Buchanan - Loading Zone(1977)
The great Lonnie Mack had a couple of hiatuses in his career but came back strong in 1985.
Wham!
Lonnie Mack - The Wham of That Memphis Man!(1963)
Save Your Money
Lonnie Mack - Glad I'm In The Band(1969)
Asphalt Outlaw Hero
Lonnie Mack - The Hills of Indiana(1971)
Long Way From Memphis
Lonnie Mack - Strike Like Lightning(1985)
Peter Frampton-who tended toward pop made some great boogie with Humble Pie well before he came "Alive"
From The Underworld
The Herd - Paradise and Underworld(1992)
Buttermilk Boy
Humble Pie - As Safe As Yesterday Is(1969)
One Eyed Trouser Snake Rumba
Humble Pie - Humble Pie(1970)
Shine On
Humble Pie - Rock On(1971)
(I`ll Give You) Money
Peter Frampton - Frampton(1975)
Dave Mason wrote some great songs for Traffic before embarking on a middling solo career.
You Can All Join In
Traffic - Traffic(1968)
Feelin`Alright
Traffic - Traffic(1968)
Only You Know and I Know
Dave Mason - Alone Together(1970)
Walk To The Point
Dave Mason & Cass Elliot - Dave Mason & Cass Elliot(1971)
All Along The Watchtower
Dave Mason - Dave Mason(1974)
Link Wray's early work is seminal to the development of hard rock but his 70's work,while seldom heard,was quite excellent.
Rawhide
Link Wray - The Best of Link Wray(1993)
Fire and Brimstone
Link Wray - Link Wray(1971)
Be What You Want To Be
Link Wray - Be What You Want To Be(1973)
Red Hot
Robert Gordon with Link Wray - Too Fast To Live,Too Young To Die(1982)
Good Good Lovin`
Link Wray - Bullshot(1979)
The great B.B. King got blues on mainstream radio with the show's opener tonight-here are a few favorites-that man could sing and play!B.B. King...rest in peace.
Paying The Cost To Be The Boss
B.B. King - King of The Blues(1992)
Key To My Kingdom
B.B. King - Completely Well(1969)
Ain`t Nobody Home
B.B. King - In London(1971)
There Must Be A Better World Somewhere
B.B. King - King of The Blues(1992)
Thank you for listening.Next show broadcasts June 11.