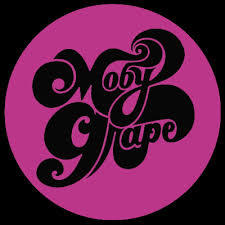 Cool Cuts
Thursday April 30th, 2015 with Chris Sharp
Bay Area Bonanza!
Psych, Garage and Country Rock musicians and bands exemplifying the "San Francisco Sound" that were based in the Bay Area during the 60's and 70's.
First set: The Charlatans didn't release much during their existence but were hugely influential in the fashions and repertoire of other San Francisco based bands,The Beau Brummels were the first nationally successful band out of San Francisco and Jake Holmes wasn't the only songwriter that Jimmy Page never credited.
32-20 Blues
The Charlatans - The Amazing Charlatans(1996)
Dazed and Confused
Jake Holmes - The Above Ground Sound of Jake Holmes(1967)
Deep Water
The Beau Brummels - Bradley's Barn(1968)
The Lonliest Man In Town
The Beau Brummels - Bradley's Barn(1968)
High School Hero
Jake Holmes - A Letter To Katherine December(1968)
We're Not On The Same Trip
The Charlatans - The Amazing Charlatans(1996)
Next up: The Grateful Dead and solo projects(they basically sessioned on each others' projects).
The Golden Road(To Unlimited Devotion)
The Grateful Dead - The Grateful Dead(1967)
Tore Up Over You
Jerry Garcia - Reflection(1974)
Hangin' On
Mickey Hart - Rolling Thunder(1972)
One More Saturday Night
Bob Weir - Ace(1972)
Moby Grape were hugely influential in country rock and vocal harmony on other Bay Area bands-it also spawned a couple of excellent solo projects by some troubled band members.
Indifference
Moby Grape - Moby Grape(1967)
Gypsy Wedding
Bob Mosley - Bob Mosley(1972)
Little Hands
Skip Spence - Oar(1969)

Let The Music Play
Bob Mosley - Bob Mosley(1972)
Goin' Down To Texas
Moby Grape - 20 Granite Creek(1971)
Psychedelic music dominated the San Francisco scene(led by Jefferson Airplane) in the late 60's.Here are a few of the bands which spawned psych bands in other areas of the U.S. and eventually internationally.
Cadillac George
The Travel Agency - The Travel Agency(1968)
Stranger In A Strange Land
Blackburn & Snow - Something Good For Your Head(1999)
Hello Hello
Sopwith Camel - Hello Hello(1967)
Shady Grove
Quicksilver Messenger Service - Shady Grove(1970)
Feeling Zero
Neighb'rhood Children - Long Years In Space(1997)
I'm Not Dead Yet
The Travel Agency - The Travel Agency(1968)
San Francisco had it's share of garage bands-the Flamin' Groovies were hugely influential in garage and punk and were pretty accomplished when they were in the mood.
Around The Corner
Flamin' Groovies - Supersnazz(1969)
Disbelievin'
Kak - Kak-Ola(1968)
Black Sun
Blue Cheer - The Original Human Being(1970)
Comin' After Me
Flamin' Groovies - Flamingo(1970)
We finish with a grab bag of Bay Area musical stylings.
True Religion
Hot Tuna - Burgers(1971)
The Girl Can't Help It
Linn County - Fever Shot(1969)
1982-A
The Sons of Champlin - Loosen Up Naturally(1969)
It Ain't Nothin' But A Warner Brothers Party
Graham Central Station - Ain't No Doubt About It(1974)
Thank you for listening. Next show broadcasts May 14.