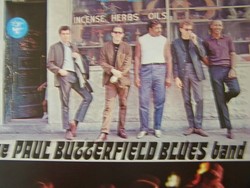 Cool Cuts
Thursday May 1st, 2014 with Chris Sharp
International Workers Day is May 1
Tonight's show honours International Worker's Day which is celebrated every year on May
1.It
's genesis goes back to the Haymarket Affair(uprising) of May 1 1886 when police fired into a public assembly of workers(killing 4) striking for an 8 hour work day in Chicago,Illinois.The incident eventually went international but the United States opted out because of the movement's ties to communism.Over 80 countries celebrate the holiday(often referred to as "May Day").Tonight's show honours the labours of the worker and celebrates Chicago,where the movement started, with pop,soul and rock originating in the "Windy City".
Our first set honours what really matters about International Workers Day,the worker-here are some musical thoughts on the subject.
Welcome To The Working Week
Elvis Costello - My Aim Is True(1977)
Working Man
Otis Rush - Mourning In The Morning(1969)
Working In The Coal Mine
Lee Dorsey - Great Googa Mooga(1991)
Working For The Man
Roy Orbison - The All-Time Greatest Hits Of Roy Orbison
Hard Working Man
Power of Zeus - The Gospel According To Zeus(1970/1995)
Five O'Clock World
The Vogues - VA:Good Morning,Vietnam,The Original Motion Picture Soundtrack(1987)
Working Man
Beggar's Opera - Get Your Dog Off Me!(1973/2003)
The rest of the show celebrates music out of Chicago.Next up:some "supper club" soul singers who scored big hits.Lou Rawls transitioned smoothly(like everything he recorded) to disco in the mid 70's.
Love Is A Hurtin' Thing
Lou Rawls - VA:Soul Shots,A Collection Of Sixties Soul Classics(1988)
Natural Man
Lou Rawls - VA:Soul Hits Of The '70's(1991)
Duke Of Earl
Gene Chandler - VA:Super Oldies Vol 6(1970)
Groovy Situation
Gene Chandler - VA:Soul Hits Of The '70's(1991)
Paul Butterfield was an important figure,updating Chicago blues.Several important bands(Electric Flag,Mike Bloomfield,Elvin Bishop and others)got their start with Butterfield.In fact,horn rock owes a debt to Butterfield, Al Kooper and Chicago native(producer) James Guercio.
Born In Chicago
The Paul Butterfield Blues Band - The Paul Butterfield Blues Band(1965)
Killing Floor
The Electric Flag - A Long Time Comin'(1968)
That's Alright Mama
Barry Goldberg - Two Jews Blues(1968)
Free
Chicago - Chicago III(1970)
Vehicle
The Ides Of March - VA:Super Hits Of The '70's(1993)
Lighthouse
The Flock - Dinosaur Swamps(1970)
Next up:a grab bag of pop,rock and prog(Styx was Chicago's answer to Yes in the early 70's) out of the Chicago area.Gaining airply on radio station WLS was considered an imprtant step to the national stage.
Kind Of A Drag
The Buckinghams - VA:Party Rock(1973)
Wayfaring Stranger
H.P. Lovecraft - H.P. Lovecraft(1967)
Gloria
The Shadows of Knight - Gloria(1965)
Uno Ino
Harvey Mandel - The Best of Harvey Mandel(1975)
Rock & Roll Feeling
Styx - Best of Styx(1977)
Auf Wiedersehen
Cheap Trick - Heaven Tonight(1978)
Curtis Mayfield was the king of Chicago soul(performing,writing,producing, scouting and nurturing talent and running his own record label).The next set shows a few of his performance and musical connections.
It's All-Right
The Impressions - VA:Soul Shots,Vol 3(1991)
The Monkey Time
Major Lance - VA:Soul Shots Vol 2(1991)
Finally Got Myself Together(I'm A Changed Man)
The Impressions - VA:Soul Hits of The '70's(1991)
Mr. Dream Merchant
Jerry Butler - VA:Soul Shots Vol 2(1988)
Superfly
Curtis Mayfield - VA:Superfly,Soundtrack To The Motion Picture(1972)
We finish with Baby Huey's huge voice and tragic life and drummer Maurice White who left for L.A. and put together Earth,Wind and Fire.
Listen To Me
Baby Huey - The Baby Huey Story/The Living Legend(1971)
Love Is Life
Earth,Wind and Fire - Earth,Wind and Fire(1971)
Thank you for listening.Next show broadcasts May 15.Remember those before you in the labour movement.